Soft, chewy thick Levain Bakery Caramel Coconut Cookies made with rich caramel, sweet coconut flakes, and semisweet chocolate chips. This seasonal Levain Bakery cookie recipe is the perfect coconut caramel cookie.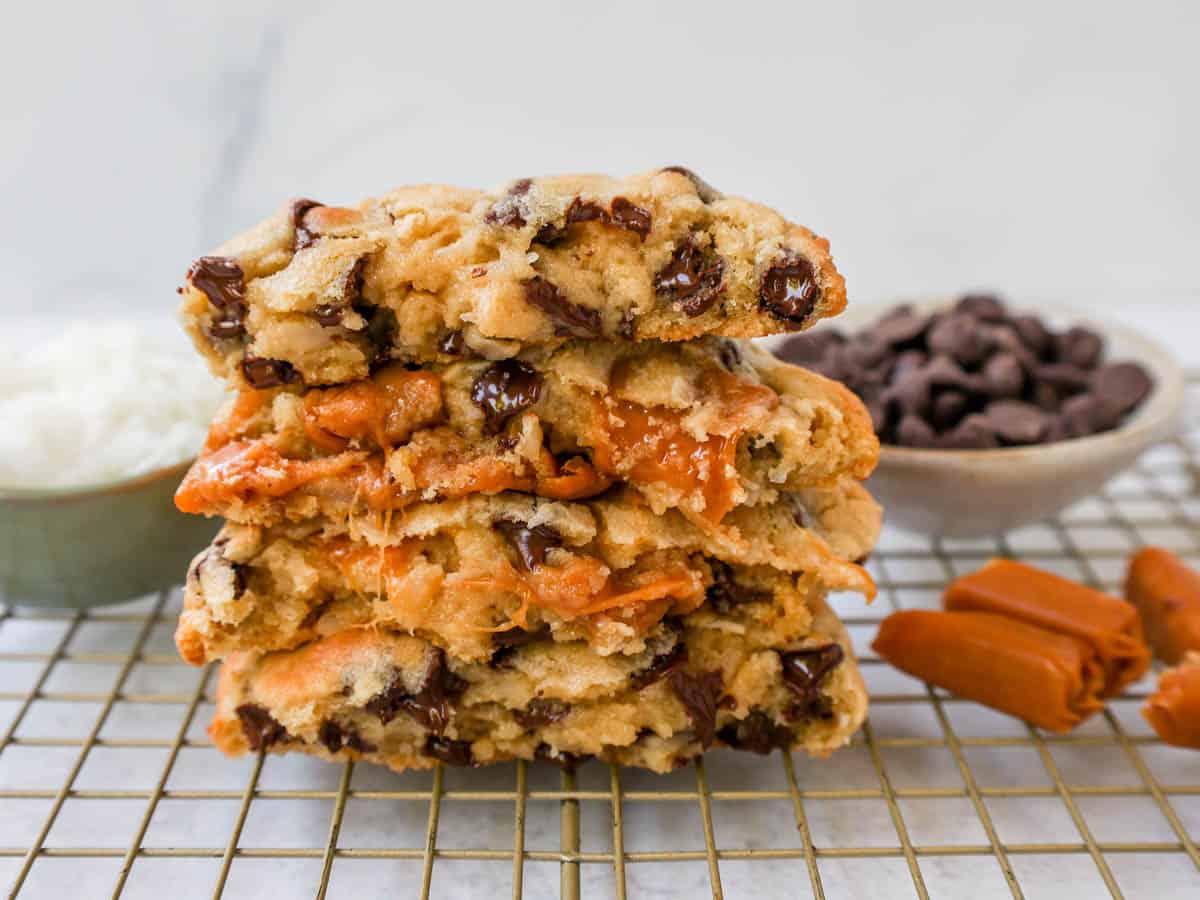 Oh, you know how much I love Levain Bakery cookies. As soon as they release a brand new seasonal cookie flavor, I receive so many messages requesting the copycat recipe.
I get to my test kitchen as quickly as possible to start creating the recipe for you! When I was recently in New York City and Washington DC, I was analyzing and studying every aspect of the cookie.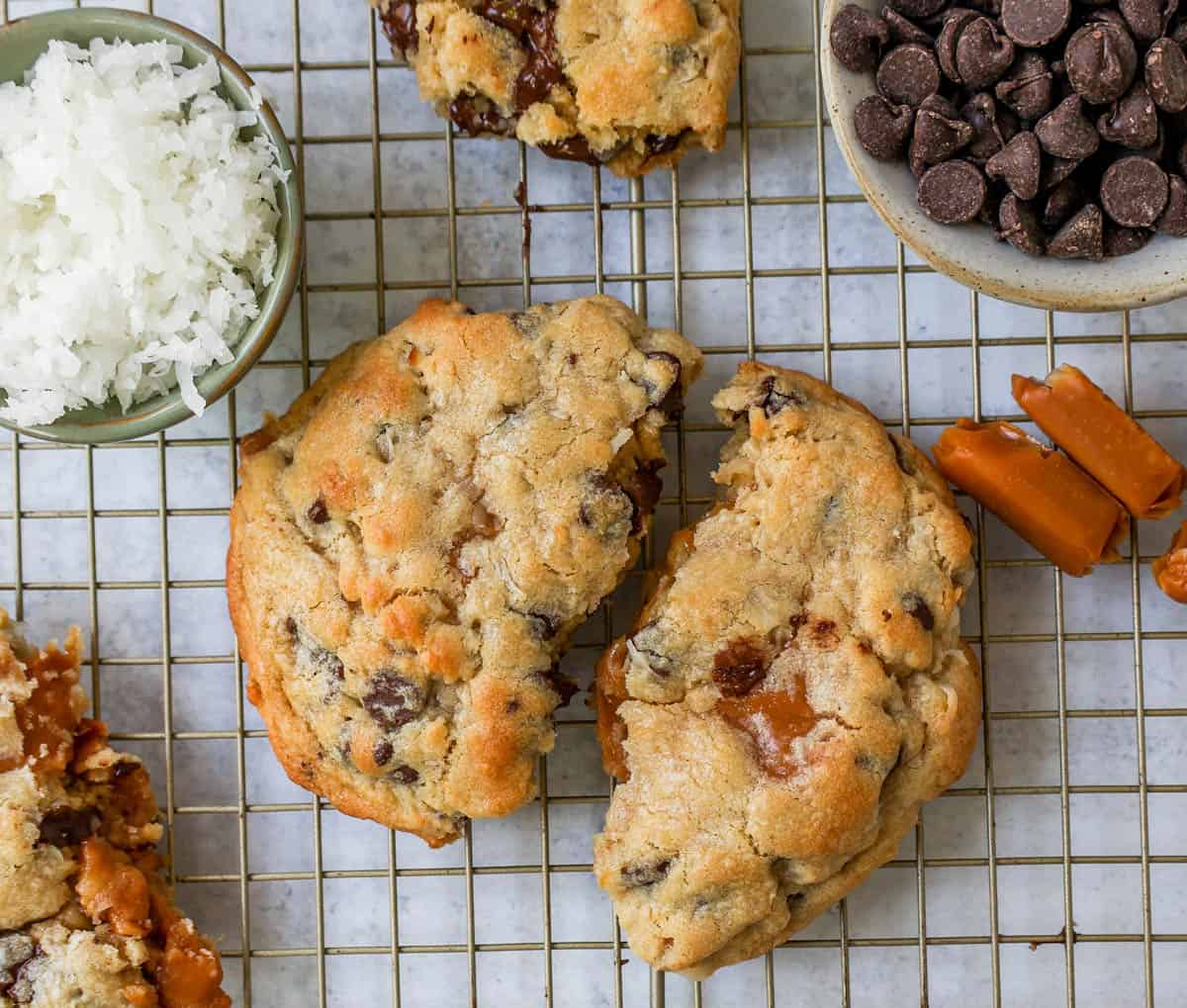 Levain Bakery just released its new Spring cookie flavor and it is insanely good. As soon as I saw that it was a Caramel Coconut Chocolate Chip Cookie, I rushed to the store to pick up the ingredients. That is one heavenly combo!
All of my recipe testers went crazy over these cookies and I couldn't wait another minute to get this recipe out to you.
These Carmel Coconut Chocolate Cookies are perfectly soft, thick, and chewy with bits of soft caramel, sweet and chewy coconut, and decadent chocolate throughout the cookie.
You can find eight more Levain Bakery copycat cookie recipes below.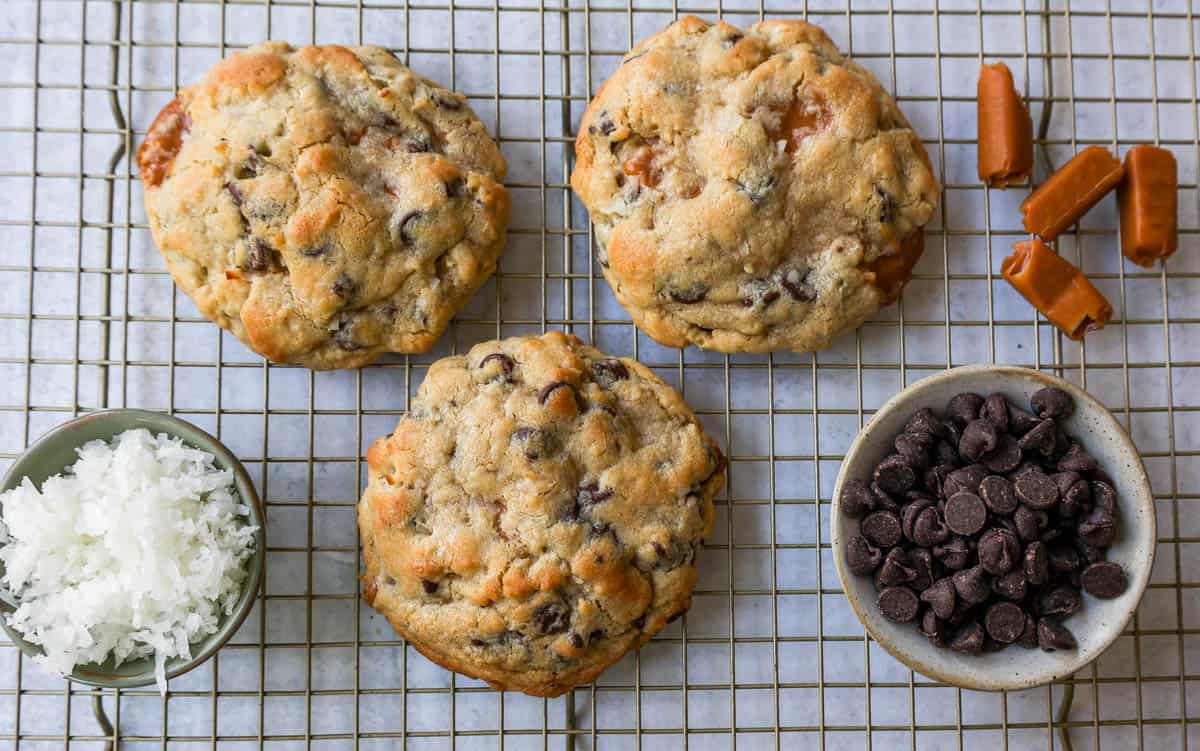 Ingredients
If you are familiar with my Levain Bakery Cookie recipes, you know they are unique and different. A few ingredients tweaks, oven temp, and a few tips and tricks make all of the difference.
Butter -- use cold butter cut into cubes. This helps the cookies keep their shape while baking and allows you to skip the chilling step.
Brown Sugar -- makes the cookies extra chewy.
Sugar -- gives the cookies crispy edges and helps to brown the cookies.
Eggs -- use large eggs in this recipe.
Vanilla Extract -- this is an optional ingredient as Levain Bakery doesn't use vanilla in their recipes. I do like the flavor it adds to the cookie dough.
All-Purpose Flour -- I love to use a mix of all-purpose flour and cake flour. If you don't have cake flour, you can use only all-purpose flour in this recipe.
Cake Flour -- helps to create a soft, tender texture in the cookies.
Cornstarch -- helps to thicken the cookies while still keeping them soft. Cornstarch helps to keep the cookies softer for longer.
Baking Soda -- helps the cookies to rise once they hit the oven.
Salt -- is a flavor enhancer and a must in all baked goods.
Sweetened Coconut Flakes -- use soft, sweetened coconut flakes, like Baker's coconut in this recipe.
Soft Caramels -- use soft caramels cut into pieces or caramel bits.
Chocolate Chips -- I suggest using semi-sweet chocolate chips but you can use milk chocolate or dark chocolate too.
See the recipe card at the bottom of the post for quantities.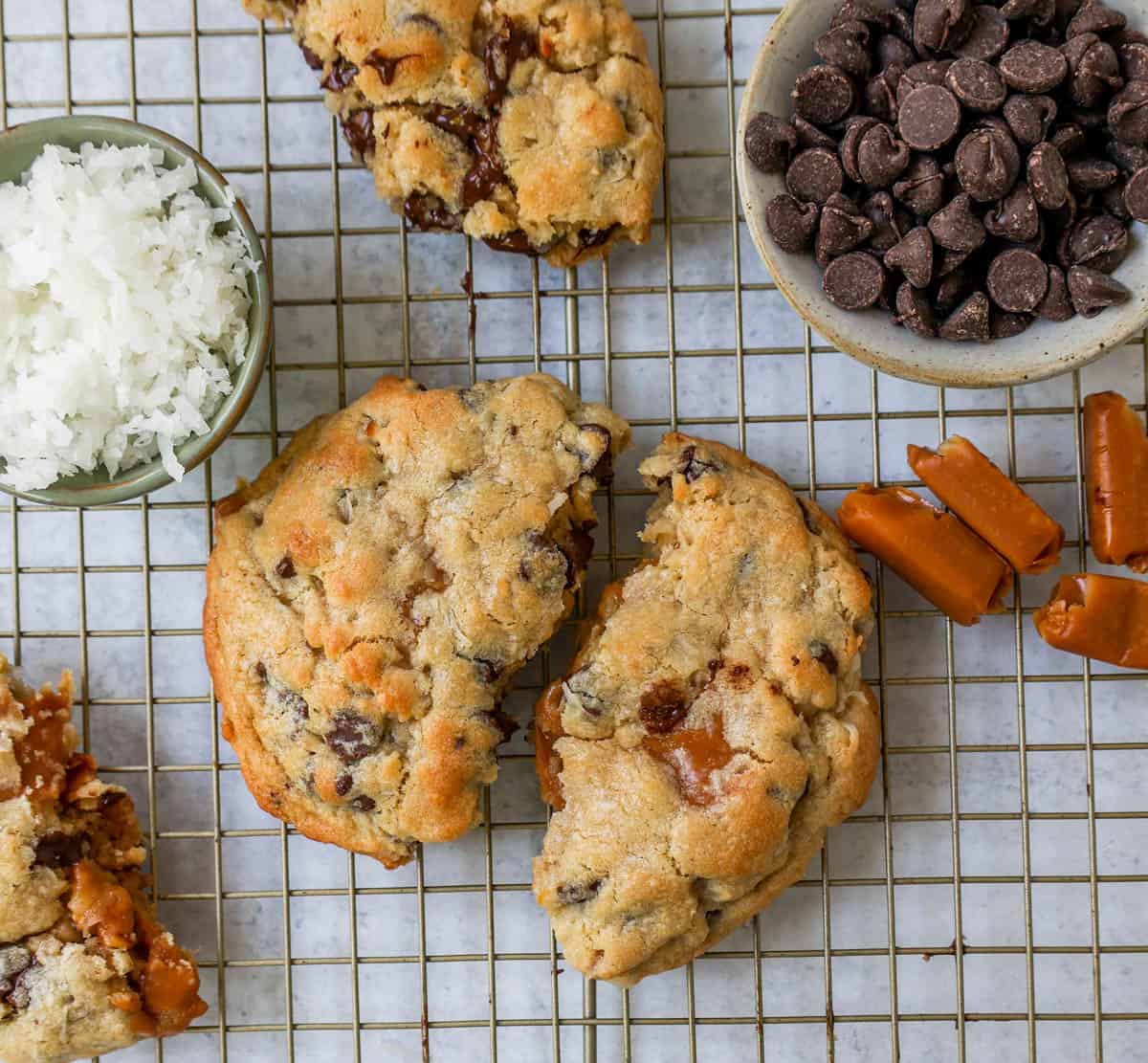 Instructions
Start by creaming together cubed butter, brown sugar, and sugar for 4 minutes or until light and fluffy. Scrape the sides of the bowl with a spatula.
Add eggs and vanilla and mix for 1 minute longer.
Stir in all-purpose flour, cake flour, cornstarch, baking soda, and salt, just until combined.
Fold in coconut and chocolate chips.
Weigh the cookie dough into 6-ounce balls.
Cut the soft caramel into small pieces.
Place the cookie dough balls on a parchment paper lined baking sheet. I suggest using a light colored baking sheet.
Place the caramel pieces in the center of the cookie dough ball. It is important to keep the caramels in the center of the cookie or they will spread on the sides of the cookie and stick to the pan.
Bake for 8-10 minutes or until a light golden color. Remove from the oven and let set up for 10-15 minutes before removing from the pan.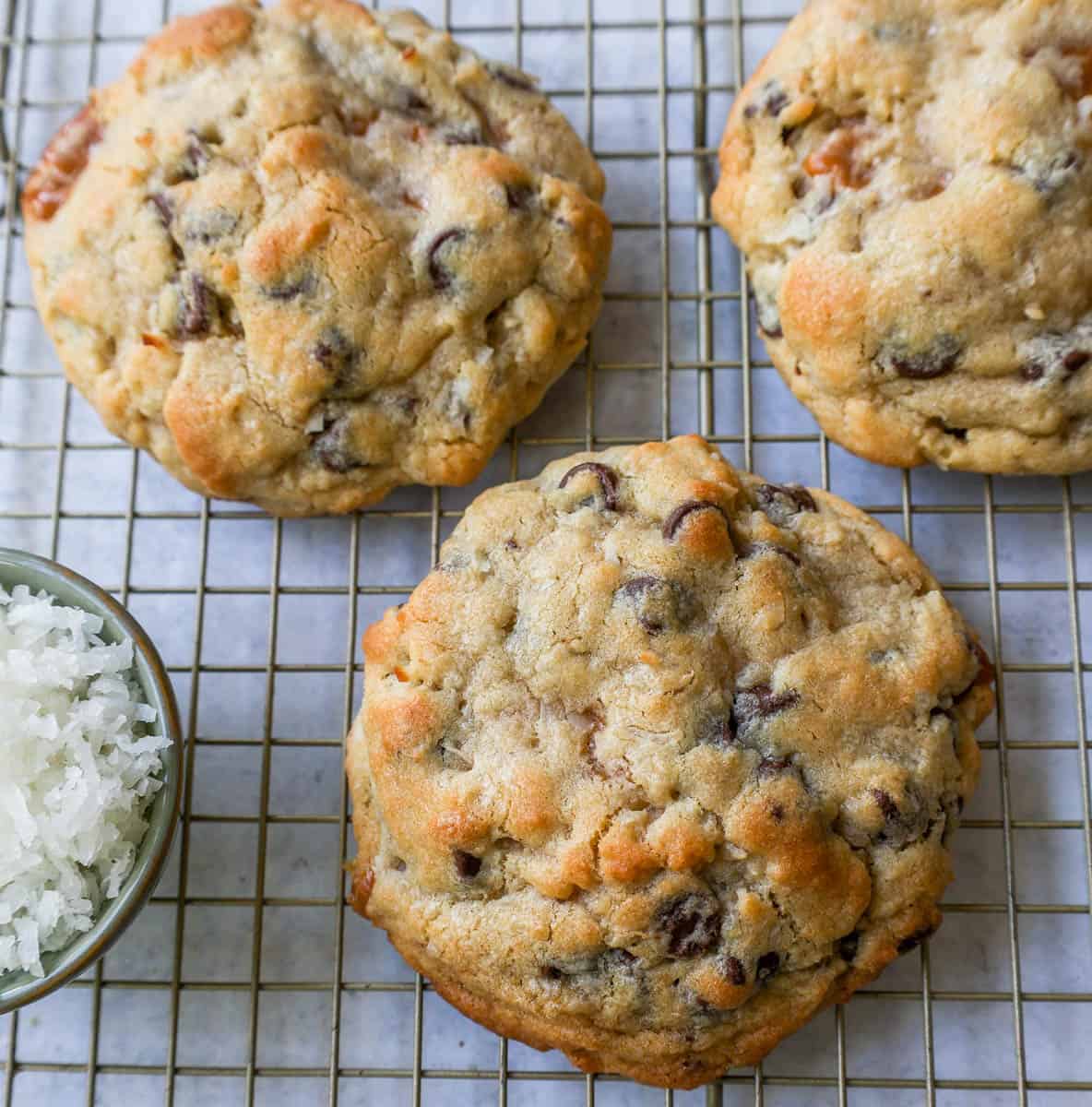 Substitutions
What if I don't have cake flour?
If you don't have cake flour, you can use 3 cups of all-purpose flour.
What types of caramels should I use in this recipe?
I used the Werther's Originals SOFT CHEWY caramels. Don't use hard caramels in this cookie recipe. You can also use Kraft caramels or caramel bits.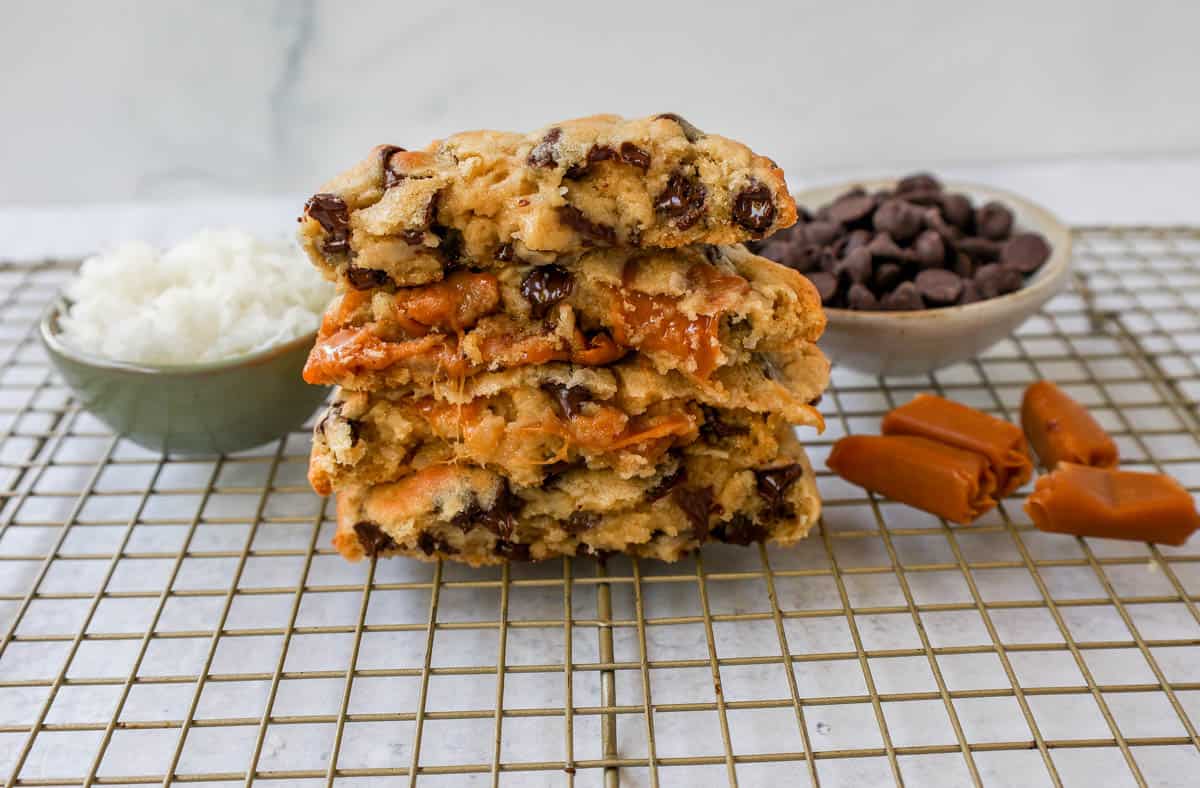 Equipment
Storage
These Caramel Coconut Chocolate Chip Cookies store very well. I suggest keeping it in an airtight container. The cookies will stay fresh for a few days.
If you would like to freeze these cookies, place them in a Ziploc freezer-safe bag.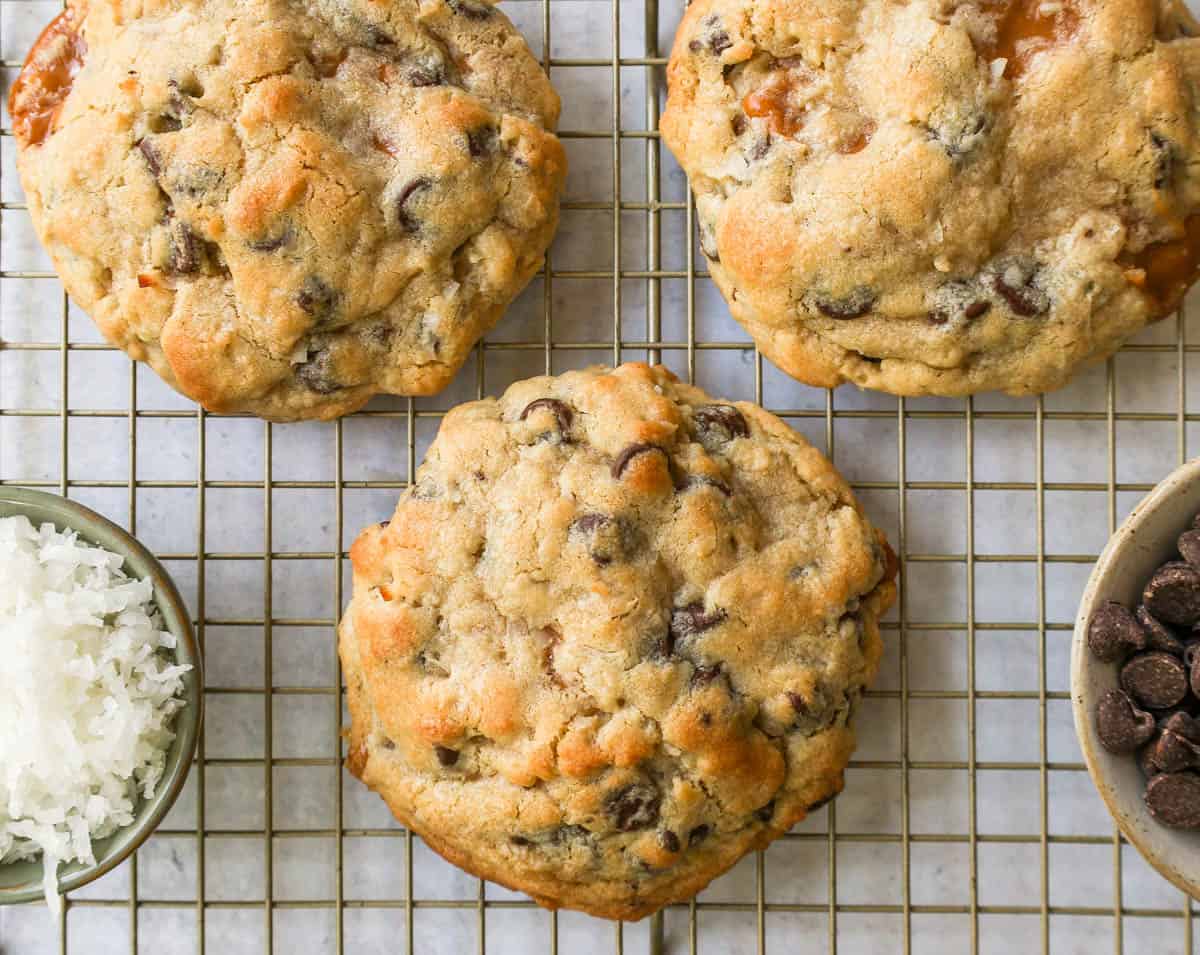 Top tip
Watch the cookies carefully and don't overbake. To ensure that the cookies don't burn on the bottom, I suggest using a LIGHT COLORED cookie sheet. Also, you can place the cookie sheet on a higher rack in the oven.
Related
Looking for other Levain Bakery Cookie Recipes like this? Try these: