Pumpkin Chocolate Chip Bars are moist, chewy pumpkin spiced bars with chocolate chips. These pumpkin chocolate chip blondies are soft and chewy and perfect for Fall.
It is September 1st so bring out all of the pumpkin spice! I already decorated for Fall, have a pumpkin candle in every room, and am baking all of the pumpkin recipes I can get my hands on! I love this time of year.
It may be 107 degrees today in Arizona but we are pretending it is a crisp, cool 65 degrees and I am in a sweater in a field picking apples in Vermont.
I love pumpkin recipes but I have to be honest, I am not a huge fan of cakey pumpkin baked goods. I love my pumpkin recipes to be soft, chewy, and to melt-in-your mouth! These Pumpkin Chocolate Chip Brownies literally do just that. You won't believe how good they are!
It all starts with melting the butter. I love to bring out the warmth of the butter and melt the sugars into the butter for a slight caramel flavor. I like to add the canned unsweetened pumpkin to the mixture to add that warmth to the pumpkin.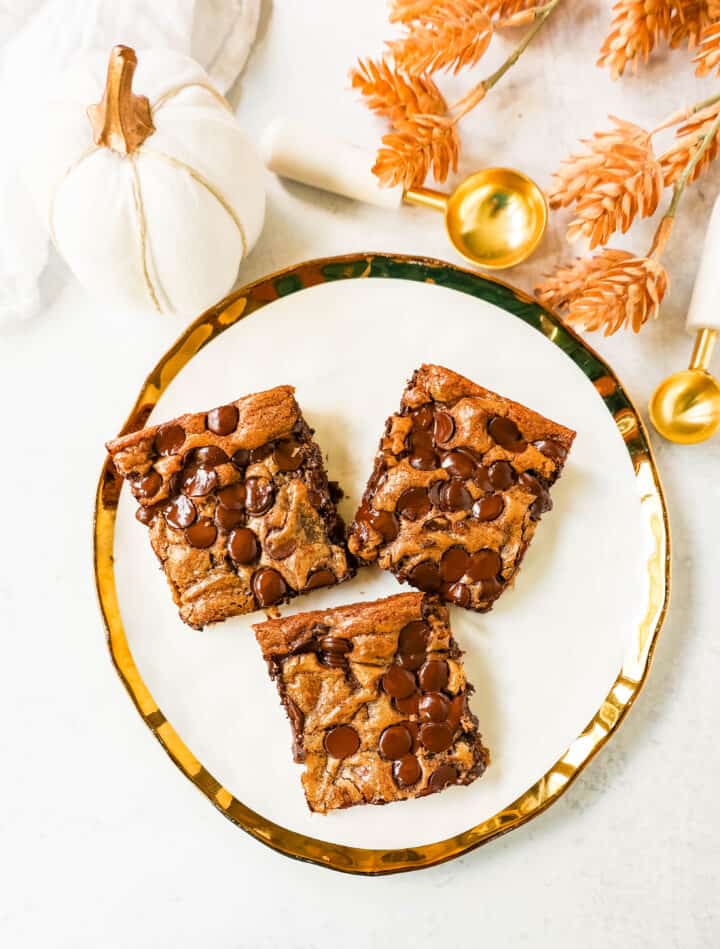 PUMPKIN CHOCOLATE CHIP BAR INGREDIENTS:
Butter -- melted to give a rich, brown butter flavor
Brown Sugar -- creates a chewy texture with butterscotch notes
Sugar -- adds sweetness and crisp edges
Canned Unsweetened Pumpkin -- only use pure pumpkin that is unsweetened, and not pumpkin pie filling
Pumpkin Pie Spice -- is usually made up of cinnamon, allspice, cloves, nutmeg, and ginger
Egg -- is a binder and holds the ingredients together
Vanilla Extract -- adds warmth to the pumpkin
Flour -- suggest using all-purpose flour
Baking Soda -- the leavening agent to give the pumpkin bars a rise
Salt -- an integral ingredient in baking to bring out the flavor
Semi-Sweet Chocolate Chips -- I find that semi-sweet chocolate chips pair the best with pumpkin. I use Ghirardelli or Callebaut chocolate chips but any brand of chocolate chips will be great.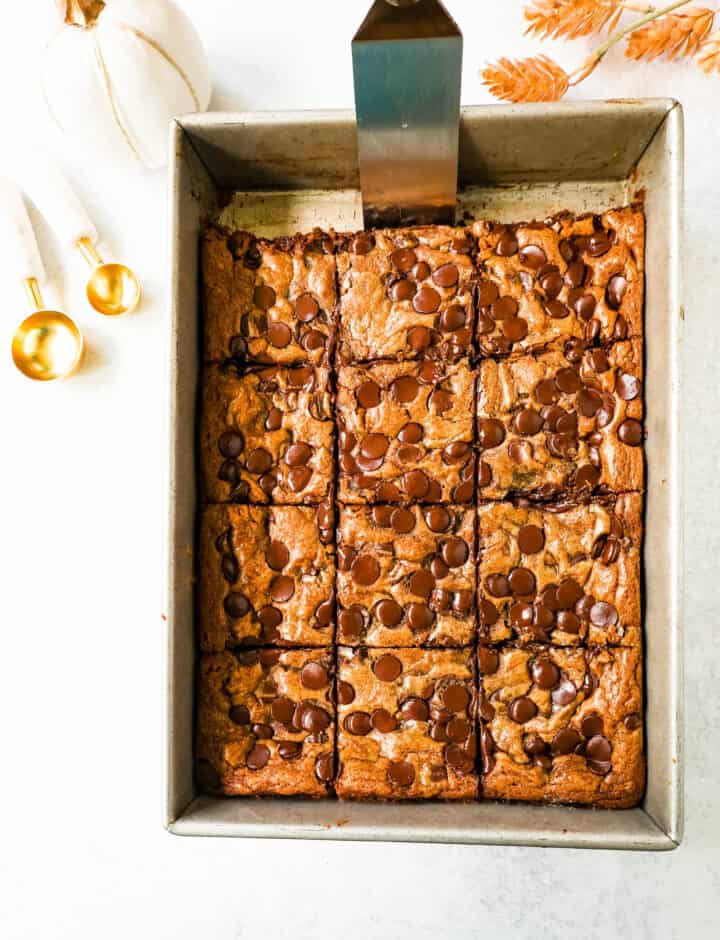 How to make Chocolate Chip Pumpkin Bars:
Start by melting the butter in a saucepan. Once the butter is melted, let it get a slight golden color by letting it bubble for 2 minutes. Then add in brown sugar and sugar and mix it until the mixture is completely smooth. Remove from the heat.
Add in unsweetened pumpkin and pumpkin pie spice and mix well until it is completely smooth. Let it cool for about 15 minutes.
Once the mixture has slightly cooled, add in egg and vanilla. You don't want to add the egg while the mixture is too hot or the egg will end up cooked!
Fold in flour, baking soda, and salt.
Before you add in the chocolate chips, check to make sure the dough temperature isn't too warm or the chocolate chips will melt. If you need to chill the dough, cover it and place it in the refrigerator before adding the chocolate chips.
Bake in an aluminum 9 x 13 baking dish. Sprinkle the top with a little more chocolate chips. Bake just until the cookies are barely baked. You want to lean more towards underdone rather than overbaked.
Let the pumpkin chocolate bars cool before cutting. A tip would be to use a plastic knife to make it easier to slice the bars. Also, you can place the bars in the freezer for 15 minutes to make it easier to cut.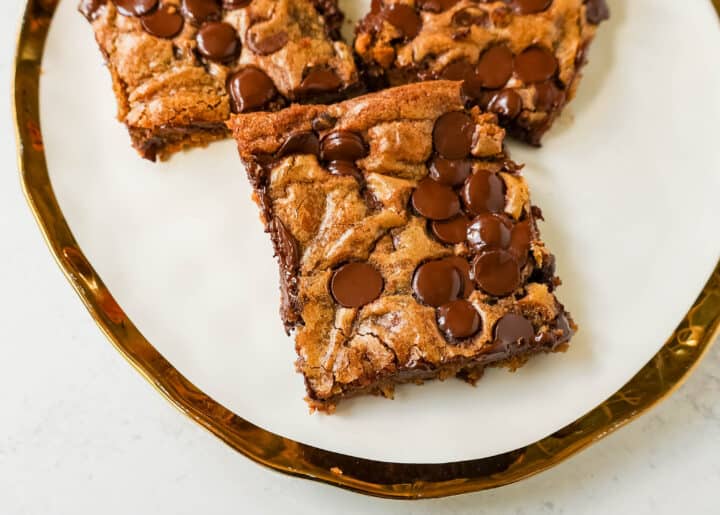 PUMPKIN RECIPES: