Moist pumpkin bread with chocolate chips. Tips and tricks for making the best pumpkin chocolate chip bread! The most perfect Fall Chocolate Chip Pumpkin Bread Recipe.
We are halfway through October and I can't even believe it. For the first time in a very long time, my back door is open and there is a slight crispness in the air. We get really excited about any glimpses of Fall weather here in Arizona. Yes, it is a high of 90 degrees today but the mornings are finally cooling down.
I woke up at 6:00 am yesterday even though all of my kids were spending the night at Grandma and Grandpa's house. You'd think this would be the perfect opportunity to sleep in and enjoy a quiet house. However, I quickly cranked up some music to get me going, put on some sweats, and got to work in my kitchen. I started baking up a storm and the smell of pumpkin spice and caramelized apples filled the air and I loved it.
What my kids didn't love was coming home to a house full of dishes but as my youngest daughter, Sadie reminded them, "but look at all of this food we get to eat." I love her positivity, optimism, and always looking at the bright side of things!
I have been traveling so much and there's the saying that has really resonated with me lately -- "there's no place like home." I am a travel junkie and traveling is one of my favorite things to do in the world but sometimes I just miss my bed and a home-cooked meal. So whenever I go on vacation, I can't wait to get back into the kitchen and start cooking again. It is my therapy!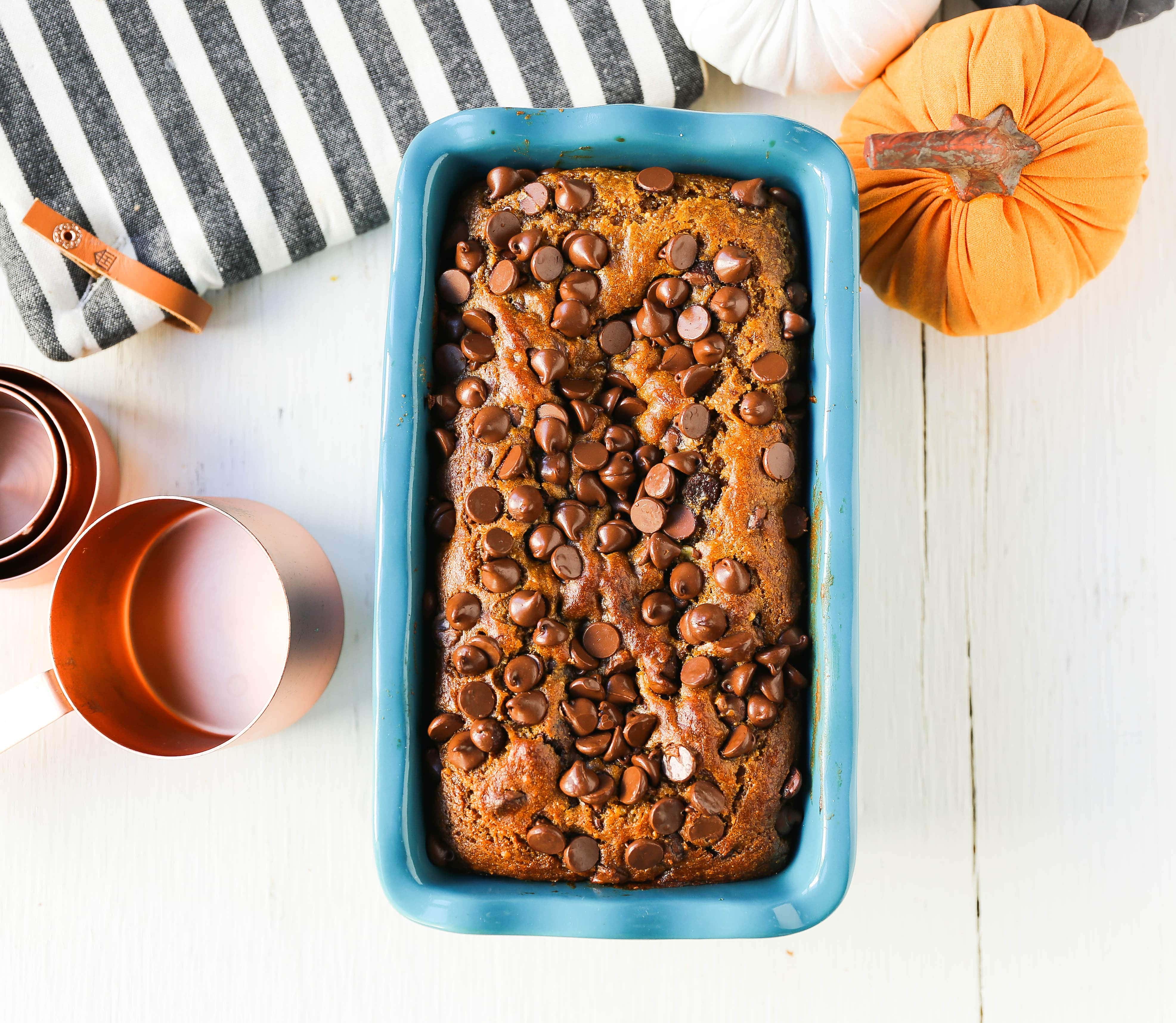 One of my favorite foods to make during the Fall season is pumpkin bread. I am obsessed with my PUMPKIN BREAD with BROWN SUGAR STREUSEL. It has a few game-changing ingredients that set it apart.
Now it is time to elevate the pumpkin bread game a little by adding some chocolate chips. This just makes it so decadent! This Chocolate Chip Pumpkin Bread is your excuse to eat chocolate for breakfast!
This Chocolate Chip Pumpkin Loaf begins with unsweetened pure Pumpkin Puree. Some warm spices are added to bring out the pumpkin flavor. A combination of brown sugar and sugar works perfectly in this pumpkin bread. A mix of oil, buttermilk, and creamy cheese makes a melt-in-your-mouth texture. It is the best chocolate chip pumpkin bread!
Pumpkin Chocolate Chip Bread Ingredients:
Canned Unsweetened Pumpkin -- only use unsweetened pure pumpkin and NOT pumpkin pie filling or pumpkin pie mix
Pumpkin Spice -- this recipe calls for ½ to 1 teaspoon of pumpkin pie spice depending on how much you want that flavor in the bread
Cinnamon -- this adds so much warmth and spice to the pumpkin bread
Cream Cheese -- one of my favorite ingredients to pair with pumpkin because it balances it out
Brown Sugar -- I suggest using golden brown sugar. If you want it to be a more molasses flavor pumpkin bread, use dark brown sugar
Sugar -- I use granulated sugar in this recipe
Oil -- any type of oil like canola, vegetable, olive oil, and others will work well in this recipe
Eggs -- wait until the mixture has cooled for several minutes before adding the eggs
Buttermilk -- this is what helps to make the bread extra tender. May substitute whole or 2% milk
Flour -- this recipe calls for all-purpose flour
Baking Soda and Baking Powder -- important leavening agents to make the bread rise
Salt -- balances out the sweetness
Semi-Sweet Chocolate Chips -- my favorite chocolate chips are Ghirardelli, Guittard, and Callebaut
HOW TO MAKE CHOCOLATE CHIP PUMPKIN BREAD:
Start off by cooking pumpkin puree over medium heat. This helps to create a perfect pumpkin flavor since it is the star ingredient. Let it cook for about 4 minutes on a low-heat, stirring often so it doesn't burn.
Add a mixture of oil, cream cheese, and buttermilk to add moisture and create a tender texture. This is the trifecta of ingredients that will make soft pumpkin bread.
Add cinnamon and pumpkin spice to bring out the warmth of the pumpkin.
Stir in semi-sweet chocolate chips. Pour into greased pans and sprinkle chocolate chips all over the top of the chocolate pumpkin bread. Bake just until a toothpick comes out clean in the center. If the sides of becoming overbaked, cover the bread with foil until the center completely bakes through. I like to cover my bread halfway through the baking time with foil just to make sure the center gets completely baked through.
If you love FALL recipes, check out all of my favorite PUMPKIN RECIPES, APPLE RECIPES, CARAMEL RECIPES, and SOUP RECIPES by clicking HERE.
POPULAR PUMPKIN RECIPES:
Thank you for following along! Please leave a comment down below if you make this pumpkin chocolate chip loaf recipe. I would love to hear from you!