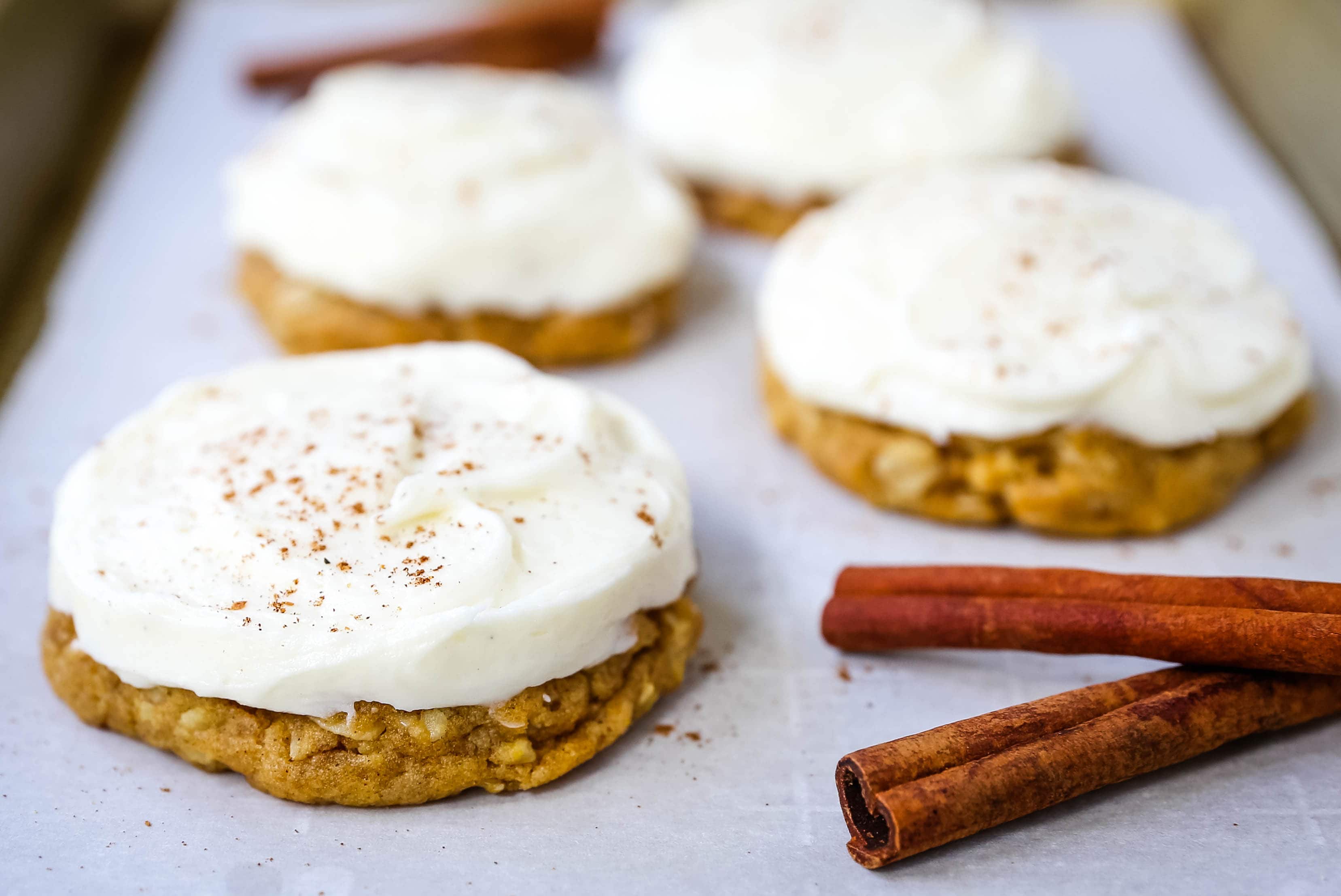 The BEST PUMPKIN COOKIES with CREAM CHEESE FROSTING
Soft chewy pumpkin spiced cookies with a fluffy sweet cream cheese frosting. The perfect frosted pumpkin cookie recipe!
It's pumpkin season! Hey it may be a tad early but is it ever too early to bring out the pumpkin spice? I don't think so.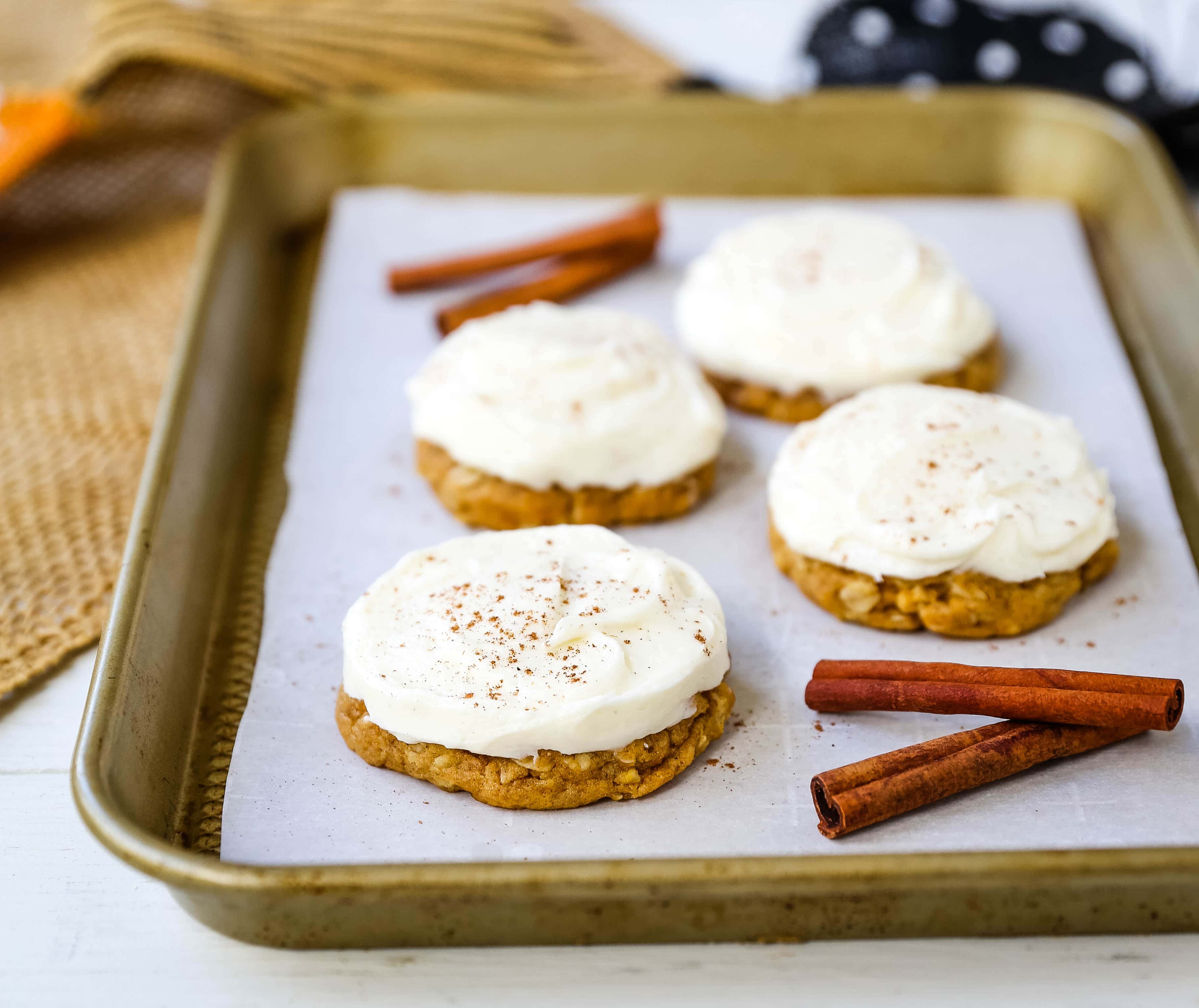 I have experimented with making the perfect chewy pumpkin cookie recipe. I grew tired of getting all excited about eating a pumpkin cookie only to discover that it was so cakey that it literally left a film on the roof of my mouth. I wanted to create a thick pumpkin cookie that was soft and chewy. We had success in the kitchen!
I have already shared my Saucepan Pumpkin Chocolate Chip Cookies and my White Chocolate Chip Pumpkin Cookies. Now it is time to add some cream cheese frosting. These Frosted Pumpkin Cookies are out of this world good. In my opinion…cream cheese frosting and pumpkin cookies just go together like peanut butter and jelly. 
So how do you make pumpkin cookies soft and chewy?
It all comes down to the butter and flour ratio. When you add too much flour, it becomes cakey and thick. Instead of adding so much flour, I added 1 cup of rolled oats which adds some chewiness to these pumpkin cookies. 
What type of canned pumpkin should I use in these Pumpkin Cookies with Cream Cheese Frosting?
You want to reach for unsweetened plain pumpkin puree. You don't want the pumpkin pie canned pumpkin which has spices already added to the pumpkin puree. You want it clean and simple as it is the perfect base for these cookies.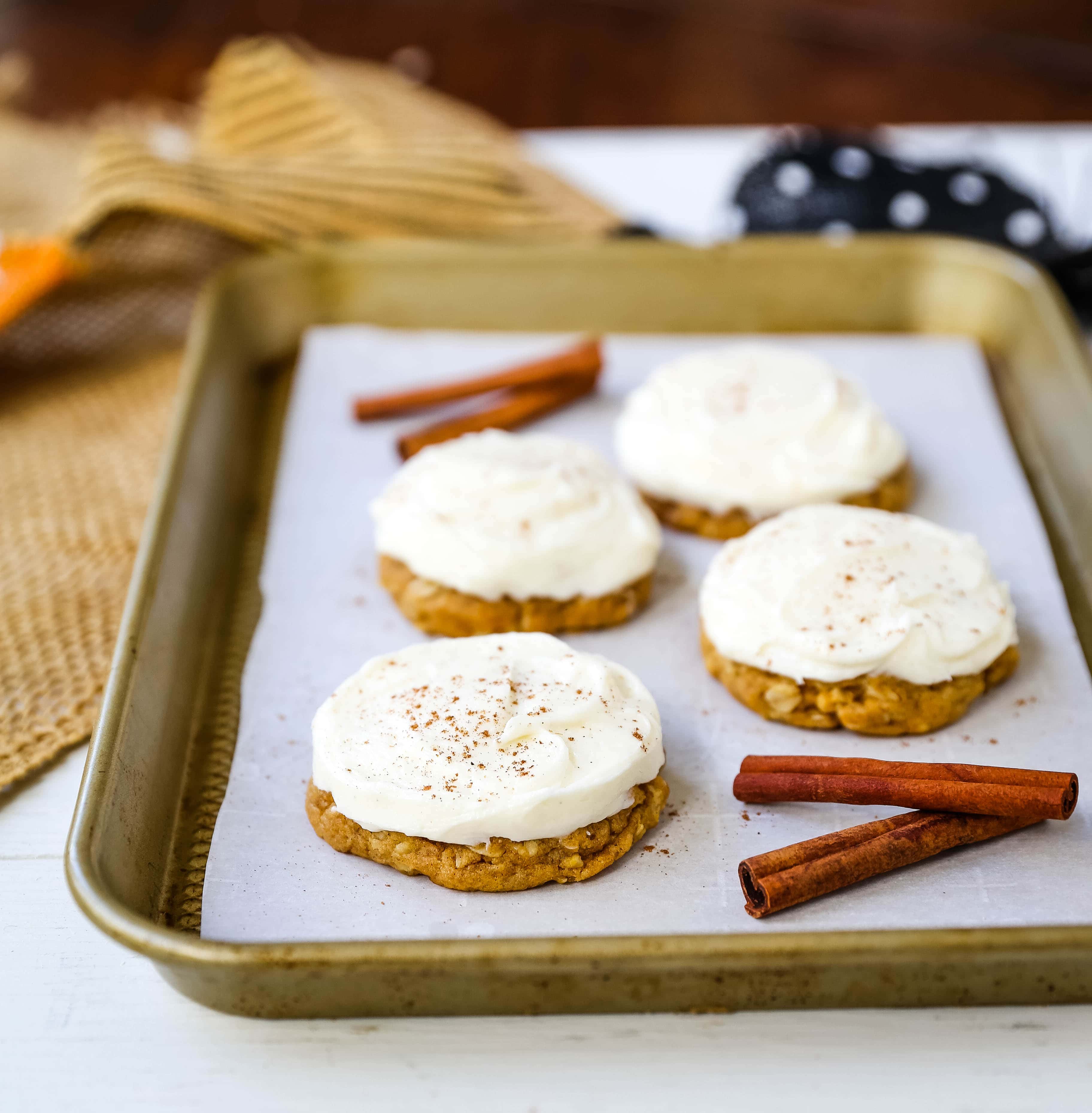 To make the perfect cream cheese frosting, you need a mix of sweet cream butter, softened cream cheese, powdered sugar, and vanilla. It may be a simple recipe but it is all about the right ratios.  This is a light and fluffy cream cheese frosting recipe and it pairs perfectly with these pumpkin oatmeal cookies.
The beauty of these Soft and Chewy Pumpkin Cookies with Cream Cheese Frosting is that you can make them ahead of time and freeze the cookies. They freeze and defrost beautifully. You can even freeze the pumpkin cookies and then frost when you are ready to serve them.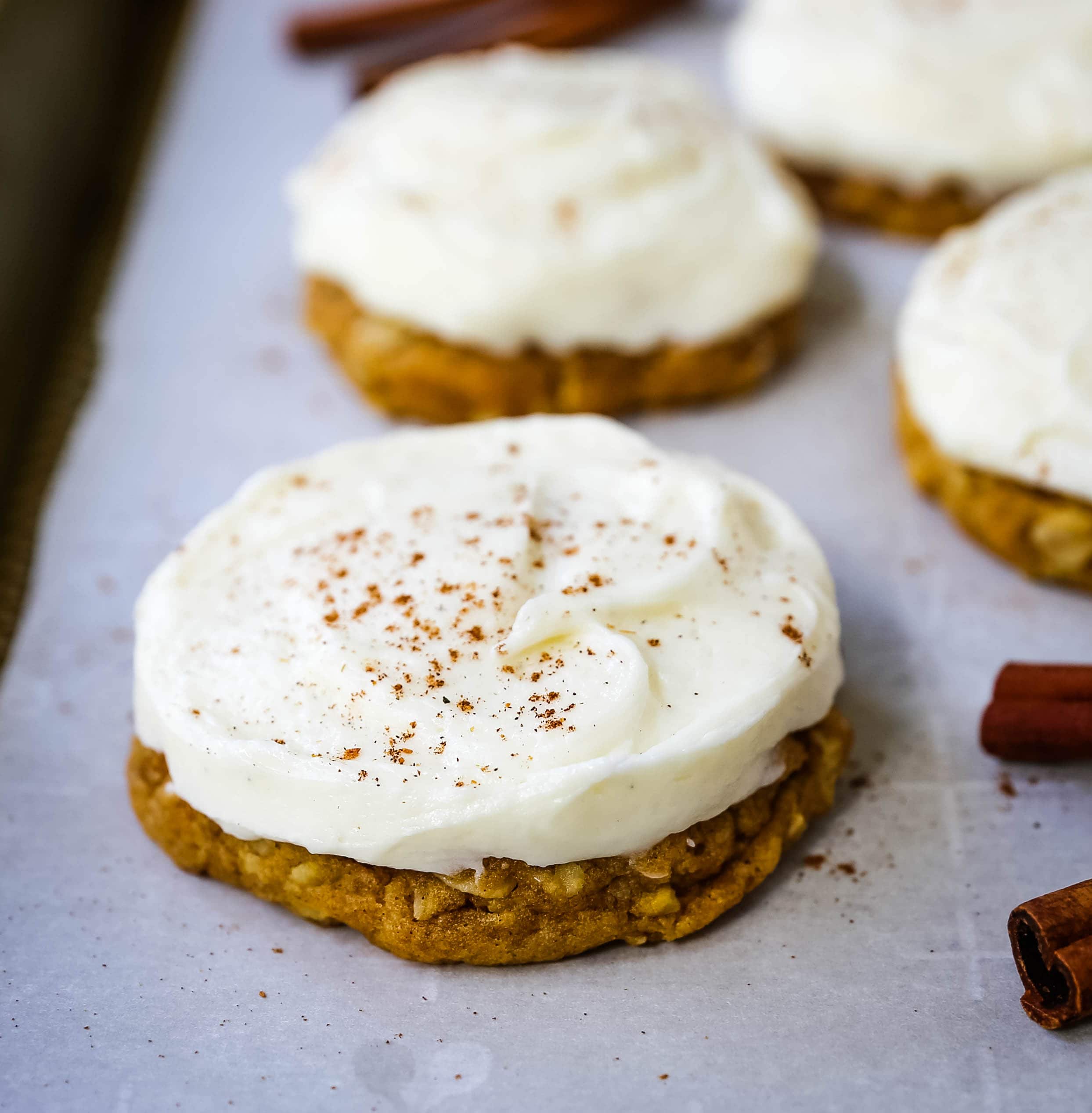 How to make the Best Frosted Pumpkin Cookies:
In a medium saucepan, melt butter over medium-low heat. Remove from heat and stir in brown sugar and sugar. Stir for 2-3 minutes or until it becomes silky smooth and glossy. Let cool for 10 minutes. Add egg yolk, vanilla, and Pumpkin Puree.
Fold in flour, rolled oats, baking soda, and salt. I reach for rolled oats instead of the quick-acting 5-minute oats.

 

Bake for 8-10 minutes, making sure not to overbake. I love to use these parchment baking sheets so they don't stick to the pan. Let cool before frosting.

 

To make the frosting…make sure the ingredients are all at room temperature. In order for the cream cheese to blend well into the frosting, it needs to be very softened. You can put it in the microwave for 15-20 seconds to soften it.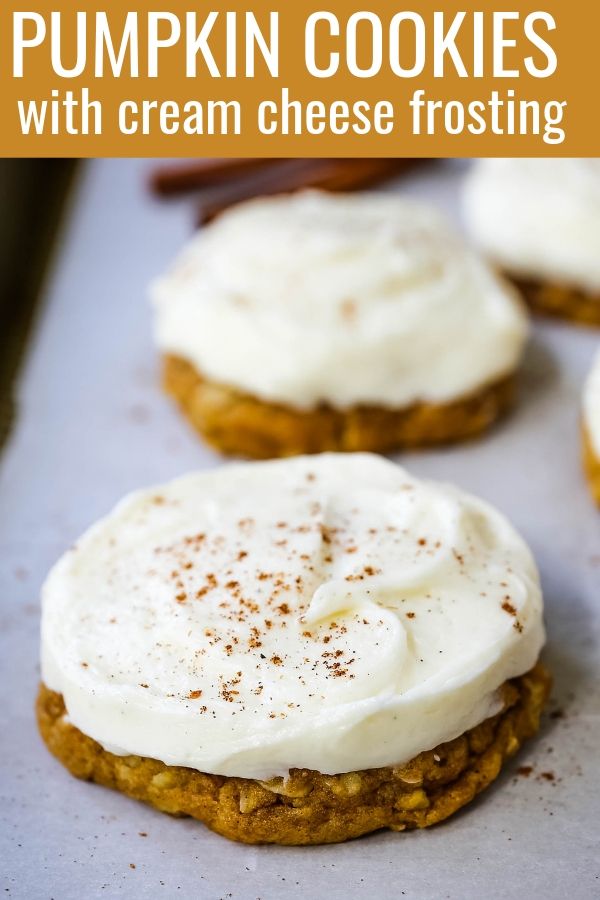 IF YOU LOVE PUMPKIN, CHECK OUT SOME OF THESE POPULAR PUMPKIN RECIPES:
The BEST Pumpkin Pie Recipe -- award-winning!
Pumpkin Bread with Brown Sugar Streusel
Pumpkin White Chocolate Chip Cookies 
Pumpkin Sheet Cake with Cream Cheese Frosting
Pumpkin Cupcakes with Salted Caramel Frosting
Pumpkin Chocolate Chip Cookies
Pumpkin Pancakes 
I love to hear from you! If you make this recipe, please be sure to leave a comment and give this recipe a rating. If you make any of my recipes, tag me on Instagram @modern_honey so I can see your creations. It's one of my favorite things seeing you make these recipes in your own kitchen. Thank you for following along! I truly do have the greatest readers.
FOLLOW ME ON:   INSTAGRAM --- FACEBOOK --- PINTEREST