Thin and Crispy Chocolate Chip Cookies are made with brown butter, a combination of brown sugar and white sugar, and semi-sweet chunks and chips. A perfect chewy chocolate chip cookie!
I have come to a realization in my search for the perfect chocolate chip cookie...everyone has different taste buds. Some may love the thin  crispy while someone else may prefer a thick and cakey.
Let's take my family for example. My sister-in-law, Laura, despises cakey cookies (right there with you) and prefers a thin chewy cookie. My Mom loves a thick chewy cookie with nuts. My brother Ryan prefers one with very little chocolate so the cookie flavor comes through. I have created enough chocolate chip cookie recipes to please the masses! Scroll down to find all of my recipes on Modern Honey.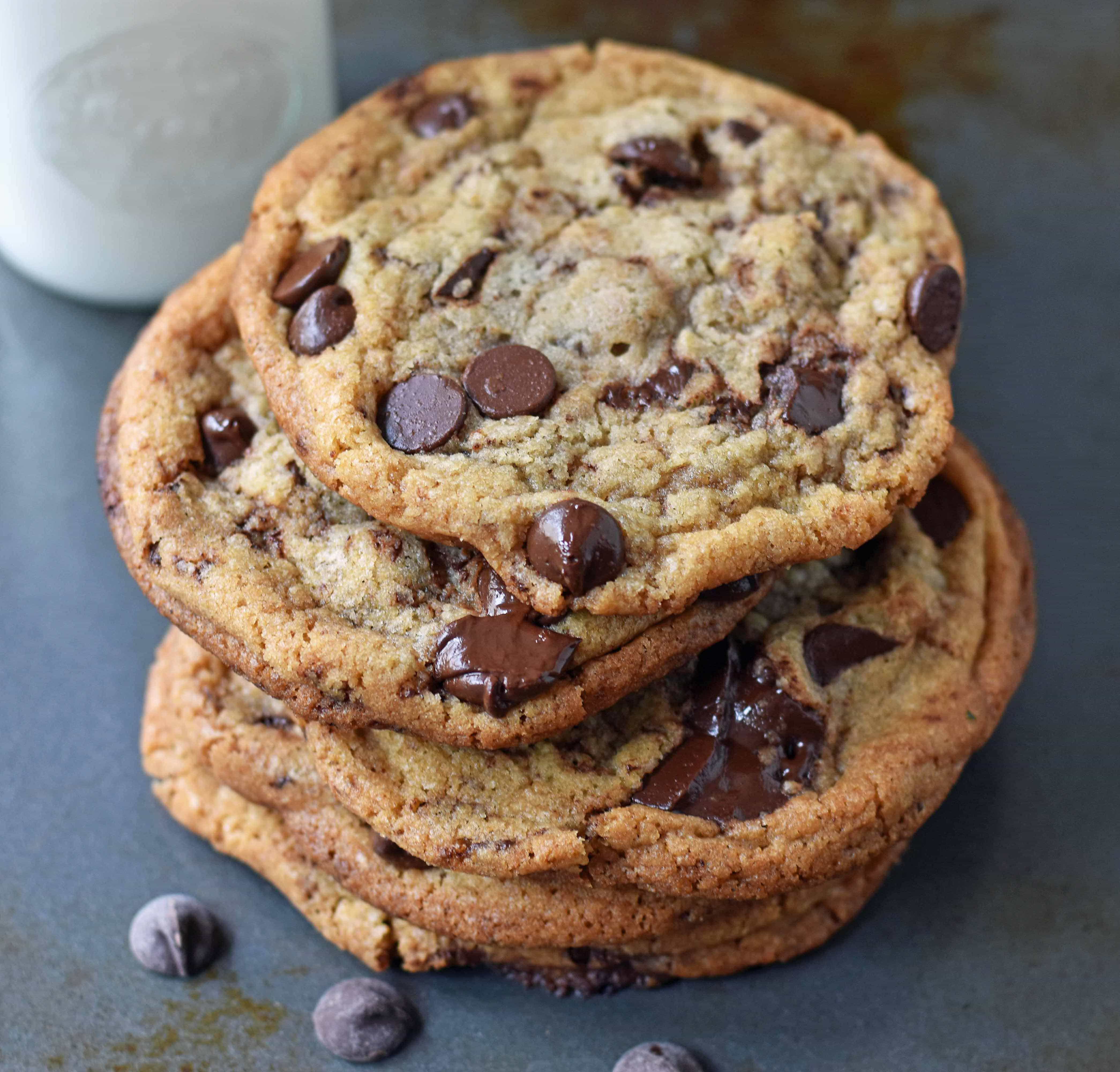 This is precisely the reason I test out SO many chocolate chip cookie recipes. I have been obsessed with figuring out the BEST Chocolate Chip Cookie Recipe, so for all of you that love a thin chewy chocolate chip cookie, this recipe is for you. But don't worry this isn't a recipe that produces super flat cookies with chocolate chip mountains. They aren't that flat!
So how do you make these Thin and Crispy Chocolate Chip Cookies? It all starts in the saucepan. Brown butter adds a ridiculous amount of rich toffee flavor to these cookies and is definitely the secret to making killer chocolate chip cookies.  The key is to cook the butter until it is a nice warm amber color.
The key is to not brown the butter for too long or precious liquids will evaporate and you will lose some of the moisture. I suggest watching it like a hawk and removing it from the heat earlier than you may think to make sure you don't end up with puffy cookies.
It is imperative to remove the butter from the heat and let it slightly cool, just to room temperature, before adding the rest of the ingredients (specifically the eggs). After the butter is slightly cooled, it is added to the mixing bowl and creamed with the remaining ingredients.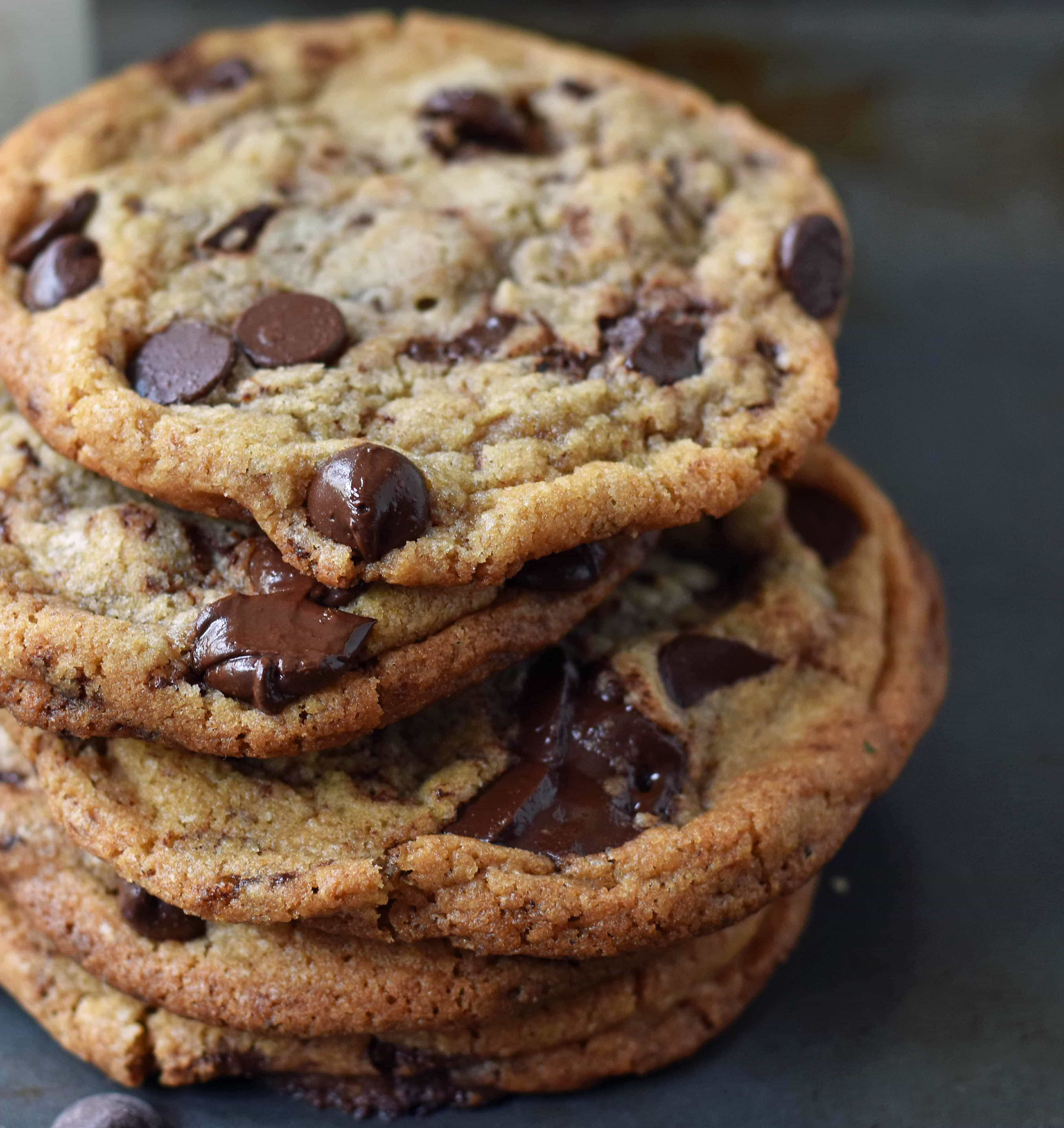 I love to use a mixture of chocolate chips and chocolate chunks.  My favorite chocolate chips are Ghirardelli, Guittard, and Trader Joe's.  If I can find Callebaut chocolate chips at Restaurant Depot, then I love to mix those in too.
If you have read my blog for more than two seconds, you know how I feel about Trader Joe's Pound Plus Bar. It is a GAME CHANGER.  It is so good in the chocolate chip cookie dough because it melts just enough to make the cookies rich and chocolatey.  A big bar lasts forever too!
Of course, it is important to chill your dough. I know it is hard to be that patient when all you want is COOKIES.  But you need to give it that precious time to do its thing. Cookie dough just gets better with time (as long as it is tightly wrapped in the refrigerator). Give it at least 30 minutes in the refrigerator. If you can wait longer, do it! You will end up with an even better cookie. I promise you that.
Since we are discussing chocolate chip cookies, let's chat about all of my recipes on Modern Honey. Let me know which one is your favorite! Find all of the popular recipes below. I am also sharing my favorite cookie baking tools....those that I couldn't live without.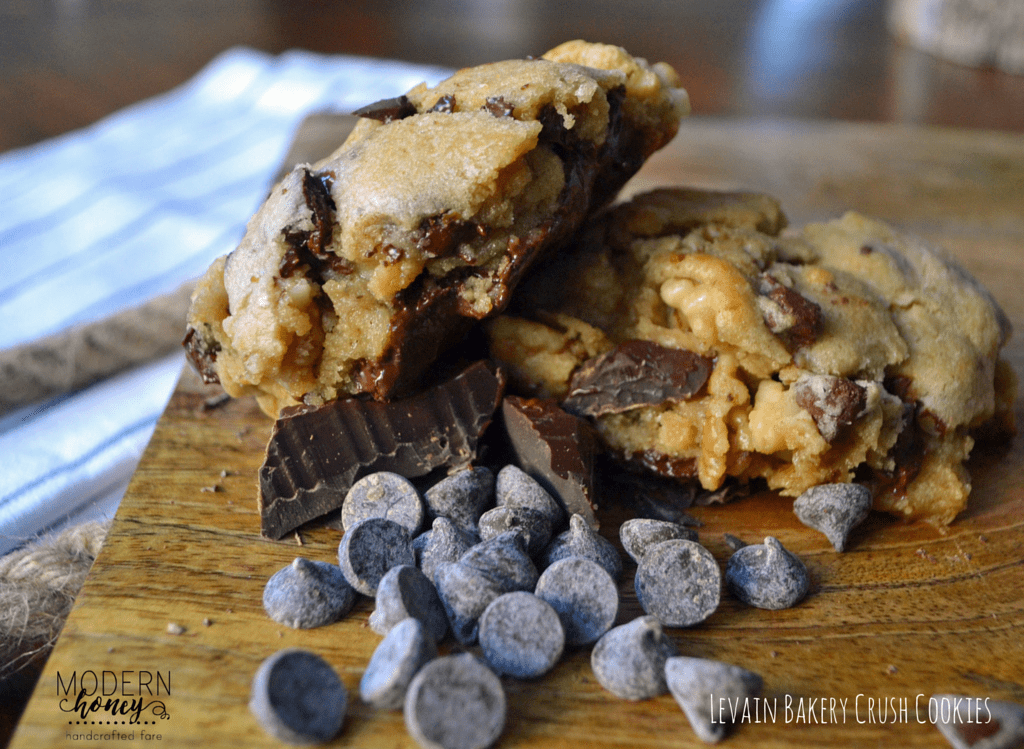 Levain Bakery Chocolate Chip Copycat Cookies -- the most unique chocolate chip cookie, using different methods to create a thick  chewy cookie without being cakey. I am sharing all of the secrets, tips, and tricks to make this perfect cookie. I worked for months perfecting this chocolate chip cookie recipe and it was my very first post on Modern Honey. Before I even started this blog, I had a lawyer offer to patent this recipe after trying out the cookies. This is a Modern Honey favorite cookie! There is good reason why Levain Bakery is the number one bakery in New York City. I am saving you a trip because you can make them at home!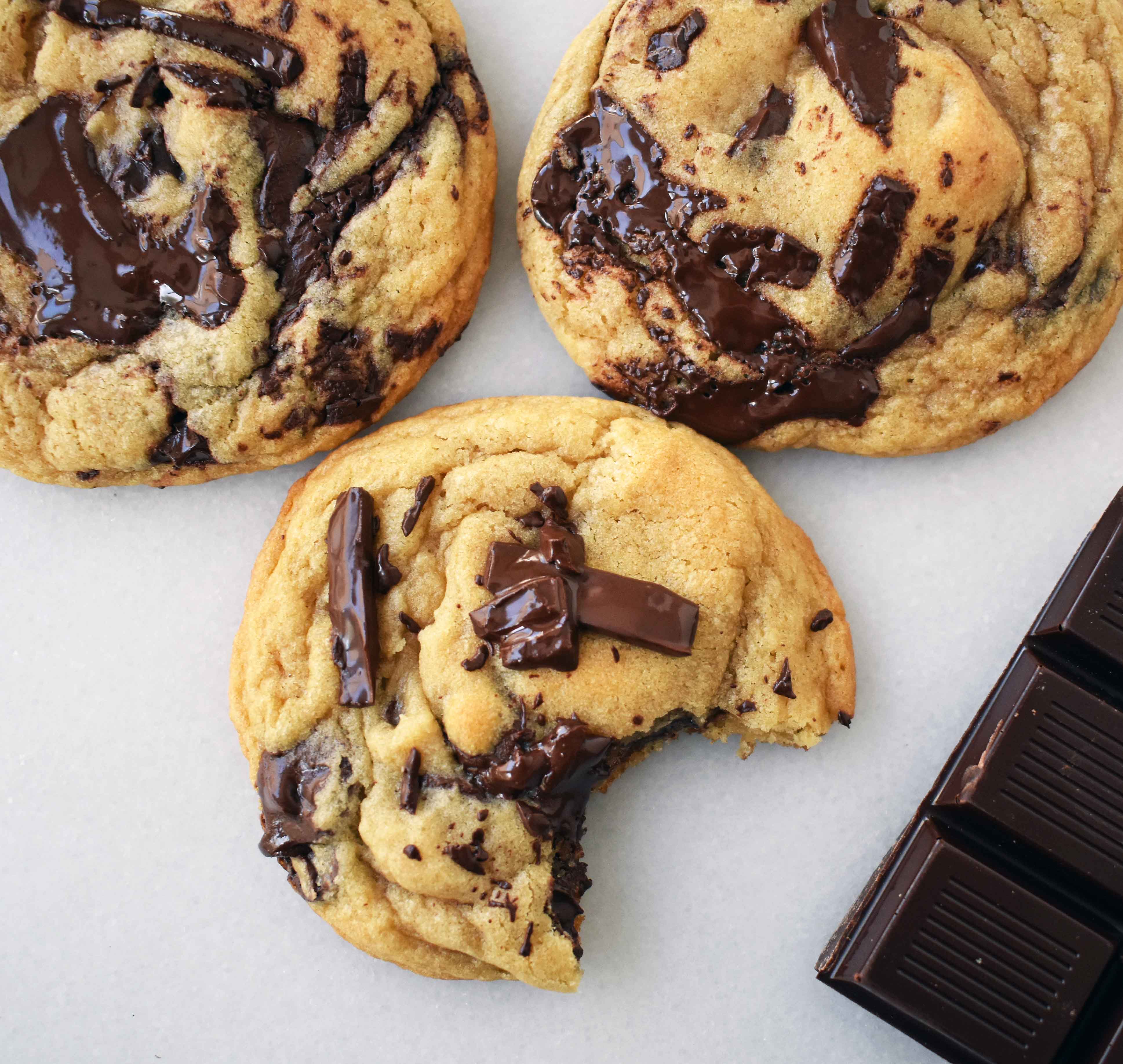 Ultimate Chocolate Chip Cookies -- a traditional, fool-proof chocolate chip cookie recipe. This is my go-to recipe is if I want to make a classic chocolate chip cookie.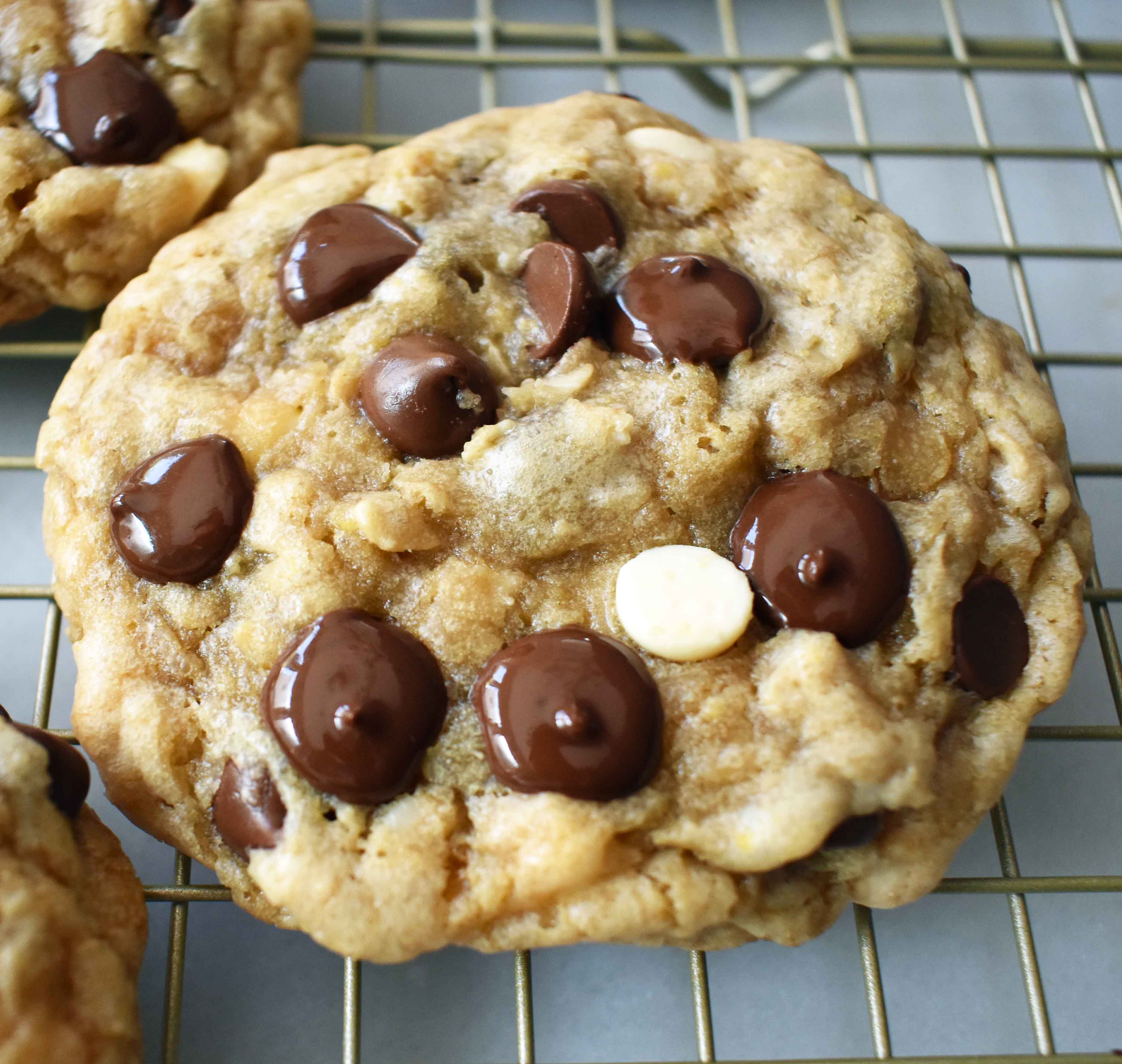 I Want to Marry You Cookies -- this cookie recipe won the Cooking Channel's Perfect 3 Contest to find the nation's most perfect cookie. I filmed a segment for the show, "The Perfect 3" in Food Network Studios in NYC. It became the number 1 recipe on cookingchannel.com in 2012.  This recipe is made in a saucepan (no mixer required) and has a touch of oats, chocolate chips, and white chocolate chips.  It's a winner!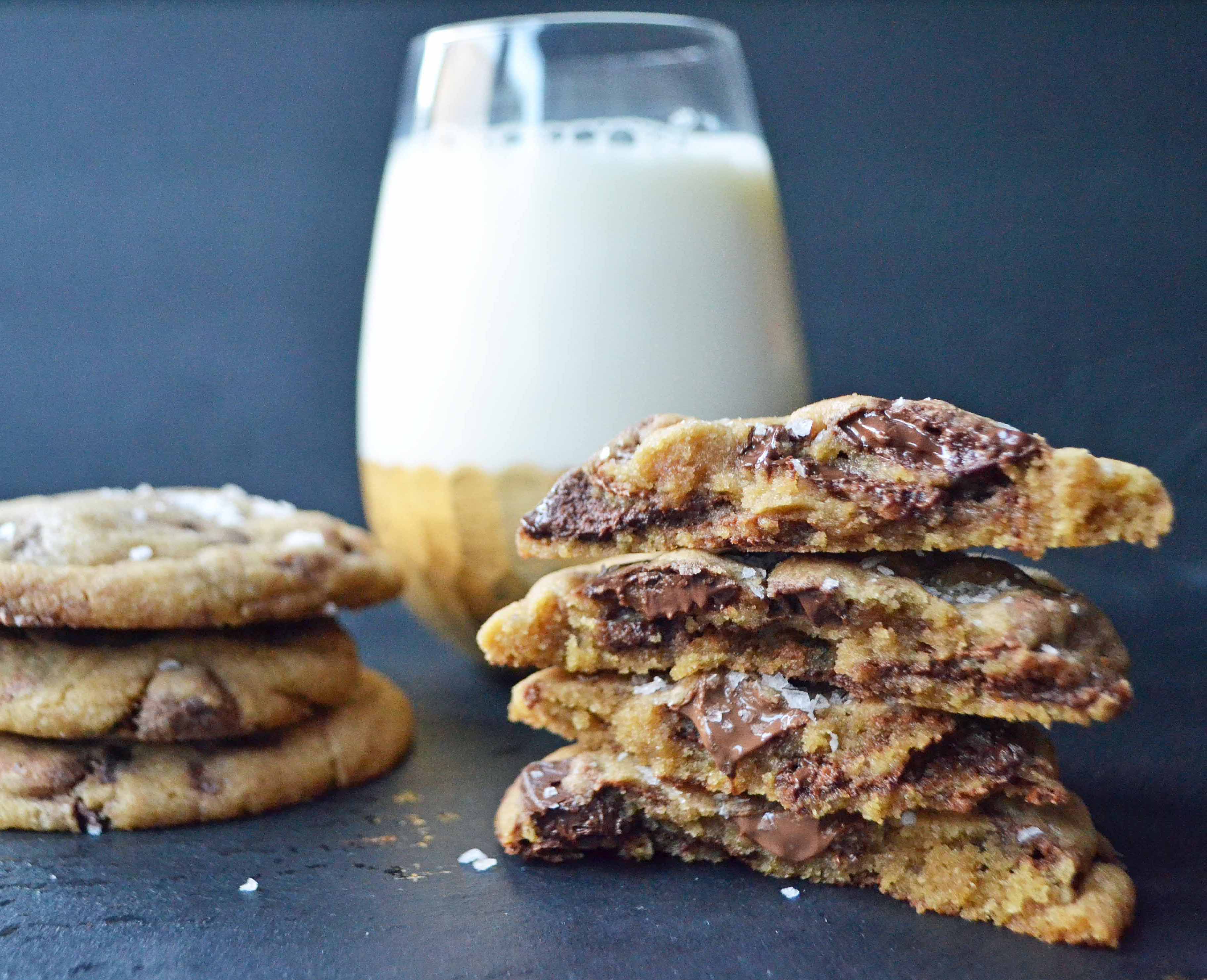 MJ's Top Secret Chocolate Chip Cookies -- this is the recipe that started my brown butter love affair.  This chocolate chip cookie recipe is made in one saucepan (no mixer required) and creates a toffee flavored chewy chocolate chip cookie.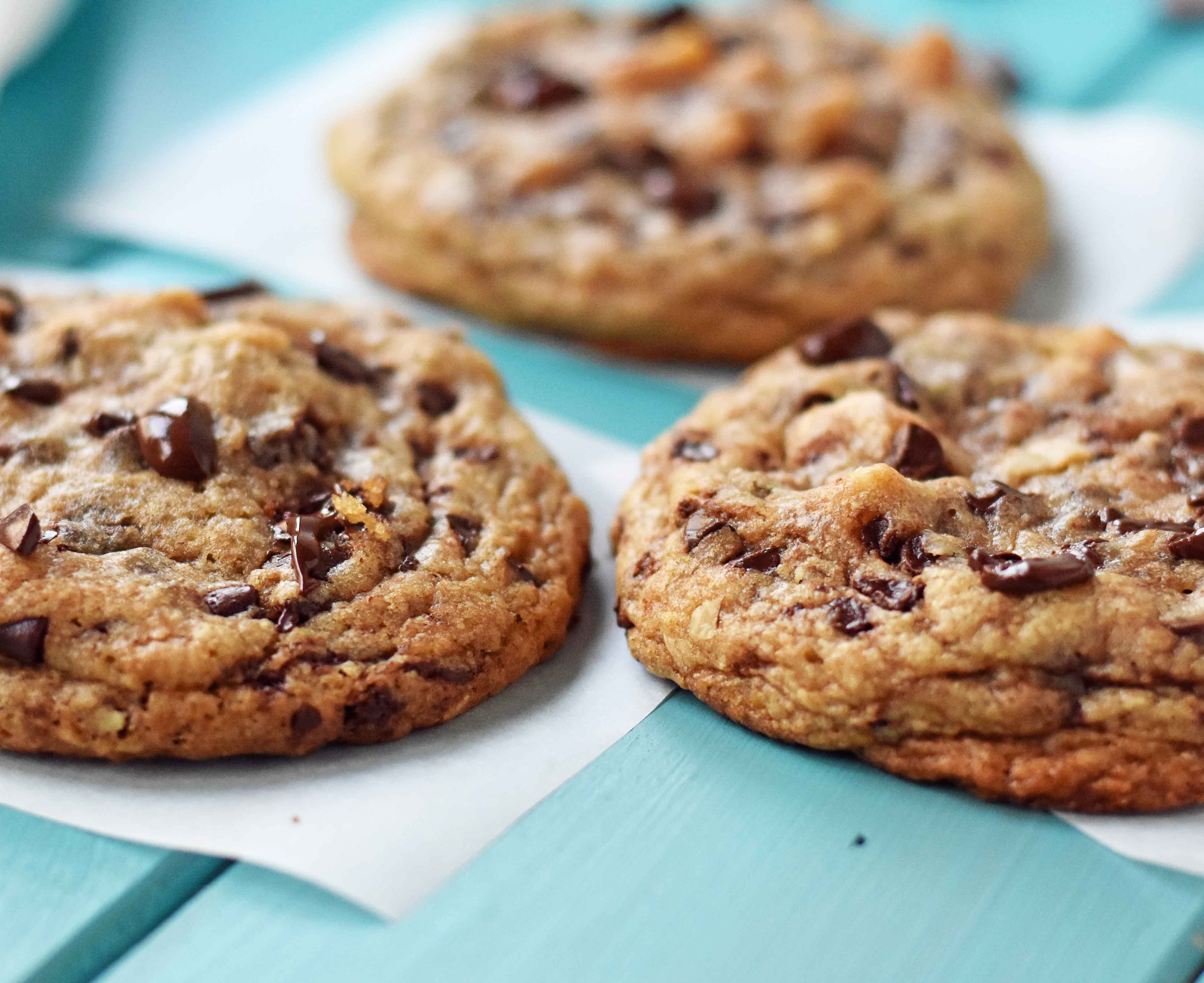 Doubletree Hotel Copycat Chocolate Chip Cookies -- people visit Doubletree hotels just to get their hands on their ultra-popular chocolate chip nut cookies. This recipe has a few secrets to set it apart from the rest. The result is a chewy chocolate chip cookie.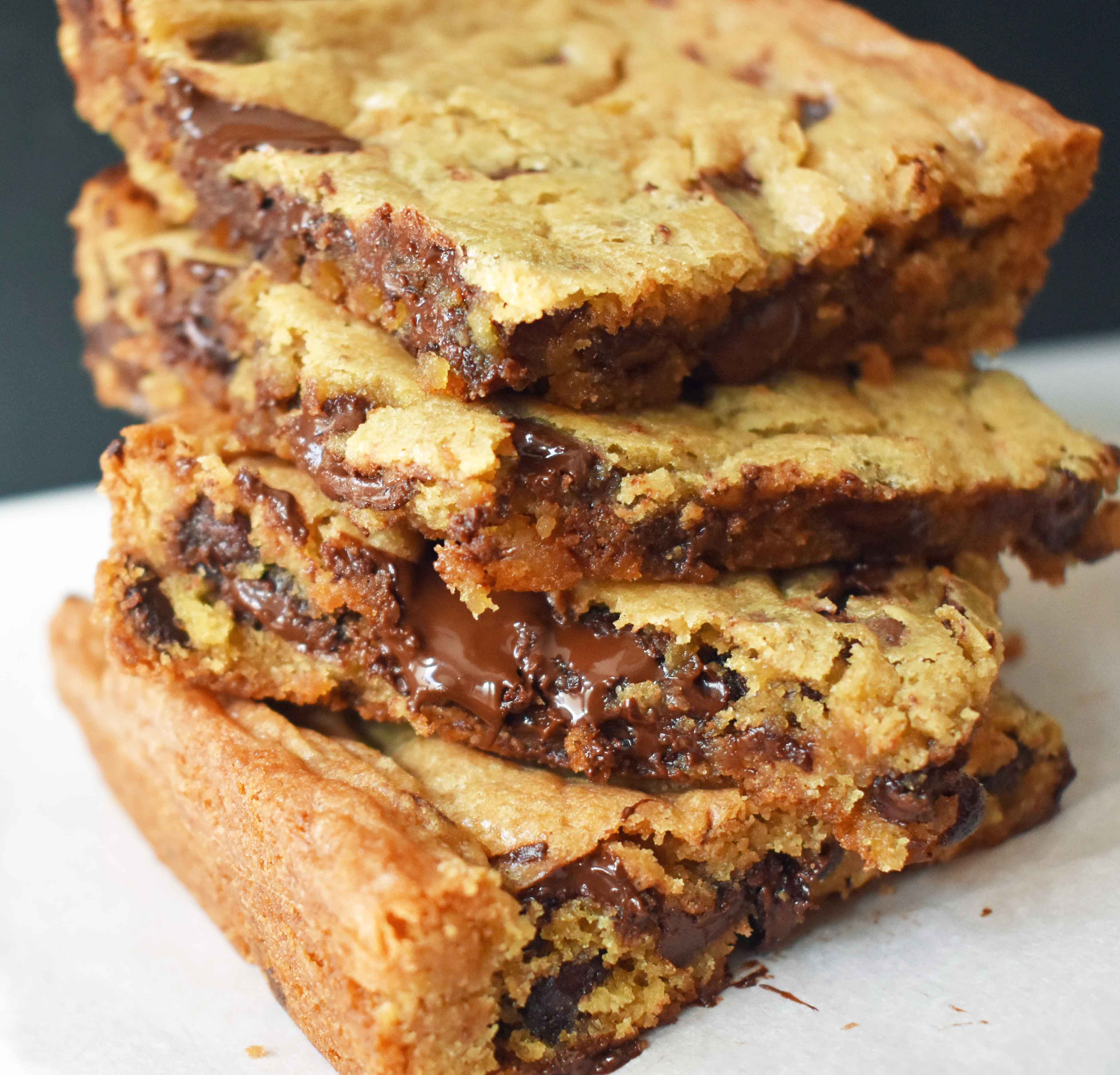 Chocolate Chip Cookie Bars -- this is a super easy recipe since the cookie dough is baked in one pan. People go crazy for these ooey gooey chocolate chip cookie bars. It's no wonder they are a favorite!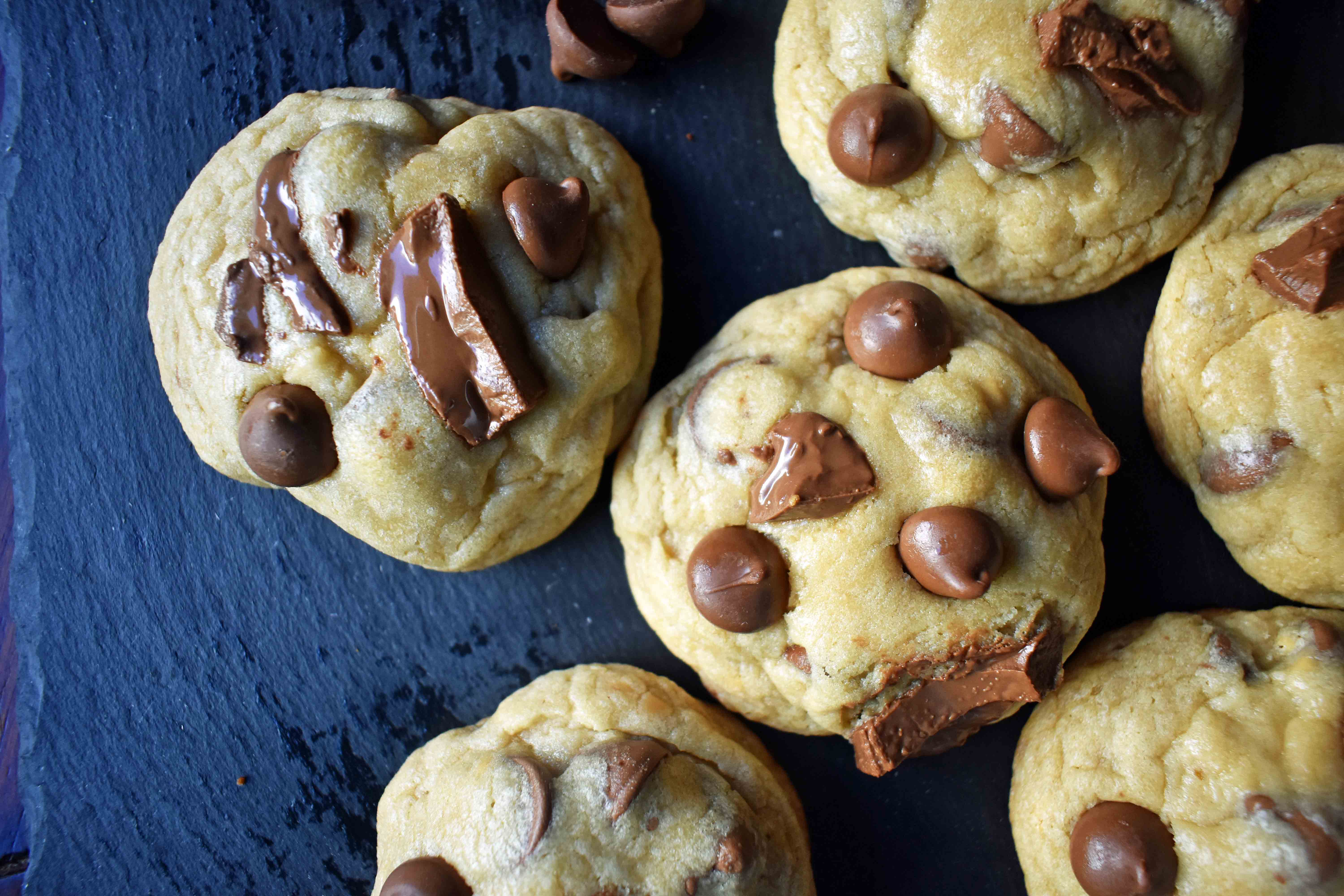 100K Malted Milk Chocolate Chip Cookies -- the combination of malted milk powder and milk chocolate chips make this a sweet and chewy chocolate chip cookie.  If you love sweet malt, you will love these cookies!
My Favorite Cookie Baking Tools:
Baker's Half Cookie Sheets -- I prefer a light colored baking sheet as it ensures the cookies bake evenly on the top and the bottom.  Dark colored baking sheets turn the bottoms too brown very quickly.
Silicone Baking Sheets -- these are such a genius invention. This makes cleanup a breeze and the cookies remove so easily.  Click HERE for an inexpensive version. Click HERE for the original Silpat version.
Nylon Turner -- this ensures the cookies come off of the cookie sheets perfectly.
Spatula Set -- these are imperative to use to remove the cookie dough from the sides of the bowl.
Cookie Scoop -- this creates uniform, perfectly shaped cookies every single time.
Cooling Racks -- this helps for the cookies to cool and stops the cookies to continue to cook on hot baking sheets.
Kitchenaid Mixer -- my favorite mixer. This is a very well-used machine in my home! I can't imagine baking without it.
Here is the recipe for Thin and Crispy Chocolate Chip Cookies: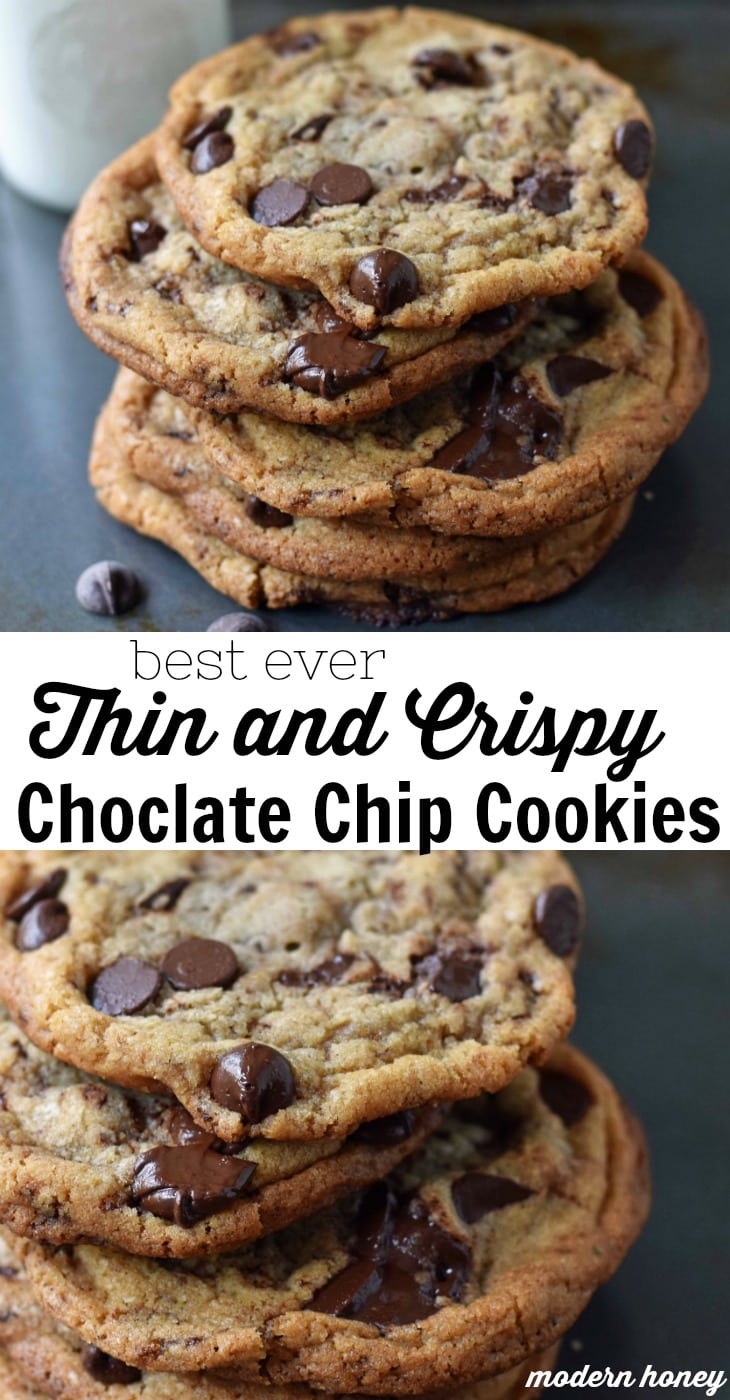 Happy Baking, my friends! Come say "hello" on my instagram @modern_honey. xo