This easy Creamy Lemon Orzo is a rich, creamy dish with bright lemon and fresh basil. This one-pan creamy lemon orzo is made in only 20 minutes! It is the perfect side dish or served alongside grilled chicken or steak.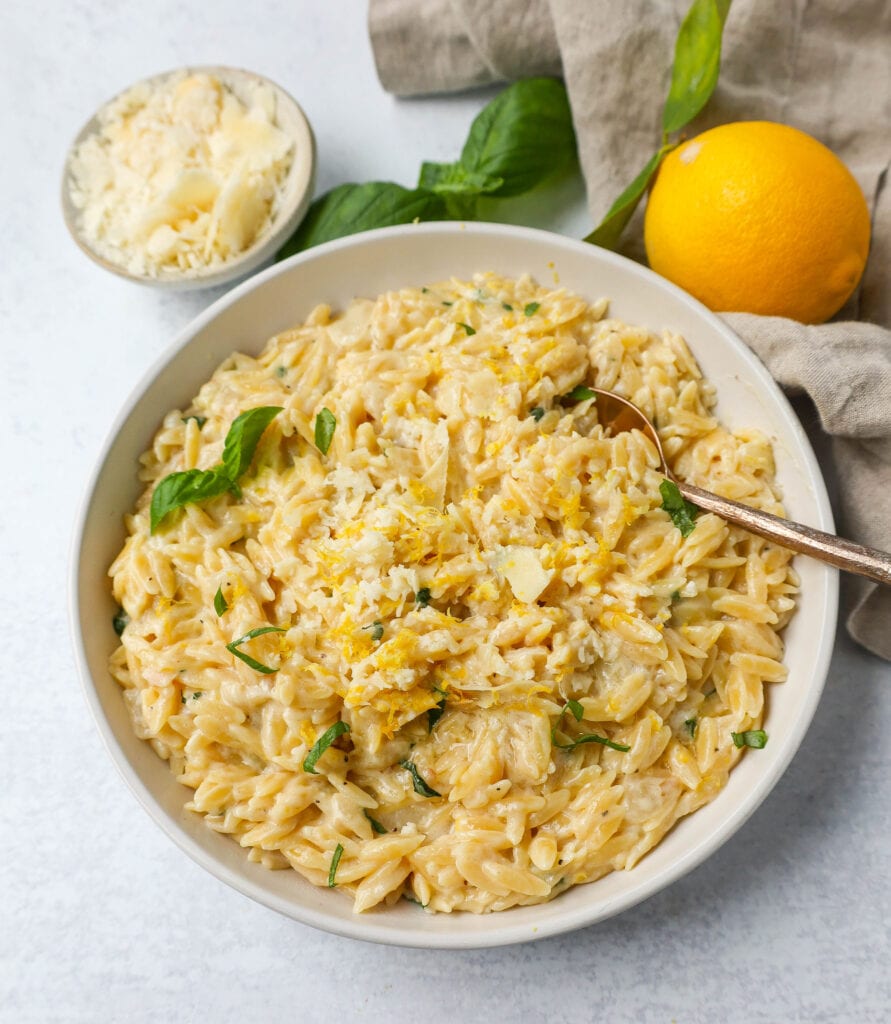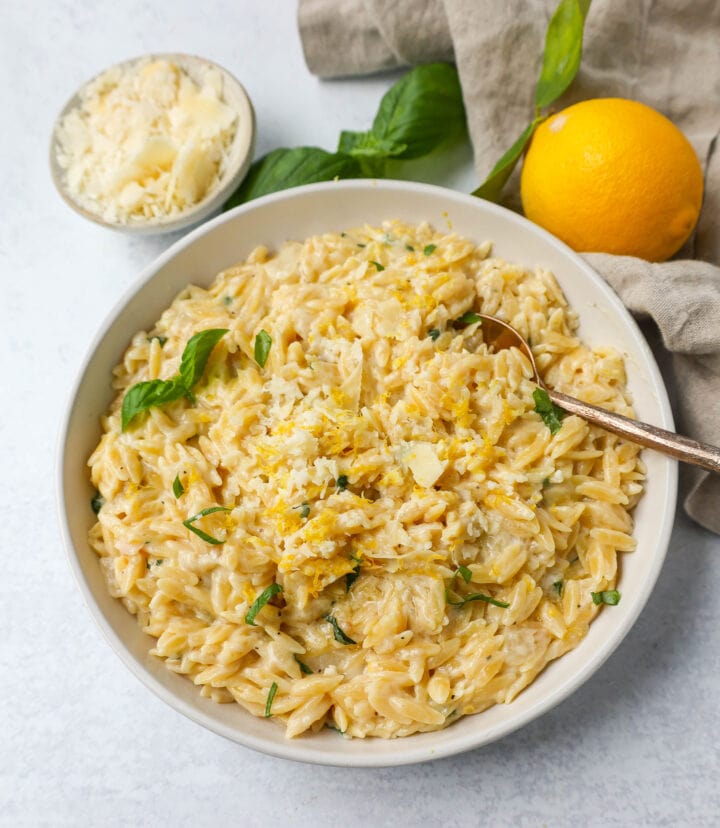 It is lemon season in Arizona and so bring on all of the delicious lemon recipes!
I am always looking for innovative side dishes that aren't your typical norm. I am loving orzo pasta these days and wanted to create the perfect creamy lemon basil orzo. It has it all -- rich creaminess, tender texture, and freshness from the lemon zest and basil.
Since my Creamy Lemon Orzo Soup has been so popular on Modern Honey, I wanted to share a perfect creamy side dish that shares similar flavors. This is like a creamy risotto but made with orzo pasta.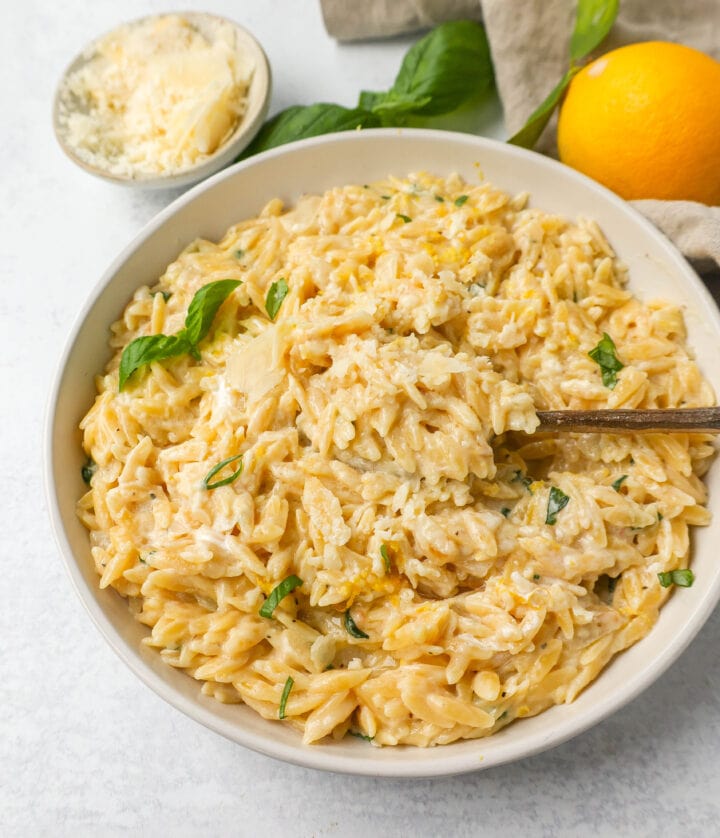 Creamy Lemon Orzo Ingredients:
Orzo Pasta -- this popular Italian pasta is so tender and creamy. Use dried orzo found in the grocery store. There are varying sizes of orzo pasta.
Fresh Lemon (Juice + Zest) -- use fresh lemon zest and juice to add vibrant flavors to this creamy orzo pasta.
Onion -- the sauteed sweet onion gives the orzo the base of flavor.
Butter -- saute the onion in butter until the onion is tender and translucent.
Chicken Broth -- adds that salty and savory flavor and is perfect to cook the orzo in to infuse the flavor into the orzo pasta.
Heavy Cream -- adds the perfect amount of rich, creaminess to the orzo and makes it taste like a delicious risotto.
Parmesan Cheese -- adds a nutty, salty flavor and when melted, it becomes perfectly creamy.
Fresh Basil -- the fresh lemon and fresh basil add freshness and vibrancy to the dish and compliments the rich creaminess.
Garlic -- to add more depth of flavor, add a touch of garlic.
For extra creaminess and flavor, add a few tablespoons of salted butter after the creamy orzo is done cooking.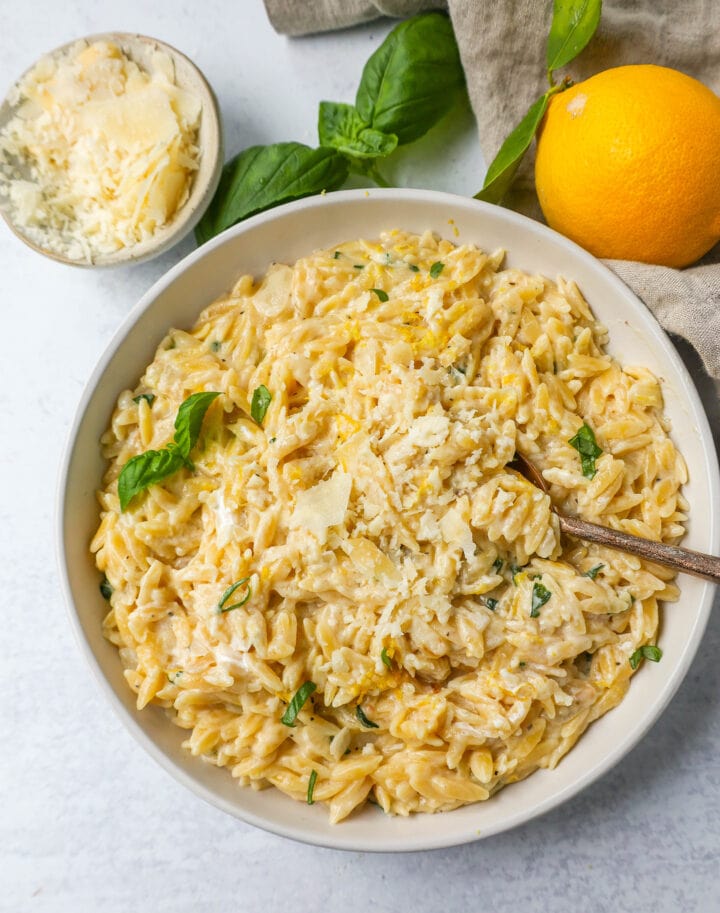 How to make Creamy Orzo:
Start by sauteeing onion in butter until tender and translucent. This helps to build flavor in the creamy orzo pasta. Add the orzo pasta and garlic and toast it for two minutes.
Add chicken broth and cook for 8 to 10 minutes or until the orzo is cooked and tender and until the liquid is almost all absorbed. Remove from heat.
Stir in parmesan cheese, heavy cream, lemon juice, lemon zest, and fresh basil. Sprinkle in salt and pepper to taste.
For extra creaminess, add a few tablespoons of butter before serving. Sprinkle with parmesan cheese.
Storage:
Refrigerate any leftovers in a sealed container. When ready to reheat, add a splash of chicken broth and heavy cream since the orzo pasta will have soaked up a lot of the chicken broth and cream.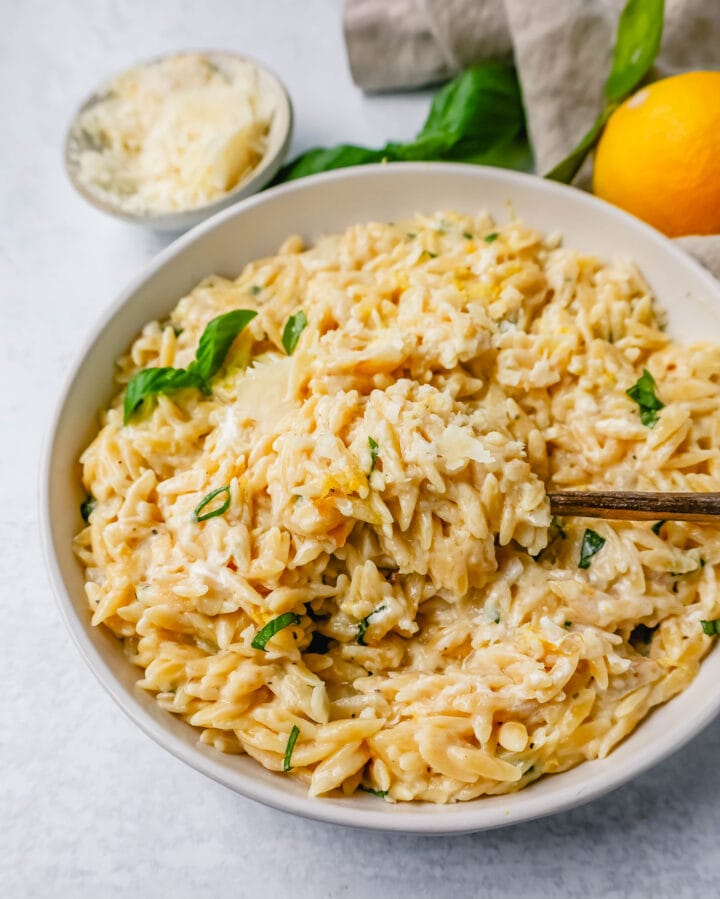 Popular Lemon Recipes:
If you are looking for some delicious side dish recipes, here are the recipes for you!
Side Dish Recipes:
I love to hear from you! If you make this recipe, please be sure to leave a comment and give this recipe a rating. If you make any of my recipes, tag me on Instagram @modern_honey so I can see your creations. It's one of my favorite things to see you make these recipes in your own kitchen. Sign up for my newsletter below so you never miss a recipe. Thank you for following along! I truly do have the greatest readers. FOLLOW ME ON: INSTAGRAM --- FACEBOOK --- PINTEREST