How to make the best pasta salad with Italian meats, cheese, pasta, and vegetables, all tossed with a homemade creamy red wine vinaigrette. This is such an easy, popular pasta salad recipe.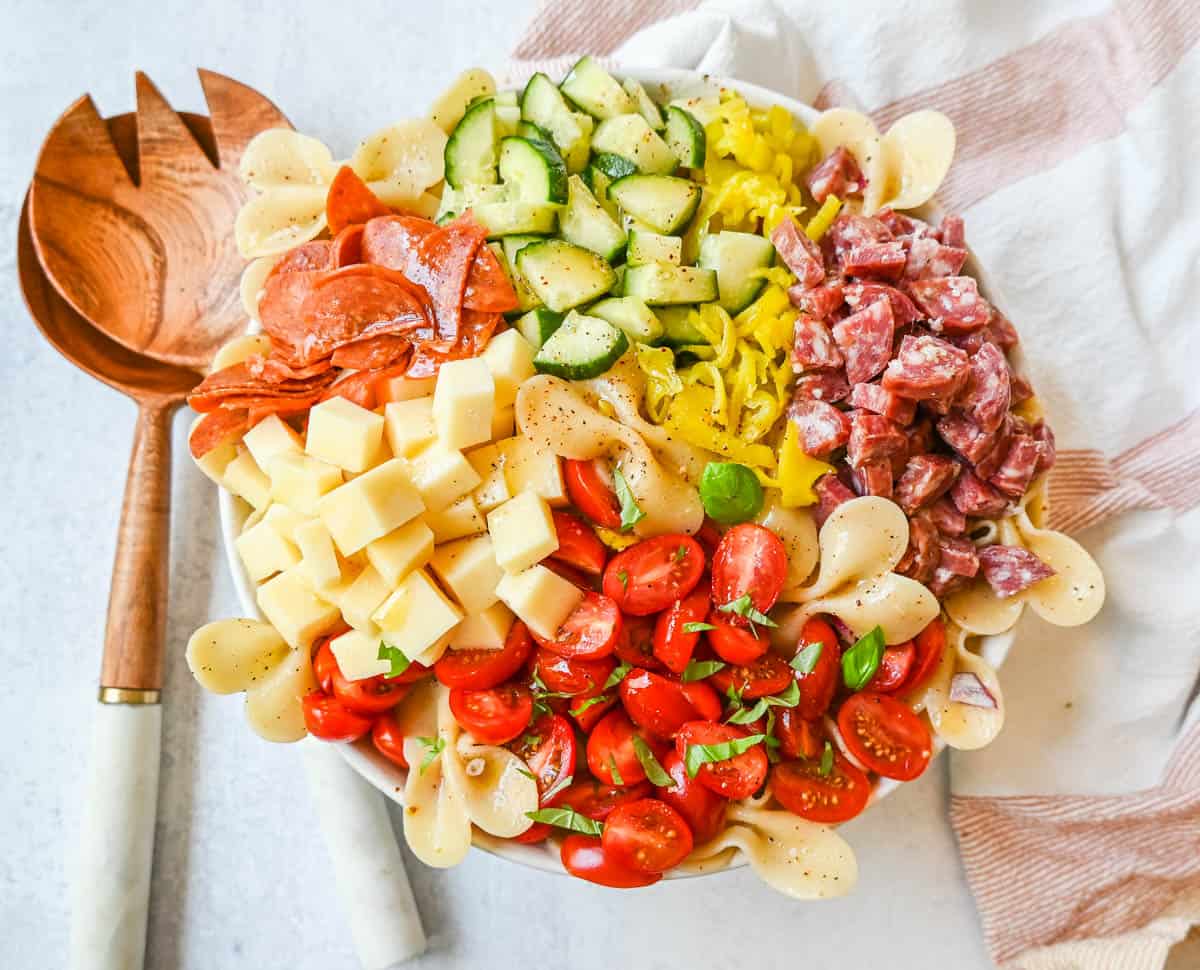 I love having a huge bowl of pasta salad in the refrigerator for quick lunches, or an easy side dish to pair with grilled chicken.
This Italian Pasta Salad is full of flavorful foods like salami, pepperoni, provolone cheese, fresh veggies, cooked pasta, pepperoncini, and a creamy, tangy red wine vinaigrette. The homemade dressing is what makes this easy pasta salad recipe so special!
I love a good pasta salad recipe and have shared my Classic Pasta Salad Recipe and my Pasta Salad made with Cheese Tortellini and my Greek Pasta Salad with all of the Greek flavors.
This reminds me of the famous Italian grinder sandwich but made into a pasta salad!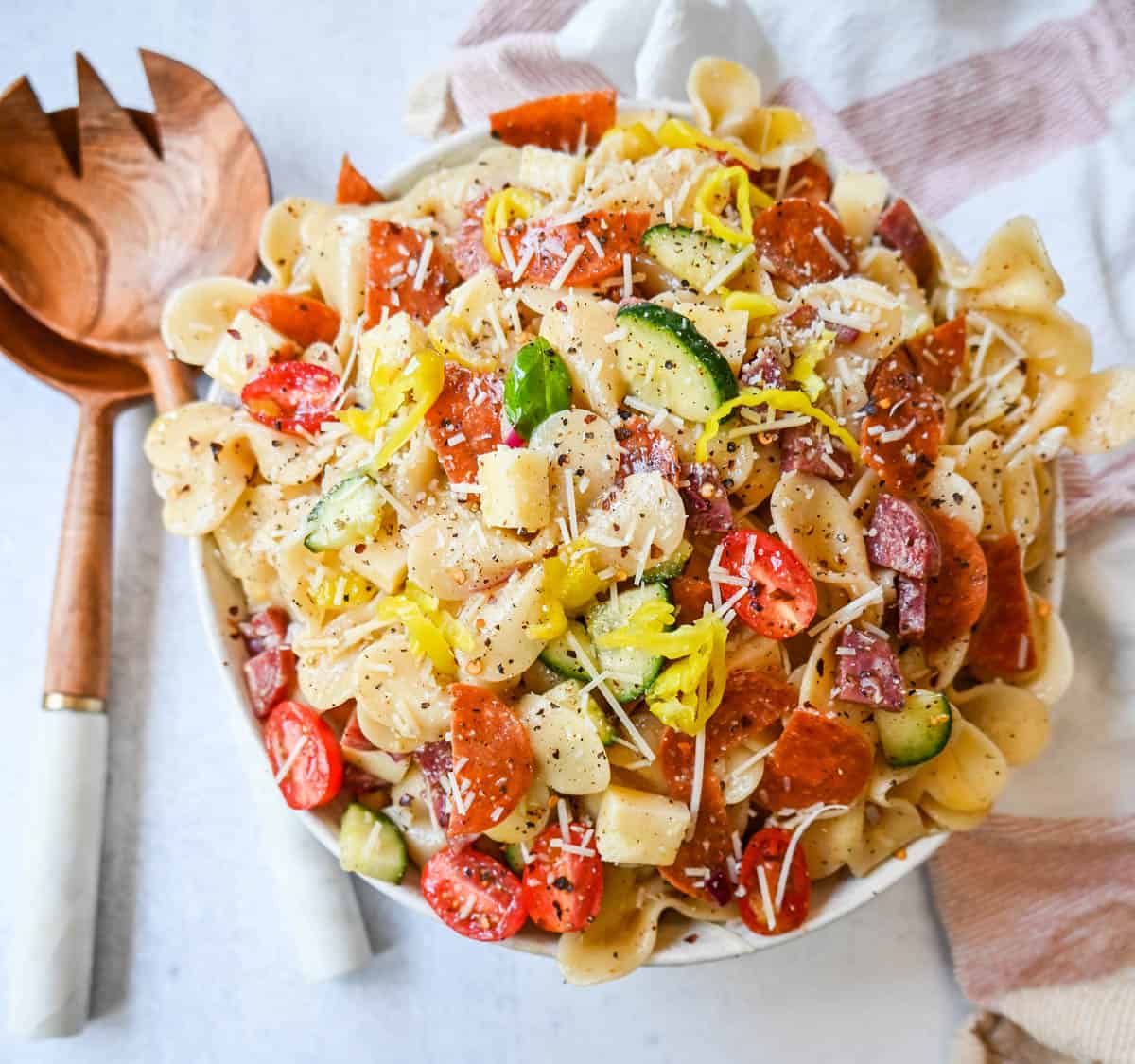 Jump to:
Ingredients
This simple pasta salad can be customized with your favorite meats, cheeses, and vegetables. Here are some tips below on what type of ingredients to include in your pasta salad.
Pasta -- choose your favorite shaped pasta for this recipe.
Salami -- I like to use thicker salami cut into rounds and then quartered. I use Boar's Head Salami.
Provolone Cheese -- use provolone or mozzarella cheese, cut into cubes. For more flavor, use provolone cheese.
Pepperoni -- use packaged pepperoni or freshly sliced pepperoni from the deli counter and cut into quarters.
Tomatoes -- I prefer to use grape tomatoes and cut in half lengthwise.
Cucumber -- I like to use Hot House or English cucumbers because they have fewer seeds and are firmer.
Red Onion -- dice into small pieces.
Pepperoncini Peppers -- these yellow peppers add tang and a touch of spice and flavor to the pasta salad.
Parmesan Cheese -- this is an optional ingredient but for some nutty, salty flavor, add freshly grated parmesan cheese to the top of the pasta salad.
Homemade Italian Dressing -- made from scratch. This creamy Italian dressing is the best pasta salad dressing.
I make a generous amount of pasta salad dressing since the pasta soaks up the dressing once it is chilled in the refrigerator. The dressing seasons and flavors the pasta and other ingredients.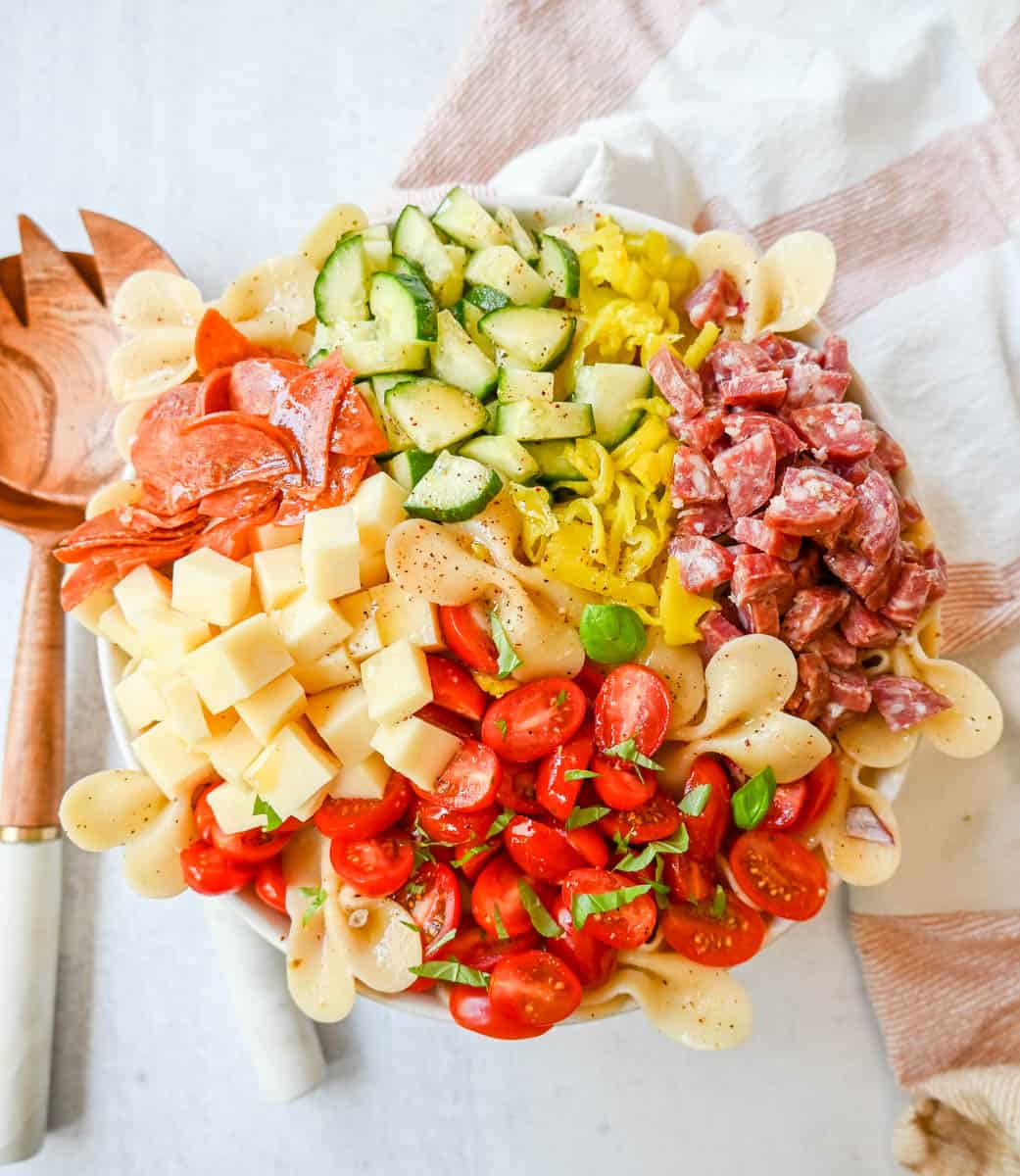 What ingredients are in pasta salad dressing:
Olive Oil -- use extra-virgin olive oil or olive oil as the base for this dressing.
Red Wine Vinegar -- adds that perfect amount of acid and tang.
Oregano -- a fresh, earthy flavor and popular in Italian dishes.
Red Chili Flakes -- add a touch of spice. If you like more flavor, add more to the dressing.
Salt and Pepper -- the most important ingredients to bring out the flavor in the dressing.
Mayonnaise -- add a touch of full-fat mayonnaise to add a touch of creaminess to the dressing.
Honey -- the honey adds a little bit of sweetness to the dressing and offsets the vinegar. May use sugar in place of honey.
See recipe card for quantities.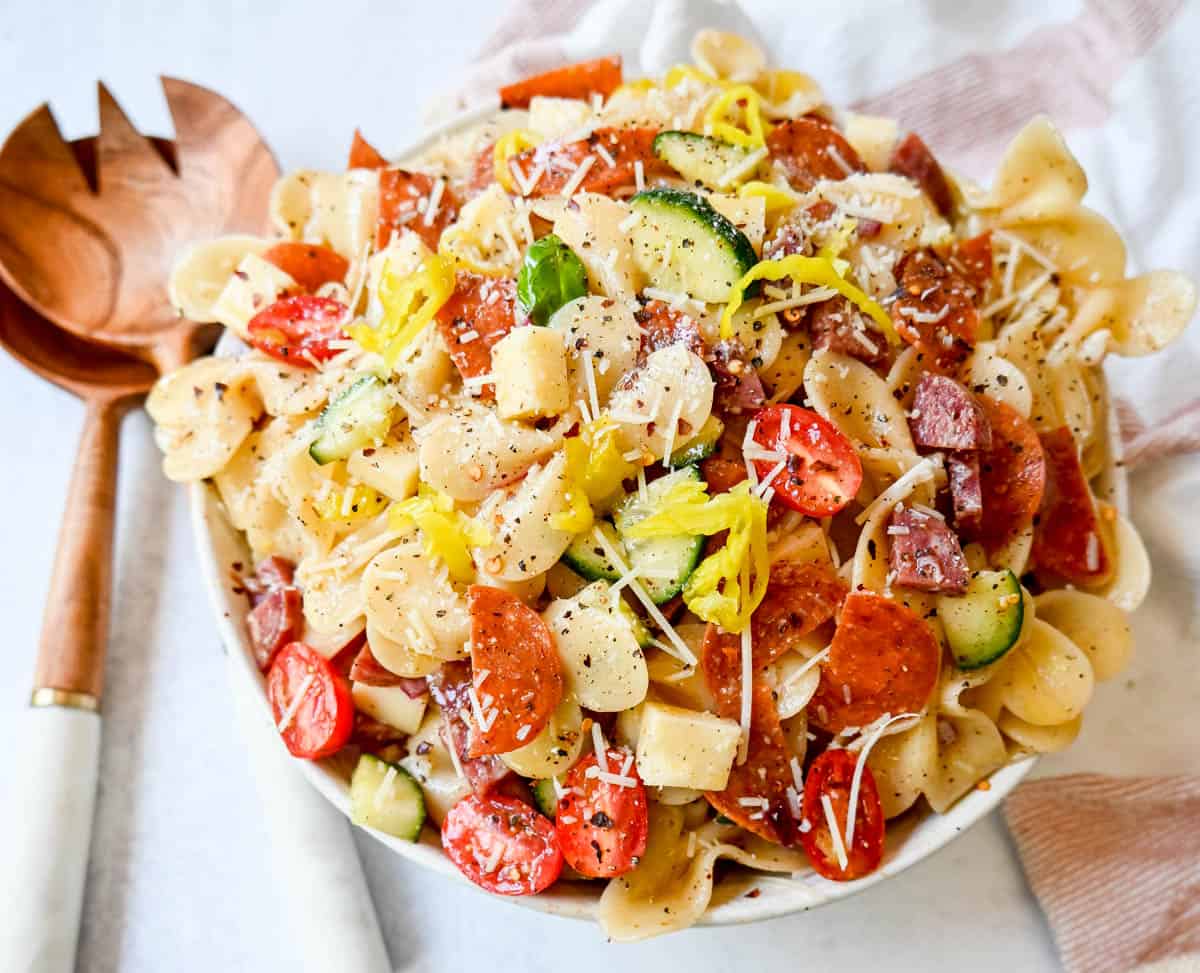 Instructions
It is so easy to make homemade pasta salad!
Start by bringing a large pot of water to a boil. Cook pasta according to package instructions. Make sure to generously salt your water! Drain and set aside.
While the pasta is cooking, cut the vegetables and cut the meats and cheeses into cubes.
Make the dressing in a blender or a bowl by combining all of the ingredients together. Taste for seasonings and add more salt and pepper as needed.
Toss the cooked pasta with the dressing and add the vegetables first and then the meats and cheeses.
Cover and refrigerate until ready to serve.
Substitutions
This is a customizable pasta salad recipe and you can swap out different ingredients.
Cheese -- use your favorite type of Italian cheese. I usually reach for a block of provolone cheese or mozzarella cheese.
Salami -- you can use thick salami cut from rolled salami or thin salami cut from the deli department.
Storage
This homemade pasta salad recipe stores well in the refrigerator in an air-tight container. It will last 5-7 days in the refrigerator.
Top tip
Make sure to salt the water when cooking the pasta! And to infuse the pasta with the dressing, toss the pasta and dressing together while the pasta is still warm.
Related
Looking for other salad recipes like this? Try these: