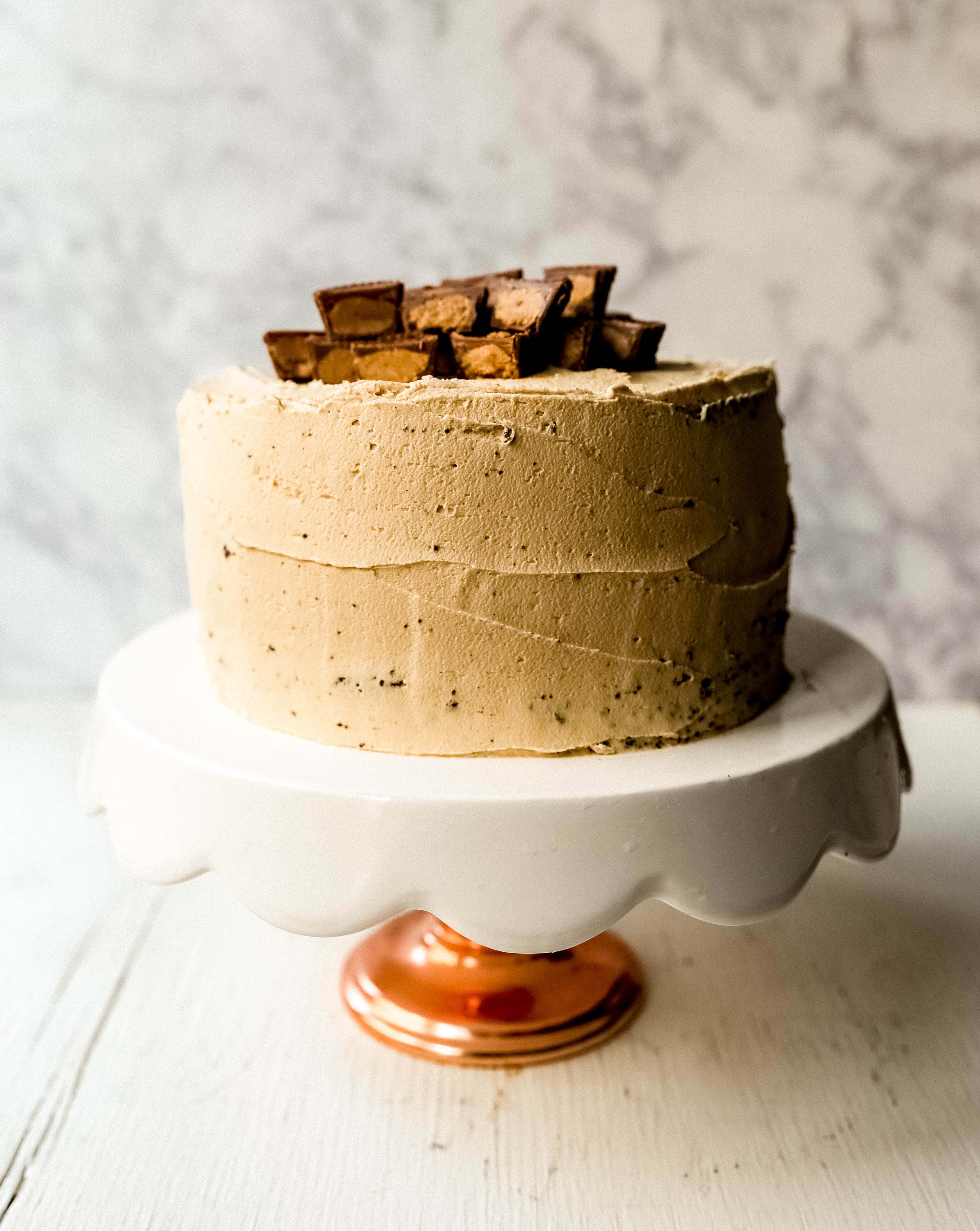 Chocolate Cake with Peanut Butter Frosting
A moist 5-Star Rated Chocolate Cake with Creamy Peanut Butter Frosting topped with Peanut Butter Cups 
Today is my son Mason's 17th birthday! I can't even believe it and would like to request that time stand still. It is so hard watching my kids grow up. But today we are celebrating him and all of the reasons we love him so much. Of course, I believe everyone should blow out candles on a birthday cake of their choice. This year it was a Chocolate Peanut Butter Cake topped with peanut butter cups.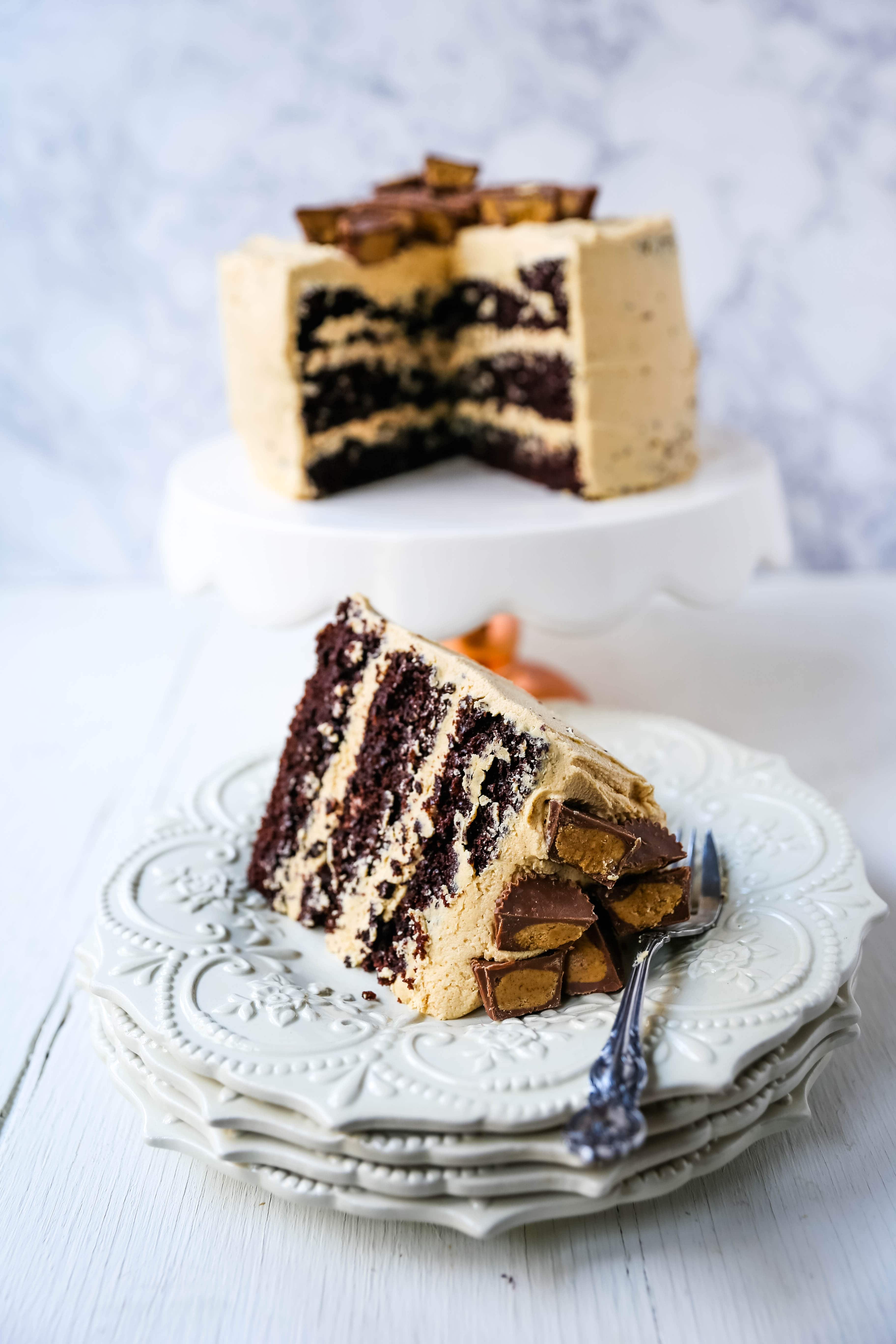 Many times people tell me they are intimidated by making their own homemade cakes. But I am here to tell you that this homemade chocolate cake recipe is as easy as it gets. It has a 5-Star rating for good reason. It takes me less than 5 minutes to whip up the cake batter. Plus it comes out of the pans like a dream!
This Creamy Peanut Butter Frosting is made with sweet cream butter, creamy peanut butter, powdered sugar, and vanilla. It is that simple! If you love peanut butter, you will go crazy for this homemade peanut butter icing.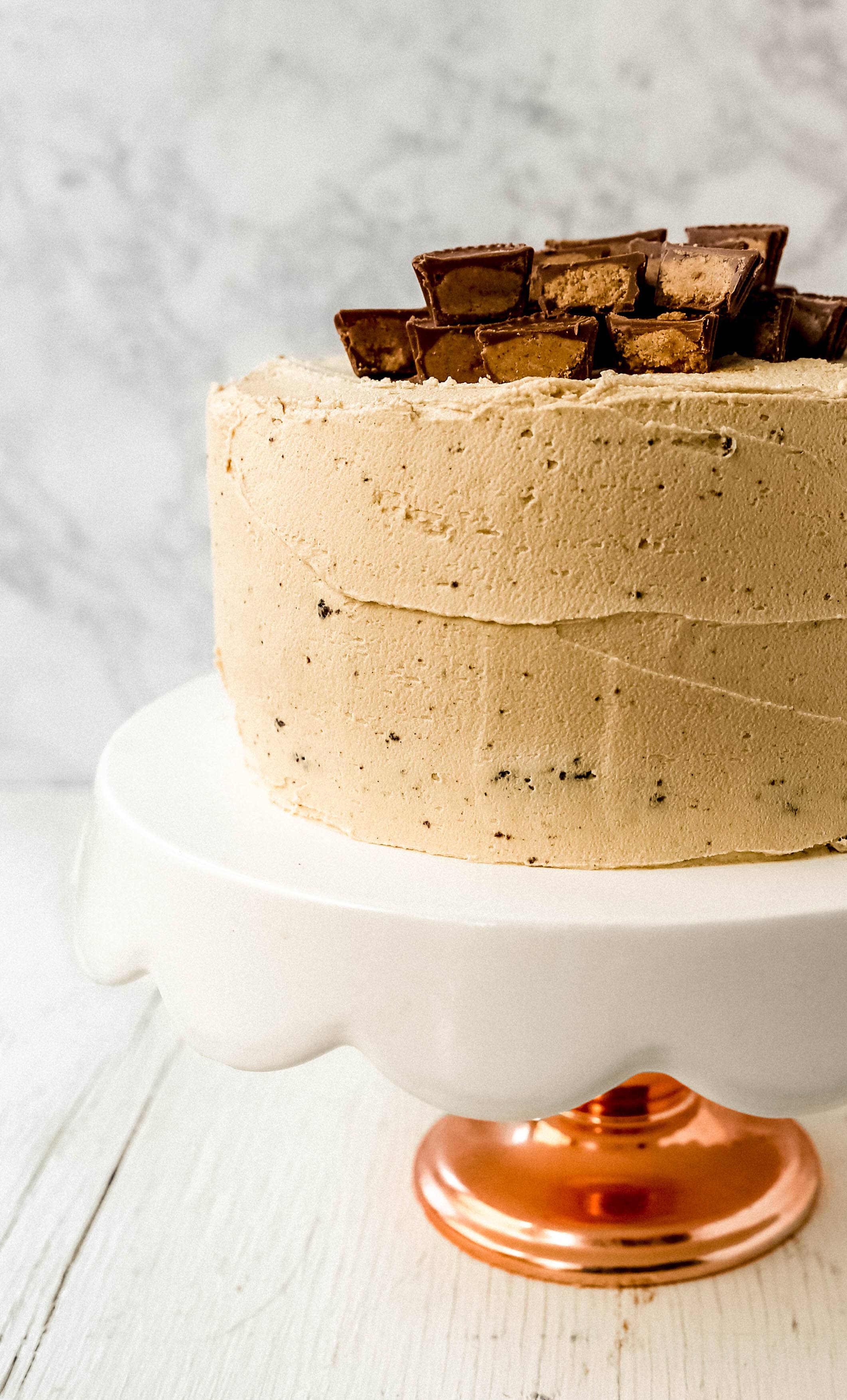 I love to top this Peanut Butter Chocolate Cake with peanut butter cups. You can use the classic Reeses Peanut Butter cups or you can go gourmet and use Trader Joe's peanut butter cups. You can also place them inside the layers above the frosting if you want extra chocolate peanut butter flavor. Another way to add more chocolate is to add a drizzle of chocolate ganache on the top of the cake. It is made with high-quality chocolate melted down with a small amount of heavy cream.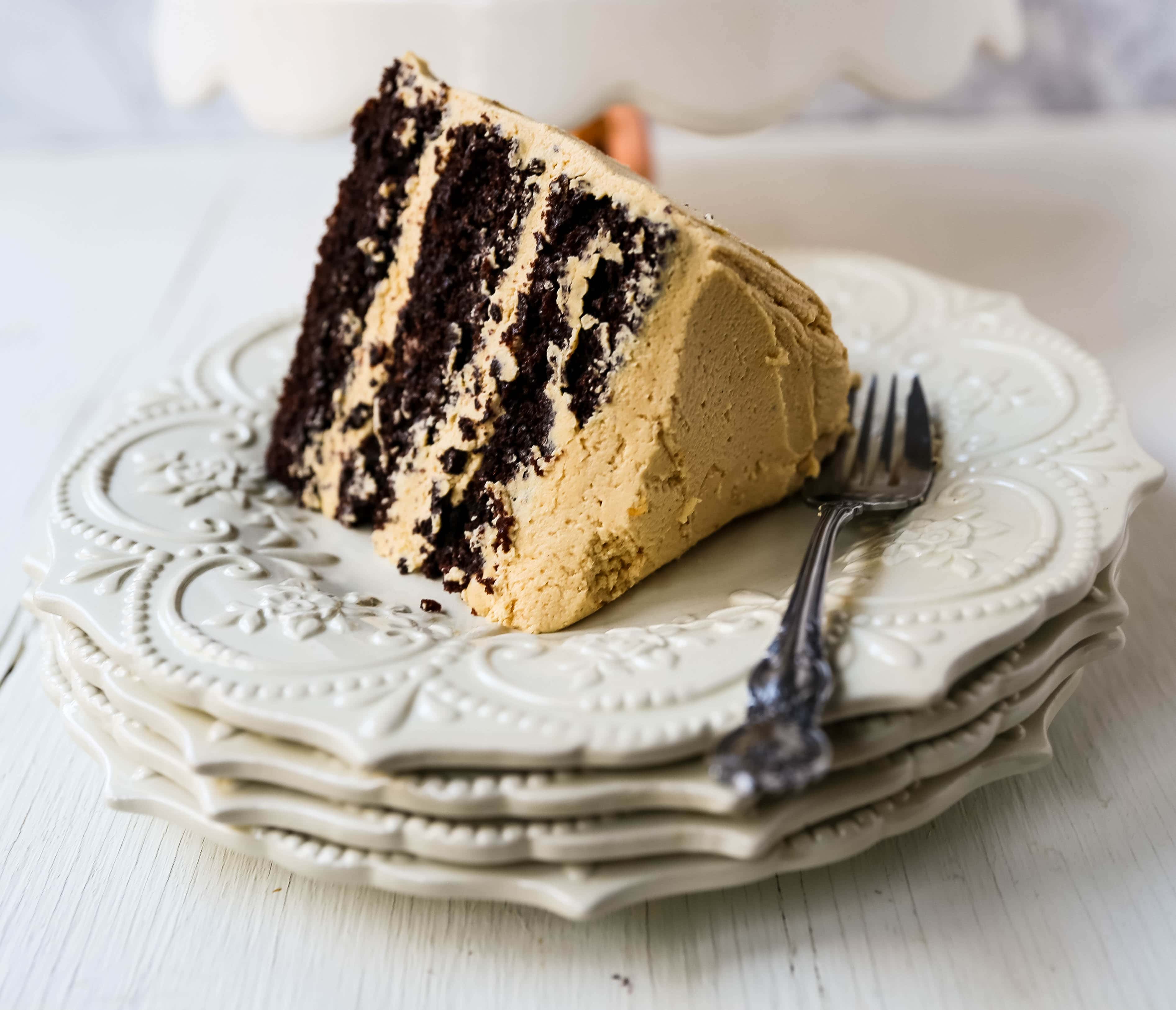 How to make the Best Chocolate Cake with Peanut Butter Frosting:
I have found that oil works best in chocolate cakes (in my humble opinion). Even though I am the biggest butter fan, adding oil to a chocolate cake batter creates a moist texture.
Cake flour does make a difference in the tender crumb of the cake but you can substitute all-purpose flour. I use both depending on what I have on hand and both create a moist chocolate cake.
A high-quality cocoa powder can change the depth of chocolate flavor. I use Callebaut Cocoa (which I find in the bulk section at Winco. It is so inexpensive when you buy it from the bulk bins. You can buy as little or as much as you need).
Using both baking soda and baking powder gives it the best rise. Homemade cakes don't puff up as much in the middle as boxed cake mixes do so don't be surprised when they are a tad flatter. It makes them so much easier to stack and frost.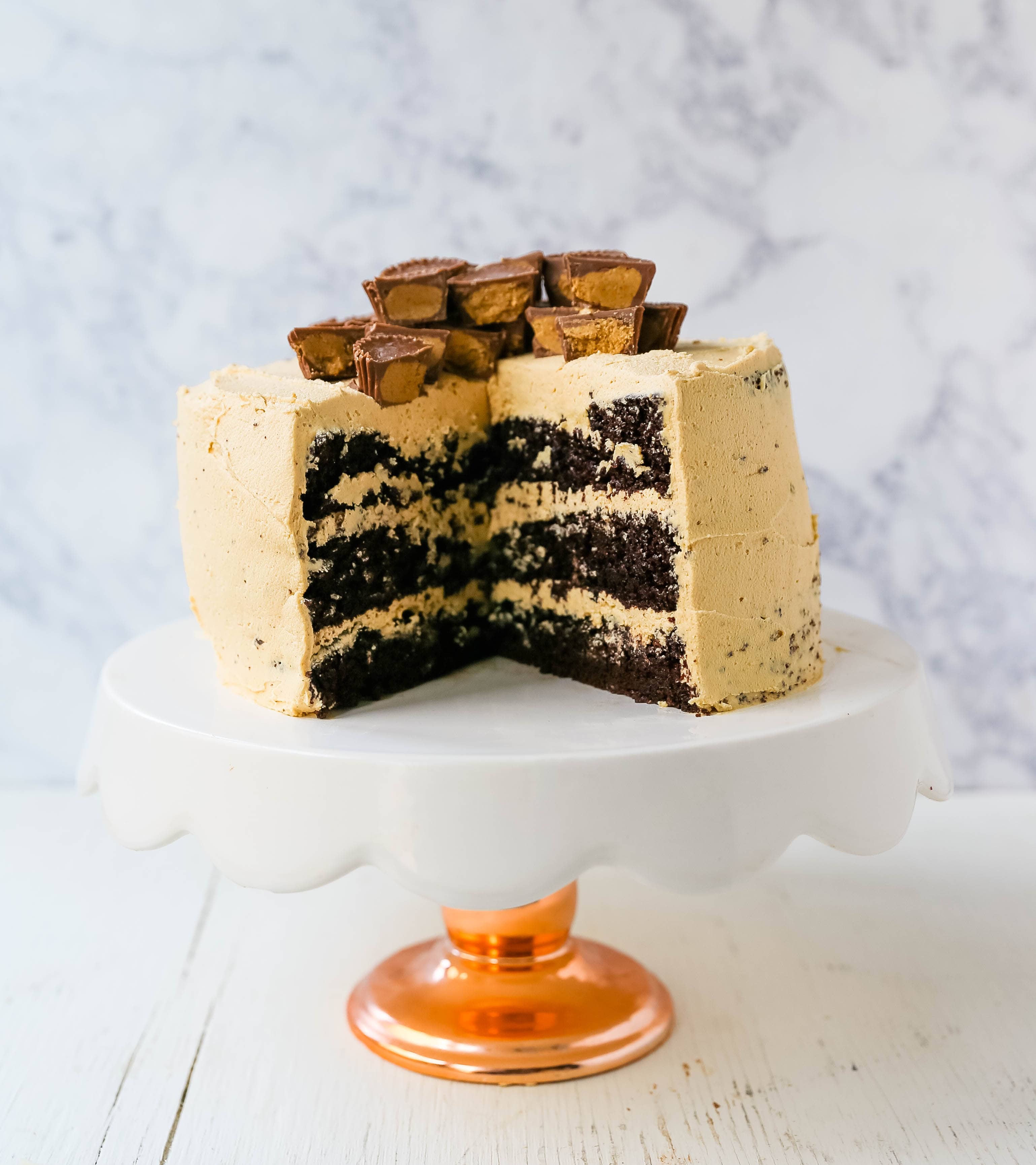 Buttermilk is a must because it gives it the melt-in-your-mouth texture.
Don't overbake your cake. It is important to watch it carefully and check the center of the cakes to figure out when it is done baking.
Spray the pans with non-stick cooking spray. After baking, let the cakes cool for about 15 minutes before removing from pans. If you want to make them extra easy to frost, stick them in the freezer for about 20-30 minutes. Remove from freezer when ready to frost.
Spread a thin layer of frosting called a "crumb coat" all over the cake. This helps to smooth out the crumbs to prepare for the final coating of frosting. It is like a primer for a cake.
To make the peanut butter frosting, bring the butter to room temperature or soften it in the microwave. Whip the butter and peanut butter together, scraping the sides often until completely smooth. Then add the powdered sugar and vanilla.
THE BEST CAKE RECIPES:
My favorite cake baking essentials:
USA 8-inch cake pans
USA 9-inch cake pans
Icing Angled Spatula