This Christmas Pasta is made with three popular sauces -- alfredo sauce, marinara sauce, and pesto sauce -- all tossed together with pasta. This Alfredo, Marinara, and Pesto Sauce Pasta is a surefire hit!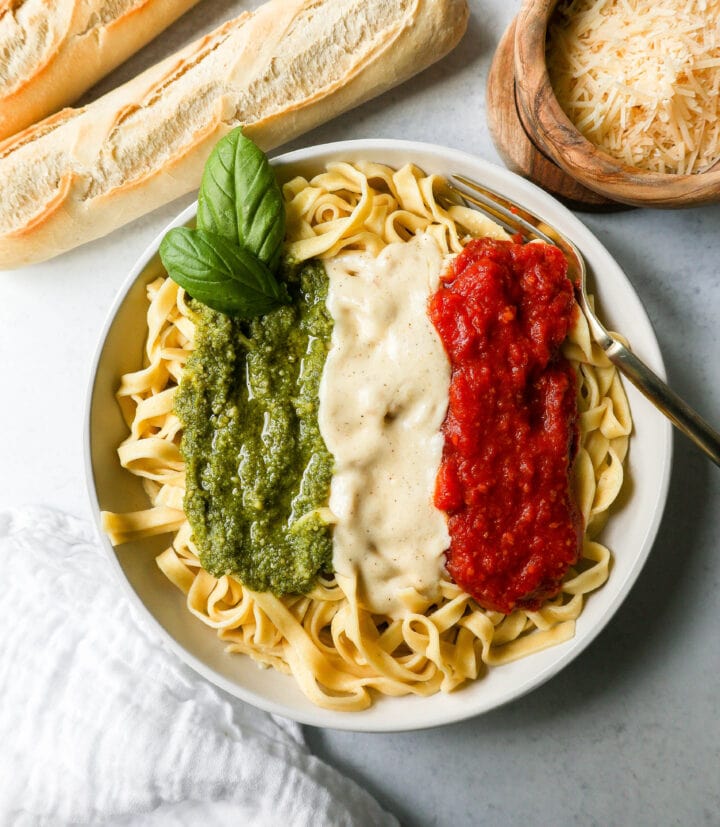 Sometimes my greatest creative culinary inspiration comes in the middle of the night when I can't sleep. It is usually when I analyze and come up with new recipes or how to make something.
Several weeks ago, I was thinking of how my fettuccine alfredo recipe is so popular and how much my kids love alfredo sauce. I love to add my homemade marinara sauce to make a tomato cream pasta.
Then I thought about adding some fresh pesto sauce to add some brightness and nuttiness to the sauce. I whipped up a pasta tossed with alfredo sauce, marinara sauce, and pesto sauce and it blew our minds! We couldn't stop eating it.
Because of the red, white, and green sauces, they looked so beautiful and festive to showcase all three sauces separately. Then the pasta can be tossed when ready to serve.
You can serve this on Christmas or on any given night. It is the most flavorful pasta dish!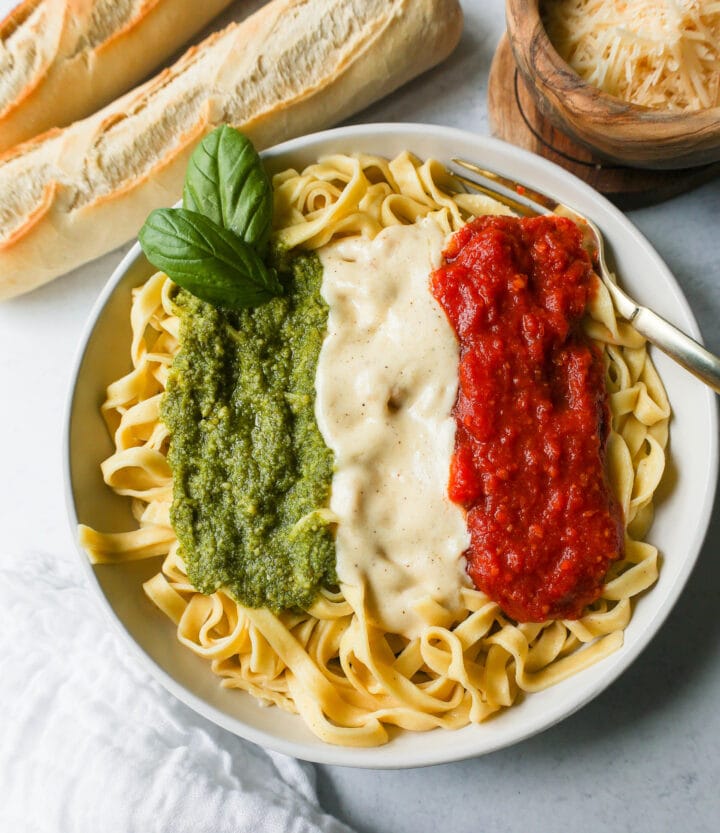 Christmas Pasta Ingredients:
Alfredo Sauce -- make homemade alfredo sauce with my 5-star alfredo sauce recipe or buy a jarred version.
Marinara Sauce -- make homemade marinara sauce or a classic Italian tomato sauce recipe or buy a jarred marinara sauce like Rao's.
Pesto Sauce -- make homemade pesto sauce made with fresh basil, extra-virgin olive oil, parmesan cheese, pine nuts, and more or buy the refrigerated version at your local grocery store.
Pasta -- use your favorite type of pasta noodle. I love to buy fresh pasta from Whole Foods.
Parmesan Cheese -- freshly grated parmesan cheese or Parmigiano Reggiano adds so much flavor to this pasta.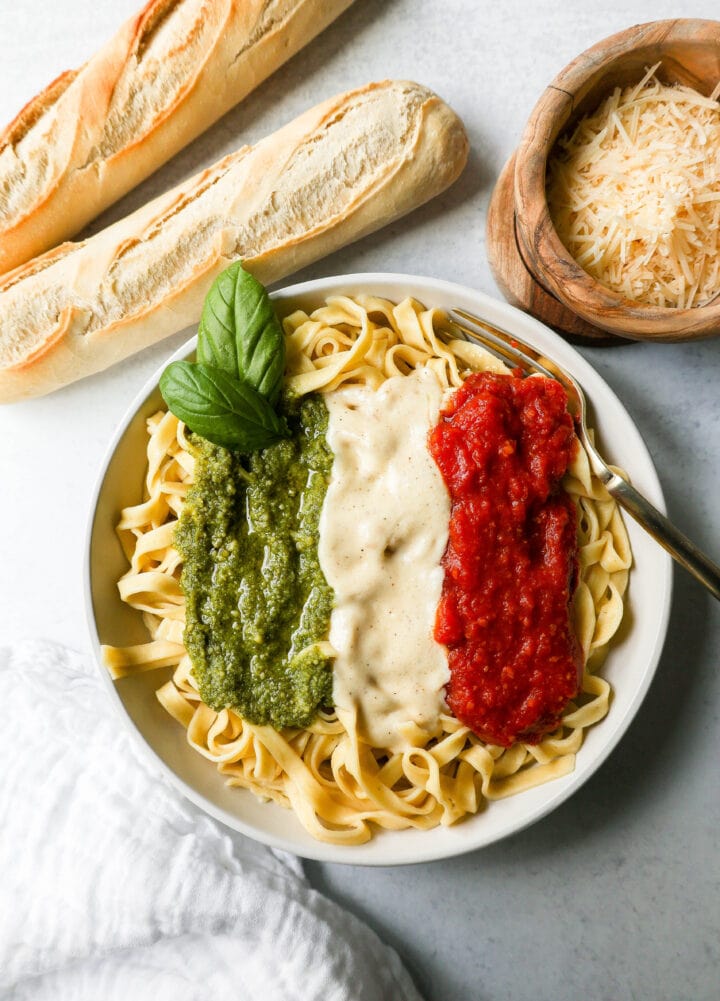 How to make Marinara Alfredo Pesto Sauce Pasta:
Start by boiling the water to cook the pasta. Make sure to heavily salt the water which helps to infuse flavor into the pasta while cooking.
Make the individual sauces -- alfredo, marinara, and pesto or heat up the jarred pasta sauces.
Cook the pasta according to package instructions. I love to use fresh pasta in this recipe.
Drain the cooked pasta and place it on a serving platter or shallow bowl. Place a layer of marinara sauce onto one side of the pasta, followed by alfredo sauce in the center, and pesto on the other side. I suggest using less pesto sauce than the other sauces since it has a strong flavor profile and we don't want it to overwhelm the other flavors.
Toss the pasta sauces together when ready to serve and sprinkle with freshly grated parmesan cheese.
Popular Pasta Recipes:
Storage:
Place any leftovers in an airtight container and place in the refrigerator. This pasta should keep for 7-10 days. The pasta will soak up the sauce so make sure it is extra saucy!
This is a sauce made with alfredo, tomato, and pesto sauce to make the perfect sauce with pasta.