These Greek Roasted Potatoes are infused with extra-virgin olive oil, lemon juice, garlic, oregano, spices, and chicken broth which makes the creamiest roasted potatoes full of Greek flavor.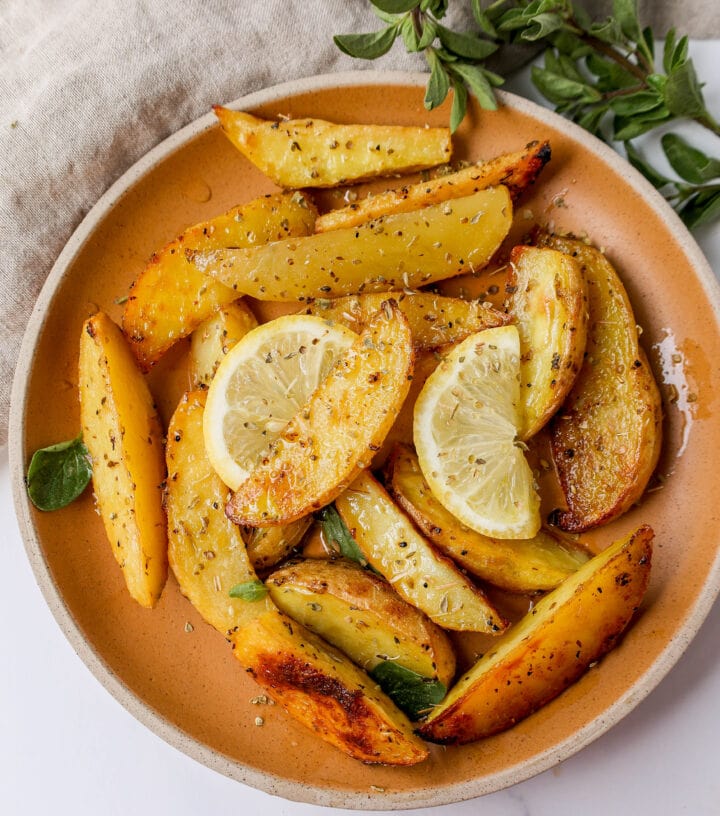 We are finishing up GREEK WEEK with a killer Lemon Garlic Roasted Potatoes Recipe. These are super easy and perfect to pair with Greek Chicken.
I love a good roasted potato and these Greek potatoes are infused with olive oil and fresh lemon juice so they are extra flavorful!
Greek Potatoes Ingredients:
This Greek Potato Recipe calls for only 8 ingredients are makes creamy roasted lemon potatoes.
Potatoes -- I suggest using baby gold potatoes like Yukon Gold. They have perfectly creamy and smooth interiors.
Olive Oil -- use your favorite type of extra-virgin olive oil. It can even be infused olive oil for extra flavor.
Lemon Juice -- I suggest using freshly squeezed lemon juice for the brightest, freshest flavor.
Garlic Powder -- I use garlic powder instead of fresh minced garlic because garlic can burn at high temperatures and become bitter so I prefer to use the powder.
Oregano -- I use dried oregano to add a bold and earthy flavor to the potatoes.
Broth -- I suggest using chicken broth but you can also use vegetable broth instead.
Salt and Pepper -- potatoes soak up salt and pepper so you may need more salt than you think! Add more to taste.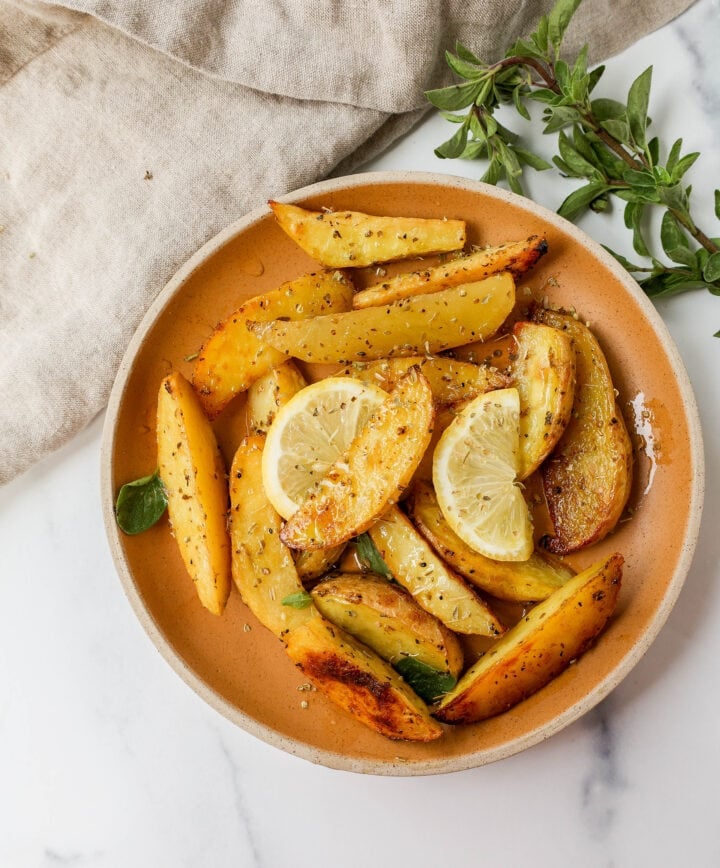 How to make Greek Roasted Potatoes:
These Greek Lemon Potatoes are super simple. Just toss the potato wedges with the oil and lemon juice mixture and bake until golden. The potatoes absorb all of the flavor so they become the creamiest lemon infused potatoes.
Start by cutting potatoes into wedges. This can be done by cutting the potatoes into half lengthwise and then into wedges.
In a bowl, stir together olive oil, freshly squeezed lemon juice, chicken broth, garlic powder, oregano, salt, and pepper. I suggest using garlic powder instead of garlic as the garlic can burn when it is roasted at that high temperature.
Toss the potatoes with the lemon olive oil mixture until completely coated.
Heat the oven to 400 degrees. Lightly spray a large baking sheet with non-stick cooking spray. Spread out the potatoes onto the baking sheet so they are in a single layer.
Bake for 25 minutes and then carefully open the oven and using a spatula, toss the potatoes. Cook for 25-30 minutes longer.
Remove from the oven and check to ensure the potatoes are cooked through. Season with more salt and pepper as needed.
Scroll down to the recipe card for ingredients and full instructions.
Since these potatoes are infused with olive oil, lemon juice, and chicken broth, they don't come out super crunchy. These greek potatoes are creamy on the inside and have the perfect lemon flavor.
If you want a crunchy roasted potato recipe, click here for my ROASTED POTATOES. I also have a delicious CRISPY SMASHED POTATOES recipe.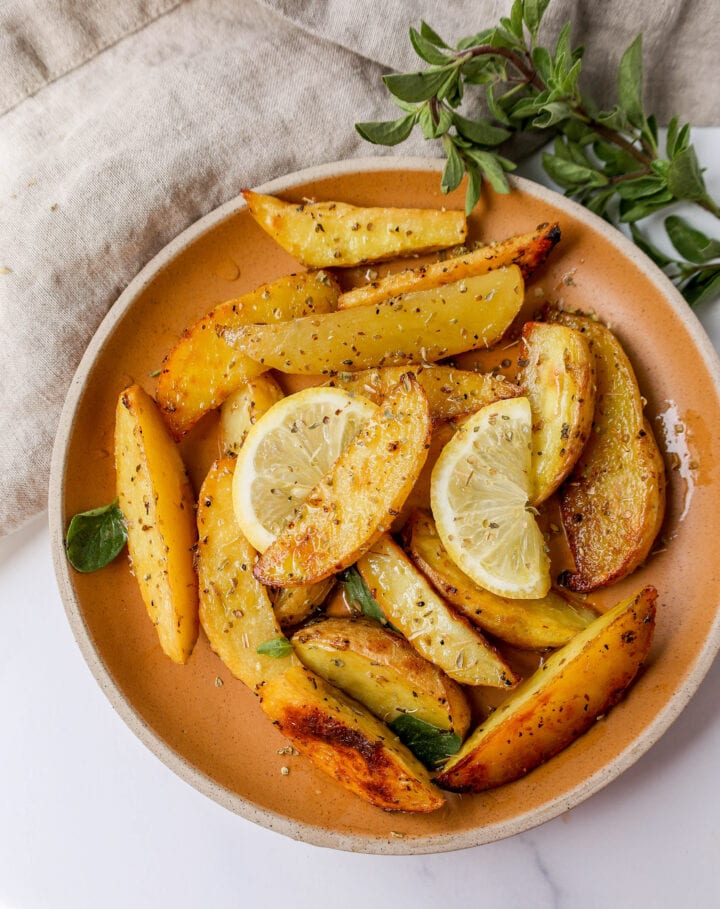 POPULAR GREEK RECIPES: