Twix Cookies made with soft sugar shortbread topped with rich caramel and milk chocolate and sprinkled with chopped Twix candy bars. These Millionaire Cookies are the best chocolate caramel shortbread cookie!
Welcome to Day #12 of my 12 Days of Christmas Cookie Recipes. This has been more fun (and a lot more work) than I could have imagined. I am so passionate about baking cookies and it has been amazing to share 12 new Christmas cookie recipes with you!
I have saved one of the best Christmas cookie recipes for last -- these Homemade Twix Cookies. I wanted to make the perfect caramel chocolate shortbread cookie where every single element was perfection. I tried Crumbl's Twix Cookie and had to figure out how to make it at home!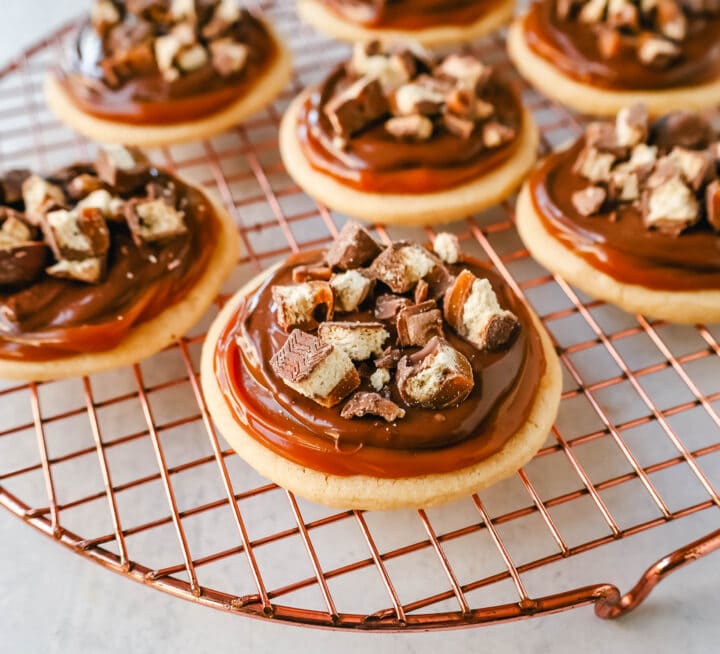 It all started with the cookie. I started off with a soft shortbread sugar cookie with hints of vanilla flavor. It is perfectly soft and buttery.
Then there is a layer of rich, thick caramel and a layer of milk chocolate ganache. Then to bring it all together, chopped Twix chocolate candy bars top the cookie.
I am naming these the Millionaire Cookies because they are like the Millionaire Shortbread Bars but in cookie form.
What do I love about this Twix Cookie Recipe?
The soft sugar cookie with the decadent buttery caramel and rich milk chocolate ganache is the winning trifecta of ingredients.
Tastes like a Twix candy bar...but better!
These look like gourmet cookies yet are easier than you think to make.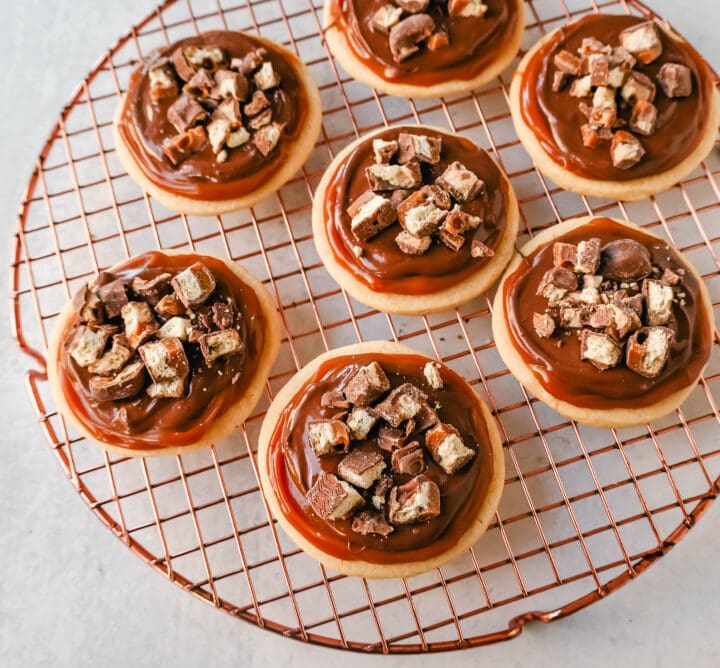 What ingredients are in Homemade Twix Cookies?
This is a soft shortbread cookie topped with buttery caramel and melted milk chocolate and chopped Twix candy bars.
Butter - use unsalted or salted butter in this recipe. If using salted butter, reduce the salt amount by ¼ teaspoon. I suggest using high-quality butter in this sugar cookie recipe.
Sugar - this sugar cookie recipe calls for granulated sugar only which gives it the perfect buttery edges.
Eggs -- this recipe calls for 1 egg and 1 egg yolk. The egg yolk brings moisture to the sugar cookies and helps to create chewy centers.
Vanilla Extract -- I suggest using pure vanilla extract. My favorite brands are Nielsen-Massey Vanilla Extract or Real Mexcian Vanilla.
Flour -- this recipe calls for all-purpose flour.
Baking Powder - this is what gives the sugar cookies the best rise in the oven. I suggest using aluminum-free baking powder.
Salt -- a flavor enhancer and an integral ingredient in baking.
Caramel -- I suggest using a thick caramel. My favorite caramel to use is the caramel dip you find in the produce section. The brands are usually Marzetti Caramel Dip and Litehouse Caramel Dip.
Milk Chocolate -- I suggest using good-quality milk chocolate like Guittard, Ghirardelli, or Trader Joe's Pound Plus Bars. You can also use Ghirardelli milk chocolate melting wafers.
Twix Candy Bars -- chop up full-size or fun-size Twix chocolate candy bars to sprinkle on the top of the cookies.
Tips for making Millionaire Cookies:
Cream your butter and sugars for 4 minutes! This helps to create a smooth texture and whip air into the cookie dough which gives the cookies the perfect amount of loft.
Chill the cookie dough. Wrap the cookie dough into a ball and chill for 30 minutes so the cookies don't spread when baked.
Don't overbake! These are soft-baked cookies and are meant to be soft and chewy. The cookies will continue to bake once you remove them from the oven.
Carefully melt the milk chocolate. I suggest melting the chocolate in a microwave-safe bowl on half power (50%) to gently melt the chocolate.
Use light-colored baking sheets. I love to use thick, light-colored baking sheets because they bake the cookies evenly. If you use dark-colored baking sheets, the bottoms of the cookies may burn before the cookies are fully baked.
Use thick caramel. If you use a thin caramel sauce, the caramel will run off the cookies. I love to use thick caramel dip.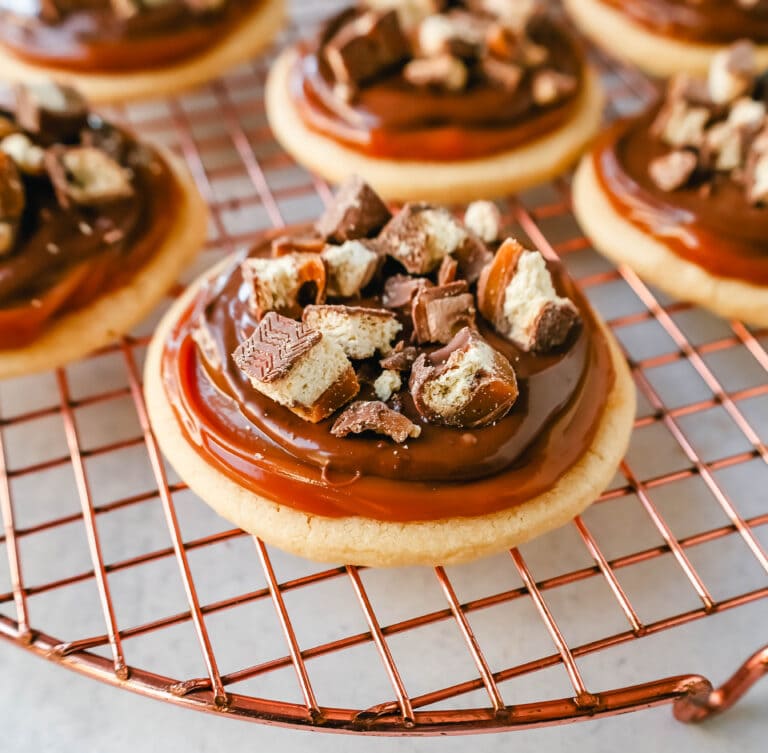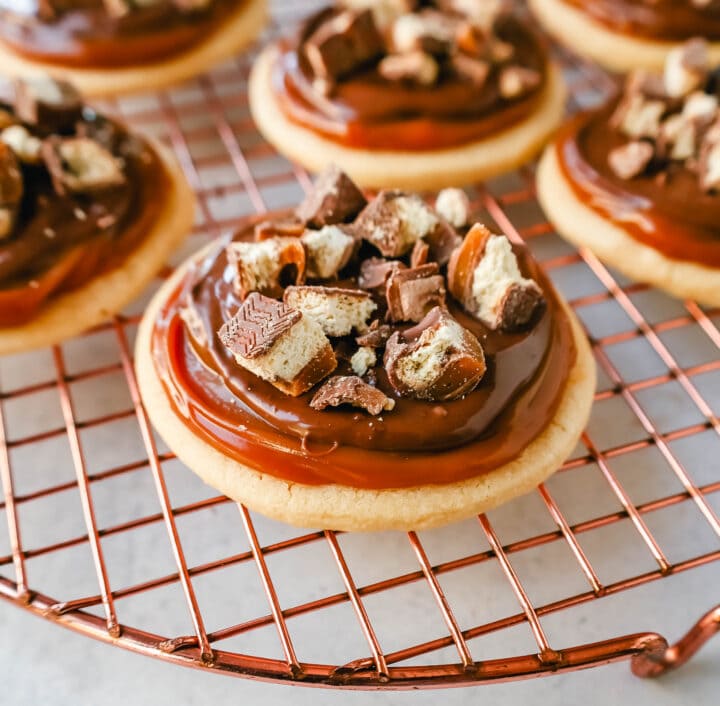 Storage:
You can serve these Twix cookies chilled or at room temperature. Keep in an air-tight container and will stay fresh for several days.
If you want to freeze the cookies, I suggest freezing the shortbread cookies until ready to serve and then topping them with caramel and chocolate.
12 DAYS OF CHRISTMAS COOKIE RECIPES:
If you are looking for Christmas Desserts, check out my 60 Best Christmas Desserts.
BAKING TOOLS:
Here are some baking tools I love to use in my kitchen...
I love to hear from you! If you make this recipe, please be sure to leave a comment and give this recipe a rating. Sign up for my newsletter below so you never miss a recipe. Thank you for following along! I truly do have the greatest readers. FOLLOW ME ON: INSTAGRAM — FACEBOOK— PINTEREST