Quick, easy, tender, and flavorful Steak Bites with Garlic Butter. These Garlic Butter Steak Bites are made in less than 10 minutes and are a perfect protein source for any meal.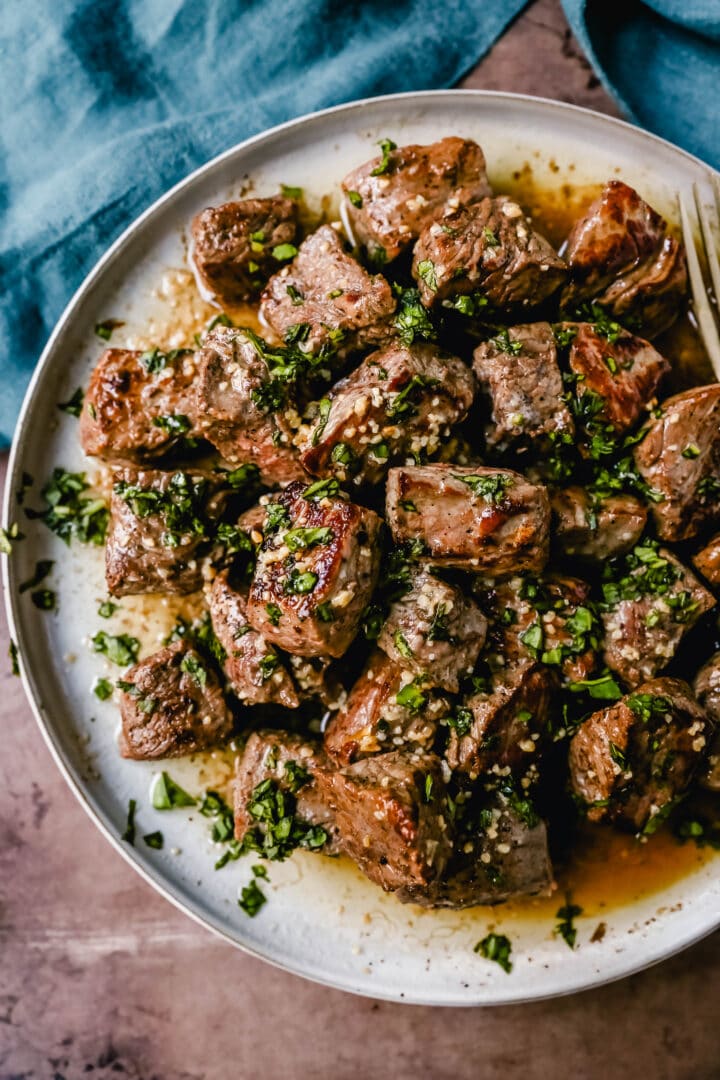 I have been trying hard to get more protein in my diet which means a lot of meal prepping. Sometimes we want steak and don't want to take the time to heat up a grill or go outside because of bad weather.
So here is your solution! This is literally 5-minute Steak Bites. You can cook steak in less than 5 minutes by cutting it into bite-size pieces and searing it in a hot pan. Then you drizzle a hot garlic butter sauce all over the steak for extra flavor.
Another way I have been getting in more protein is by making Chicken Tinga in a crockpot which is literally 3 ingredients and it makes life so easy. I use it in bowls, and salads, or eat it on its own.
Let me share how easy it so to cook up tender and delicious Steak Bites in minutes! Searing a steak in a hot pan is an excellent method for achieving a crisp, brown crust on any steak.
I wanted to produce tender, juicy steaks cooked indoors with a flavorful crust and perfectly cooked meat. The key is heating a heavy-bottomed skillet until very hot, which is essential for a good sear with a good crust.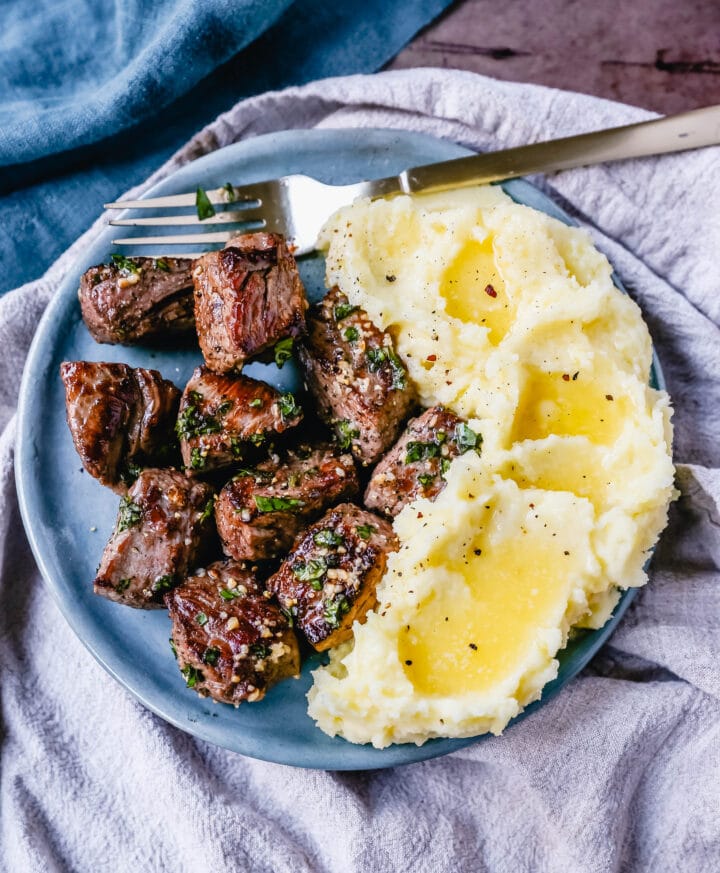 Steak Bites Ingredients:
Beef Steak -- see below for different types of steak descriptions
Salt and Pepper -- the salt helps to create a crust on the outside plus brings out the natural flavors of the steak
Oil -- a drizzle of oil in the pan helps to keep the steak from sticking to the pan and also gives it flavor
Butter -- steak and butter go together perfectly
Garlic -- this can burn easily so only saute it in butter for about 30-60 seconds
Parsley -- adds brightness and freshness to the steak
What type of Steak should I use?
Choosing the right type of steak can be confusing. Steaks can range in their marbling, tenderness, and price with each cut having unique flavors and qualities.
Ribeye Steak -- Ribeyes come from the center of the rib section and usually has the most marbling. Ribeye steaks are known to be both tender and juicy. They have a ton of flavor, so they really only require salt and pepper...no marinade necessary. This is why many consider these to be the tastiest of all steaks.
Tri-Tip Steak -- It's a triangular piece of meat that comes from the bottom of the sirloin. It has excellent flavor and marbling and is tender and inexpensive. Tri-Tip steaks will give you flavor! It is similar in marbling and flavor with the ribeye steak but it's much more affordable.
New York Strip -- Your classic, can-never-go-wrong cut. From the top part of the short loin, just behind the ribs. It's both tender and flavorful that it doesn't need a marinade. It's typically an expensive cut, but slightly cheaper than a ribeye. New York Strip Steaks are known for their strong beefy flavor and a decent amount of marbling. The texture is quite tender but still chewy enough.
Sirloin -- is cut from the sirloin section and is another affordable cut of steak. The sirloin is nicely tender—if not cooked past medium. After that, this cut tends to get tough. Sirloins are very popular pieces of meat but some argue that they have little flavor and are not tender. Sirloin steaks, when prepared and cooked properly, have a distinctly beefy flavor. With their cheaper price tag than many other types of steak, they are a firm favorite for weeknight meals. Sirloin steaks do not have much fat content or intramuscular marbling. Therefore, you should be careful not to overcook them.
Filet Mignon -- One of the most delicate, tender cuts of meat. Filet mignon is cut from the very tip of the tenderloin, which makes this steak extremely tender. The flavor is exceptional but comes with a high price tag. Because tenderloins are so lean, they are not considered to be as flavorful as many other cuts. However, what they lack in marbling, they make up for with a buttery texture that melts in the mouth.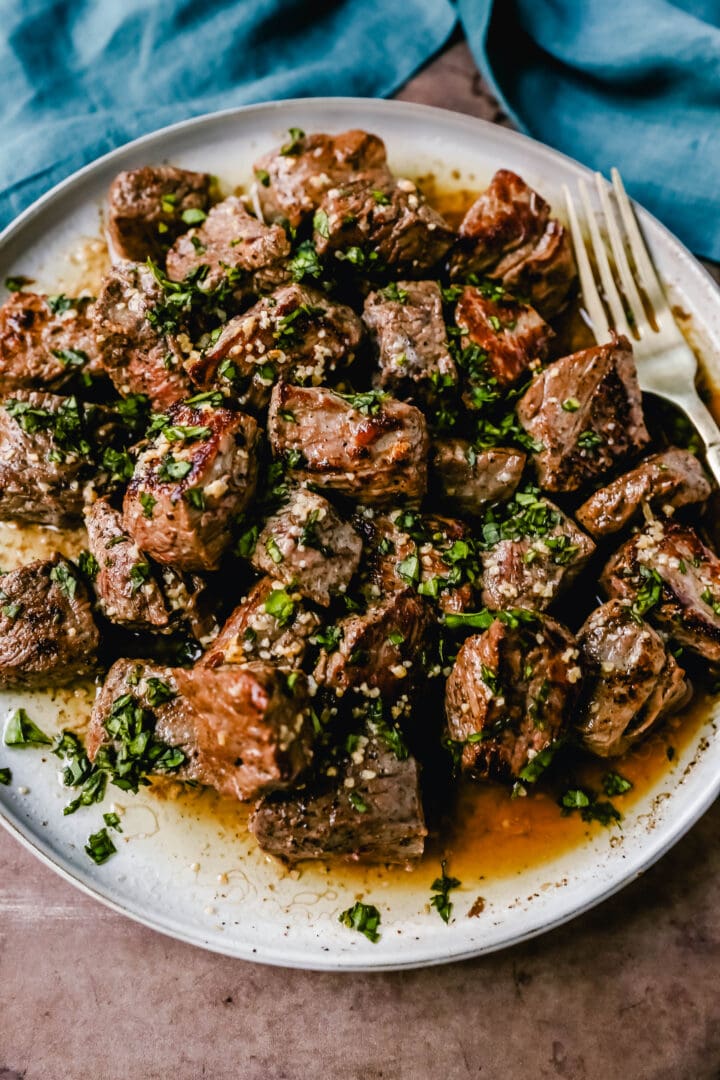 Tips for cooking Garlic Butter Steak Bites:
Start with cutting the steak into small, bite-size pieces. The size you choose to cut the steak can be a personal preference. The smaller you cut the steak, the faster it will cook.
Dry out the steak. This can be done by pressing the steaks with paper towels to soak up any excess liquid. By doing this, it allows the steak to sear and get a crust on it. If the steak has any type of moisture, it may steam rather than sear.
Generously sprinkle with salt and pepper. This is all you need to flavor the steaks and the salt helps to create a nice crust.
Drizzle oil in the pan and let it heat up. This may cause it to splatter so be careful!
Add the steak and let the steak sit, untouched, for two minutes. This allows it to sear. After 2-3 minutes, flip the steak pieces to the other side.
The cooking time will depend on the thickness of the steaks and the desired doneness of the steaks. If you want medium steak bites, you will need to only cook the steak for about 4-6 minutes total. Check the information below for precise cooking times.
Make the garlic butter sauce by heating up the butter in a skillet. Add the garlic and cook for only 30-60 seconds to prevent browning.
Once the steak is cooked, drizzle with garlic butter and sprinkle with fresh parsley.
How do I know when my steak is done?
It depends on how you like your steak cooked. Here is how to know if the center of the steak is cooked to your desired doneness.
Use a meat thermometer and place it into the center of the steak bites.
Rare: 120 degrees (4 minutes)
Medium-Rare: 125 degrees (5 minutes)
Medium: 130 degrees (6 minutes)
MORE STEAK RECIPES:
If you love grilling your steak, check out this amazing recipe for TRI-TIP STEAK MARINADE.
Here are tips on how to grill the perfect steak every single time -- HOW TO GRILL THE PERFECT STEAK
If you love Mexican food, check out my GRILLED STEAK TACOS RECIPE
What to serve with Steak Bites: