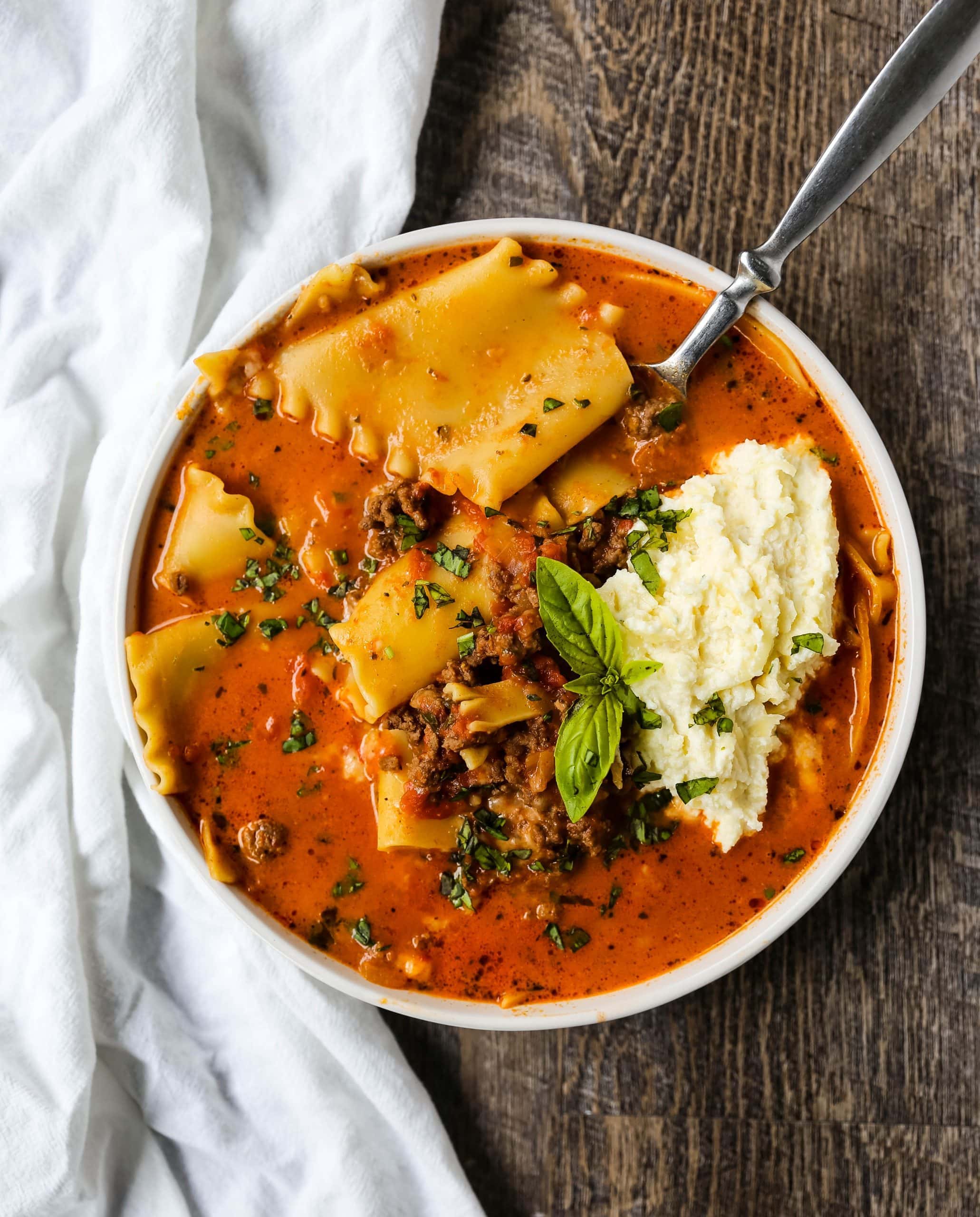 Lasagna Soup
A hearty beef lasagna soup with fresh ricotta cheese, mozzarella, and parmesan cheeses and fresh herbs. An Italian classic made into a comforting soup!
Hello friends! I am back after taking a break to celebrate Christmas with the family. We spent 5 incredible days in New York City and loved every minute of it. It was so nice to do something different for Christmas and focus less on gifts and more on making memories with my family. I have realized more than ever how important it is to spend time as a family and build those strong bonds. My family is growing up way too fast and with Sierra being away at college, we really cherish the time when all 6 of us are together.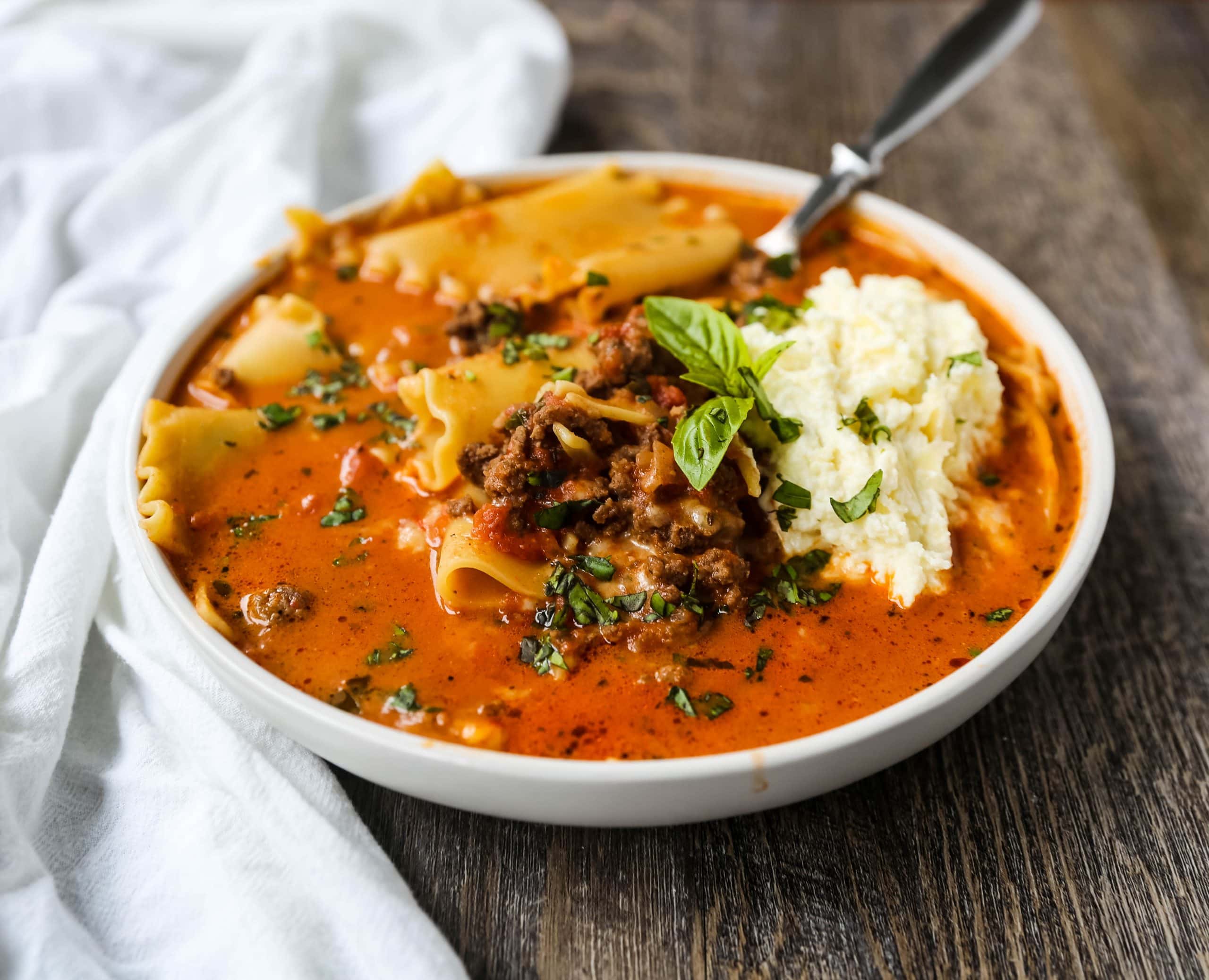 Now it is back to reality! It is a cold, rainy day in Arizona today so it is the perfect soup weather. My husband loves soup but he has a strict "no soup in the summer" rule. He will only eat it when it is cold outside. He is one funny guy! I end up making a lot of soup in the winter to get his fill of soups.
Since he is such a huge fan of lasagna, I wanted to create a soup from this classic Italian dish. It is everything you want in a soup!
This lasagna soup is made with sautéed onion, garlic, and ground beef in a robust tomato sauce with lasagna noodles and creamy ricotta cheese, mozzarella, and parmesan cheeses. It has a rich, homemade meat tomato sauce with Italian spices and three creamy cheeses to make it extra savory.
It has the same taste as lasagna without all of the work! Now we are talking! Since the holidays are such a busy time, we need comfort food that is quick and easy.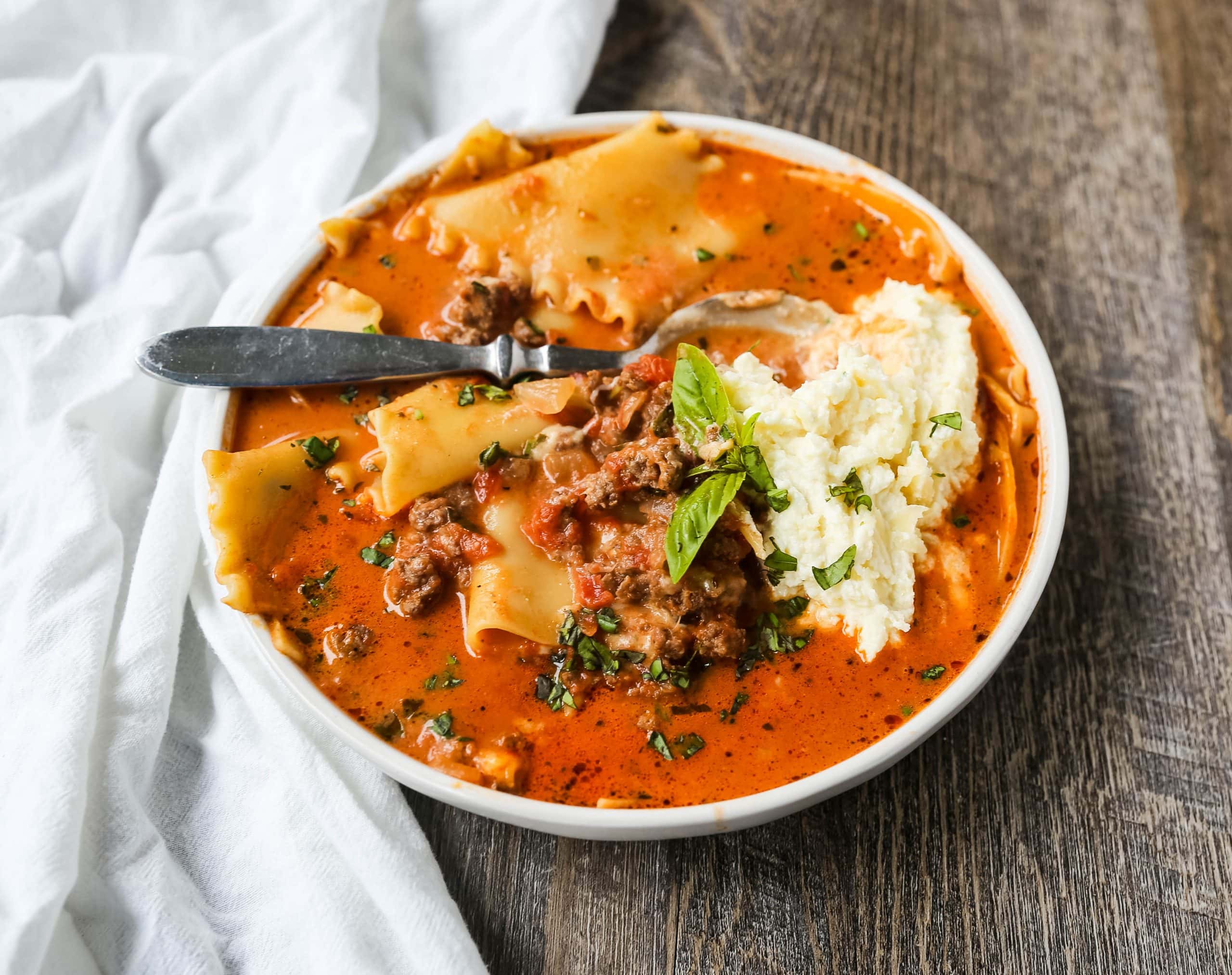 How to make Homemade Lasagna Soup:
Start by sautéing onion in olive oil until it starts to become soft. Add garlic and sauté for only 1 minute. Add ground beef and cook until it browns and cooks through. Season with salt and pepper.
Add crushed tomatoes, chicken broth, and Italian spices. Let it simmer.
There are two options for the lasagna noodles. They can be cooked separately according to package instructions or the dried noodles can be added straight to the pot to be cooked in the sauce. I prefer to cook mine separately in another pot and then add my cooked noodles to the soup. If you choose to cook the noodles in the sauce, you will most likely need more chicken broth, about 1 cup.
Make a creamy cheese mixture using ricotta cheese, mozzarella cheese, and Parmesan Cheese. I like to season this mixture with some garlic salt to give it extra flavor.
Serve warm and give each serving a generous dollop of ricotta parmesan mixture.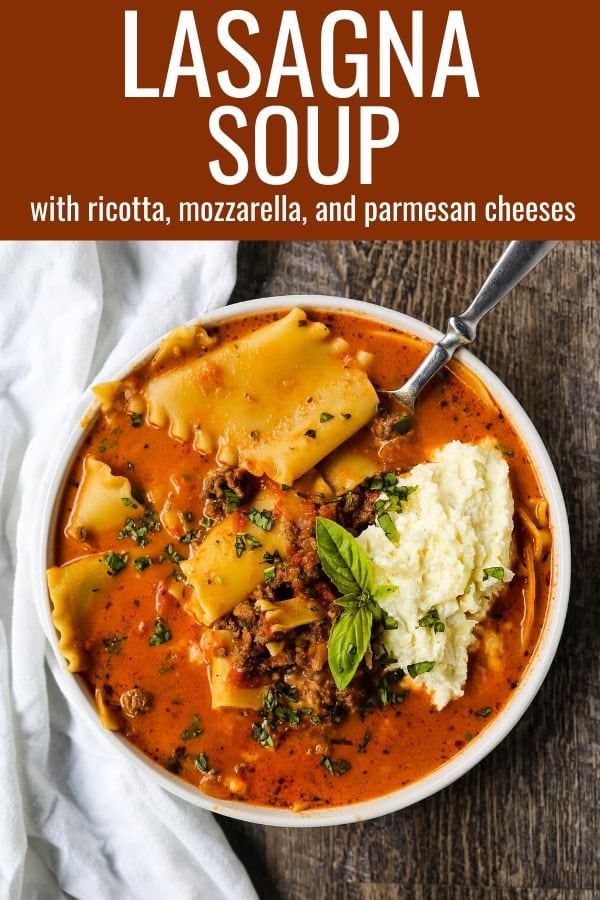 If you love soup recipes, check out these yummy soup recipes below:
Olive Garden Zuppa Toscana Soup
Creamy Sausage Tortellini Soup
Loaded Baked Potato Soup
Creamy Spinach Artichoke Soup