Black and White Cake -- Chocolate Cake with Vanilla Frosting
Rich, moist homemade chocolate cake with a creamy vanilla bean frosting with a touch of cream cheese. The perfect Black and White Cake!
It is my youngest daughter's 13th birthday so I officially have a house full of teenagers. I always believe that everyone should have a cake (or their favorite treat) on their birthday and to actually blow out a candle. I am passionate about both birthdays and homemade cakes!
When creating this Chocolate Cake with Vanilla Frosting, I wanted the chocolate to be a nice contrast to the sweet vanilla frosting. The chocolate cake is my Love at First Chocolate Cake recipe and it is paired with a creamy vanilla bean frosting made with sweet cream butter, cream cheese, powdered sugar, and vanilla bean. I love the addition of cream cheese to add some tang to the frosting.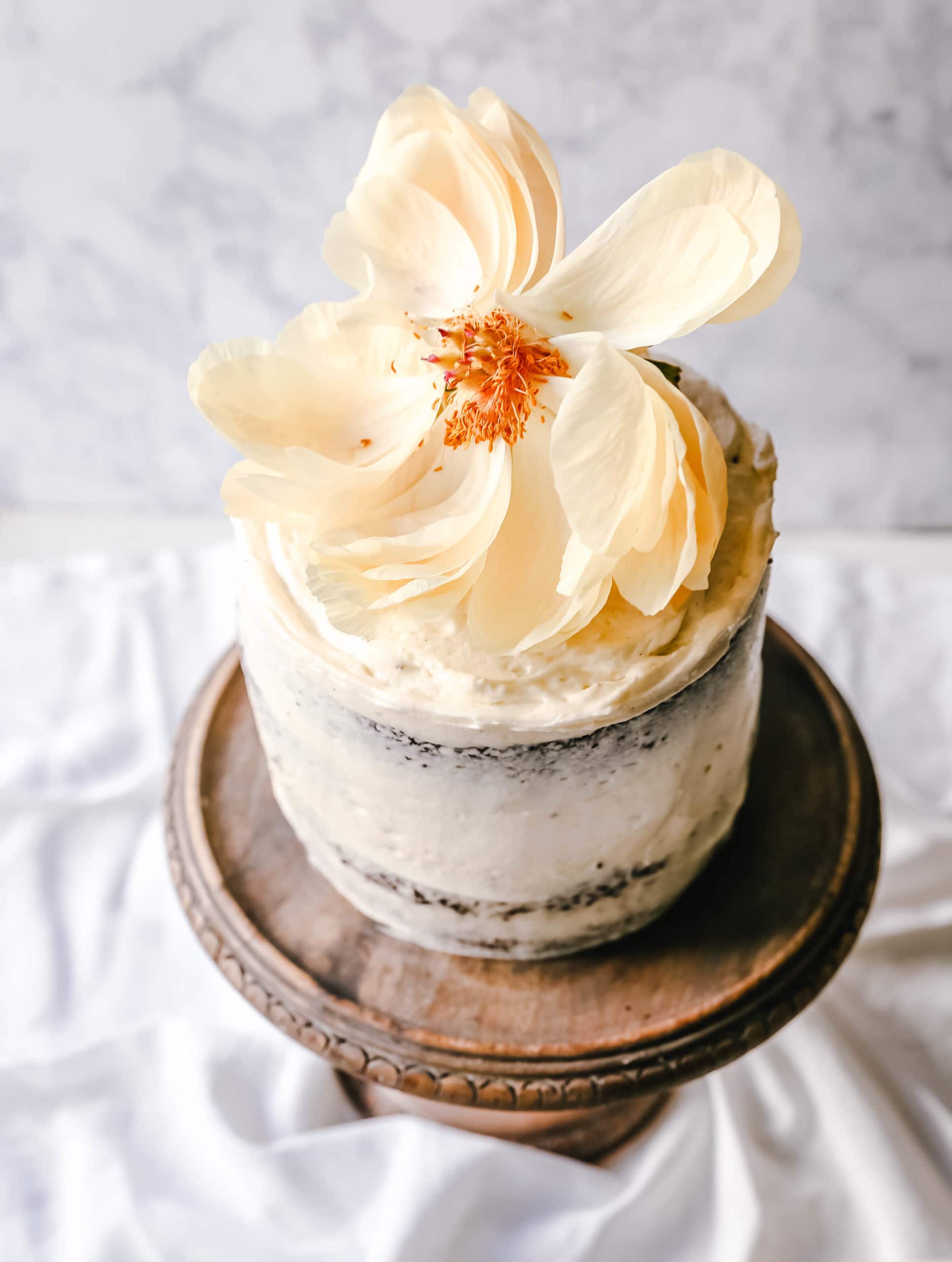 If you have ever tried Nothing Bundt Cake, they only use cream cheese frosting on all of their cakes. It is incredible and pairs so well with every single cake flavor.
I experimented with different ratios of butter and cream cheese to powdered sugar and I will include two options below in the recipe card. One will be a more traditional buttercream with the addition of one package of cream cheese frosting. The other will be a more traditional cream cheese frosting and will use two packages of cream cheese. You can choose which one you prefer but I will tell you this -- you can't go wrong with either one!
This chocolate cake is absolute perfection thanks to a combination of ingredients -- oil, buttermilk, and hot boiling water. All of these helps to create a super moist cake that stays moist for days! I hope you love this chocolate cake with cream cheese frosting!
Tips for making the perfect Black and White Cake:
Use a high-quality unsweetened cocoa powder. This is the star of the show so you want it to be good.
Use a mixture of oil (canola, vegetable, coconut, etc), buttermilk, and hot water to make this chocolate black and white cake extra moist.
Use cake flour, if at all possible. This creates a more tender texture in cakes. You may use all-purpose flour if cake flour isn't available.
Don't overbake the cakes. You want to keep that moist, tender crumb so watch it carefully.
When making the frosting, whip the butter and cream cheese for at least 5 minutes. Make sure the cream cheese is at room temperature.
Place the baked cakes (once they are removed from the pan) in the freezer for about 20-30 minutes before frosting. This helps to keep the cake from flaking off and creating a lot of crumbs.
If you LOVE cake, check out these popular cake recipes:
YELLOW Cake with Chocolate Frosting
Love at First Sight CHOCOLATE Cake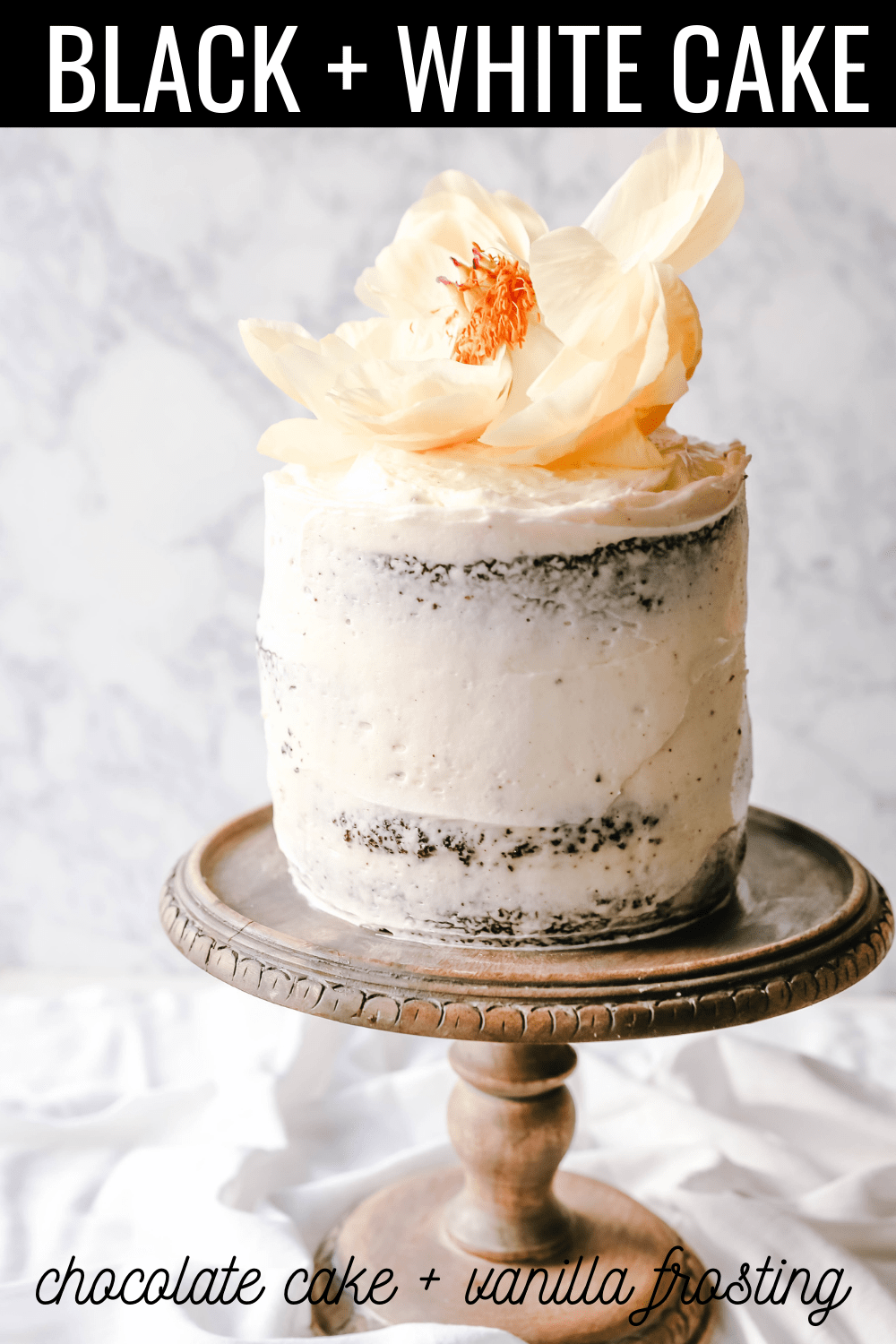 Some of my baking essentials:
8-inch cake pans
6-inch cake pans
9-inch cake pans
My favorite kitchen appliance -- a KITCHENAID MIXER. You can find them HERE in all colors and sizes!
Follow Modern Honey on Facebook
Follow @modern_honey on Instagram
Follow me @ModernHoney on Pinterest
As an Amazon Associate, I earn from qualifying purchases