This is the best Chocolate Cream Pie recipe made with decadent chocolate custard in a flaky, buttery crust and topped with homemade whipped cream and chocolate shavings. You will love this chocolate pie recipe!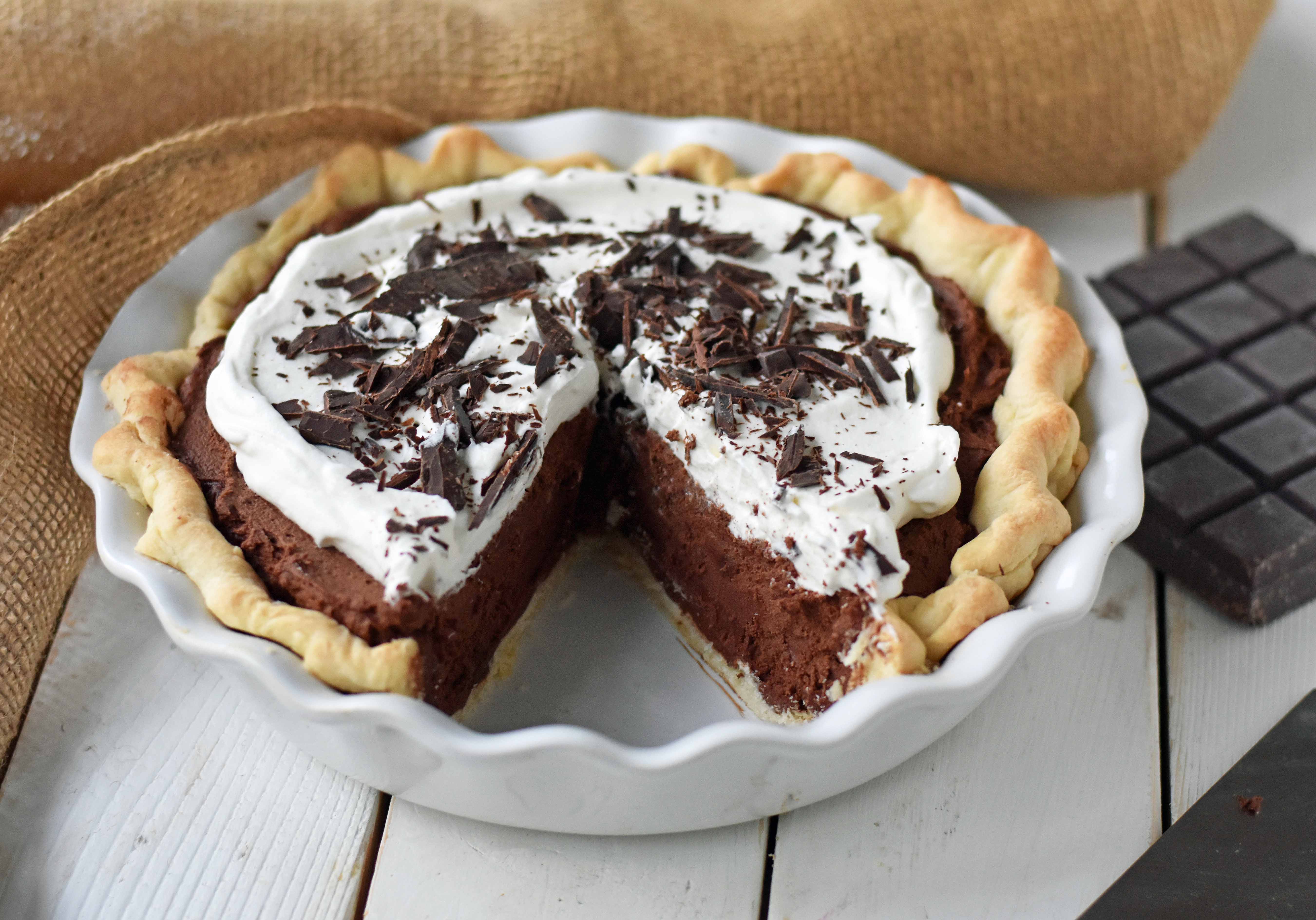 It's PIE WEEK on Modern Honey! I have been on a quest to discover the ultimate Chocolate Cream Pie. This Chocolate Pie is made from scratch using the highest-quality ingredients.
There are few desserts as universally adored as the velvety, decadent chocolate cream pie. Its luscious filling, flaky crust, and creamy topping make it a classic dessert.
Chocolate Pie Ingredients:
The chocolate pie starts off with a handcrafted chocolate custard made with semi-sweet chocolate, heavy cream, whole milk, egg yolks, cornstarch to thicken, and a touch of butter. The custard is thick enough to hold up yet the texture is creamy, silky, and smooth.
Chocolate — use your favorite type of chocolate depending on if you prefer a dark chocolate pie or a milk chocolate pie. I like to use a mix of semi-sweet and a touch of milk chocolate.
Sugar — this recipe calls for granulated sugar.
Butter — use unsalted butter to make this creamy chocolate filling.
Vanilla — use pure vanilla extract.
Cocoa Powder — use unsweetened cocoa powder. I use Callebaut cocoa powder.
Cornstarch — this helps to thicken the chocolate custard.
Whole Milk — the fat and creaminess in the whole milk is perfect in this custard.
Heavy Cream — you will need heavy cream for both the chocolate pudding and whipped cream for the top of the pie.
Egg Yolks — adds the perfect amount of richness to the custard.
Salt — just a pinch of salt brings out the flavor of the chocolate.
What chocolate should I use in Chocolate Pie?
I suggest using chocolate bars rather than chocolate chips since chocolate bars melt better than chocolate chips. Chocolate chips have a coating to help them keep their shape so they don't melt as well. If you don't have chocolate bars, you can still use chocolate chips.
I like to use Trader Joe's Pound Plus Bars, Ghirardelli chocolate bars, or any type of high quality chocolate bars.
To make a perfect chocolate pie has taken some trial and error.  I have made my fair share of chocolate pies in the process! I heard about a rich chocolate pie recipe made with a hefty dose of butter, chocolate, and cream and couldn't wait to try it.
It was definitely rich and the chocolate flavor was on the point but it had too much butter which created a chalky texture when chilled. So, I kept persevering on and discovered that a homemade chocolate custard was the answer. This is the best chocolate pie!
Crafting the Perfect Pie Crust:
The foundation of any great pie is its crust. For a chocolate cream pie, a buttery, crisp crust is the canvas that holds the rich filling. You can find my all butter pie crust recipe here. You can opt for a traditional pie crust or experiment with a chocolate cookie crust for an added layer of flavor.
Creating the Chocolate Filling:
The star of a chocolate cream pie is its rich, velvety smooth filling. Selecting quality chocolate is crucial. Whether using dark, milk, or a combination of both, melt the chocolate slowly and combine it with a mixture of cream, milk, and eggs. This creates a smooth, luxurious filling.
Whipped Cream Topping:
A chocolate cream pie wouldn't be complete without a billowy cloud of whipped cream topping. Whipping fresh cream with a touch of sugar and vanilla extract until it forms soft peaks is the perfect topping. Piping the cream on top of the chilled chocolate pie balances the richness of the chocolate.
Garnish:
Assembling the pie is an art form in itself. After chilling the pie to set the filling, consider adding chocolate shavings, chocolate curls, or even a drizzle of melted chocolate on top for the perfect finish.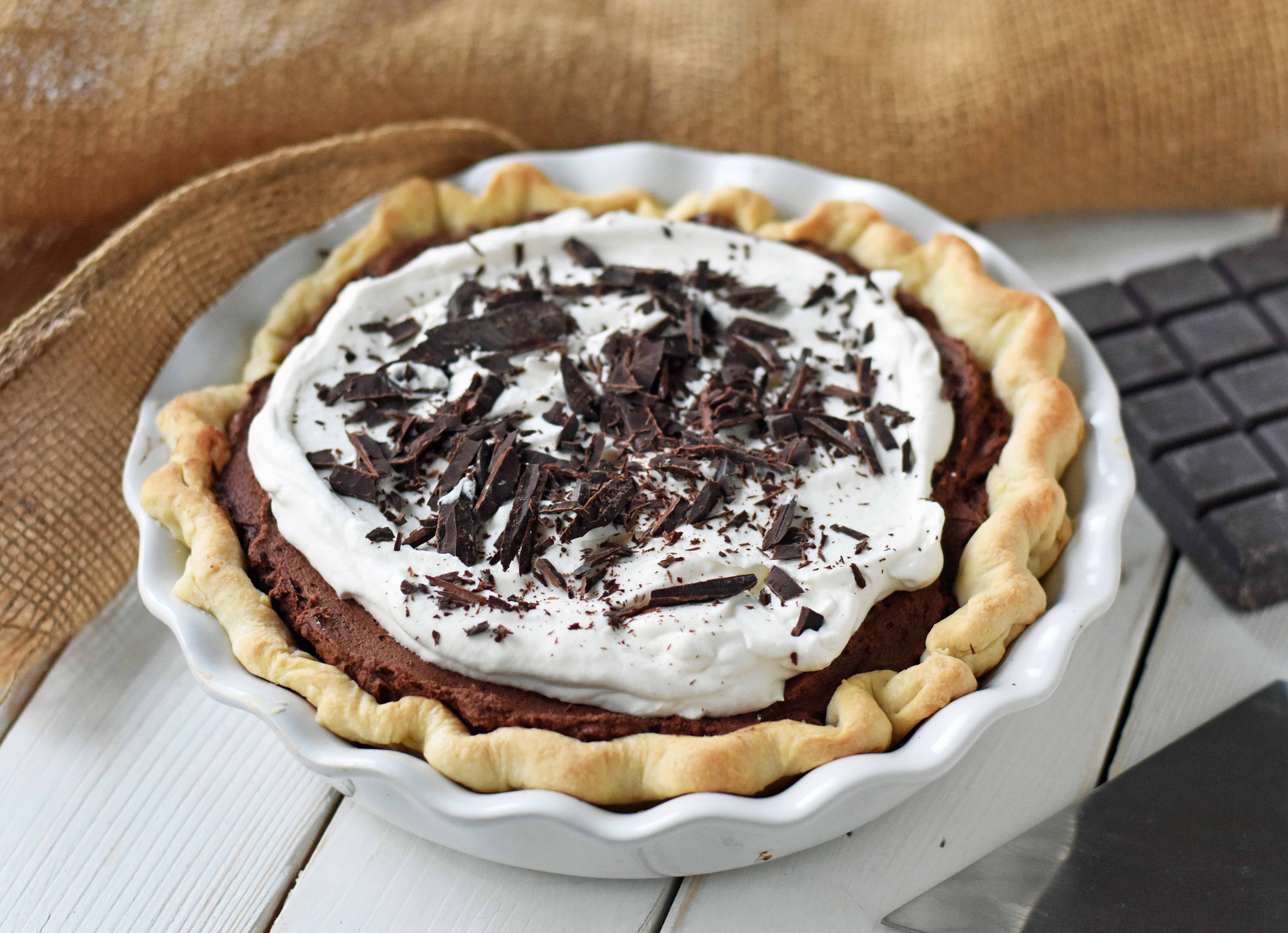 How to make Chocolate Pie:
Start by placing the chopped chocolate, butter, and vanilla extract in a bowl and set aside. In a saucepan, whisk the sugar, cornstarch, unsweetened cocoa powder and salt.
Whisk in 1/2 cup of heavy cream and whisk until smooth. Repeat with the other 1/2 cup of cream. Whisk in egg yolks.
Place the saucepan over medium heat and gradually whisk in whole milk. Bring to a boil, whisking carefully. Do not overcook but bring to a boil for about 1 minute. It needs to be thick enough to coat the back of a spoon.
Remove the pan from the heat and pour the mixture over the chocolate and butter. Whisk until the chocolate is melted and the mixture is silky smooth.
Place plastic wrap on the surface of the custard to prevent a "skin" from forming. Chill for 3-4 hours.
Make the butter pie crust and blind bake it. Once the pie crust has cooled after baking and the chocolate custard has chilled, pour the chocolate custard into the pie shell.
Make the whipped cream by whipping together heavy cream and powdered sugar until soft peaks form. Spread over the chocolate custard and top with chocolate curls or chocolate shavings.
Try this Chocolate Pie with Oreo Crust:
If you don't want to worry about blind baking or pre-baking a pie crust, a homemade OREO crust is an easy swap. It makes the pie extra decadent.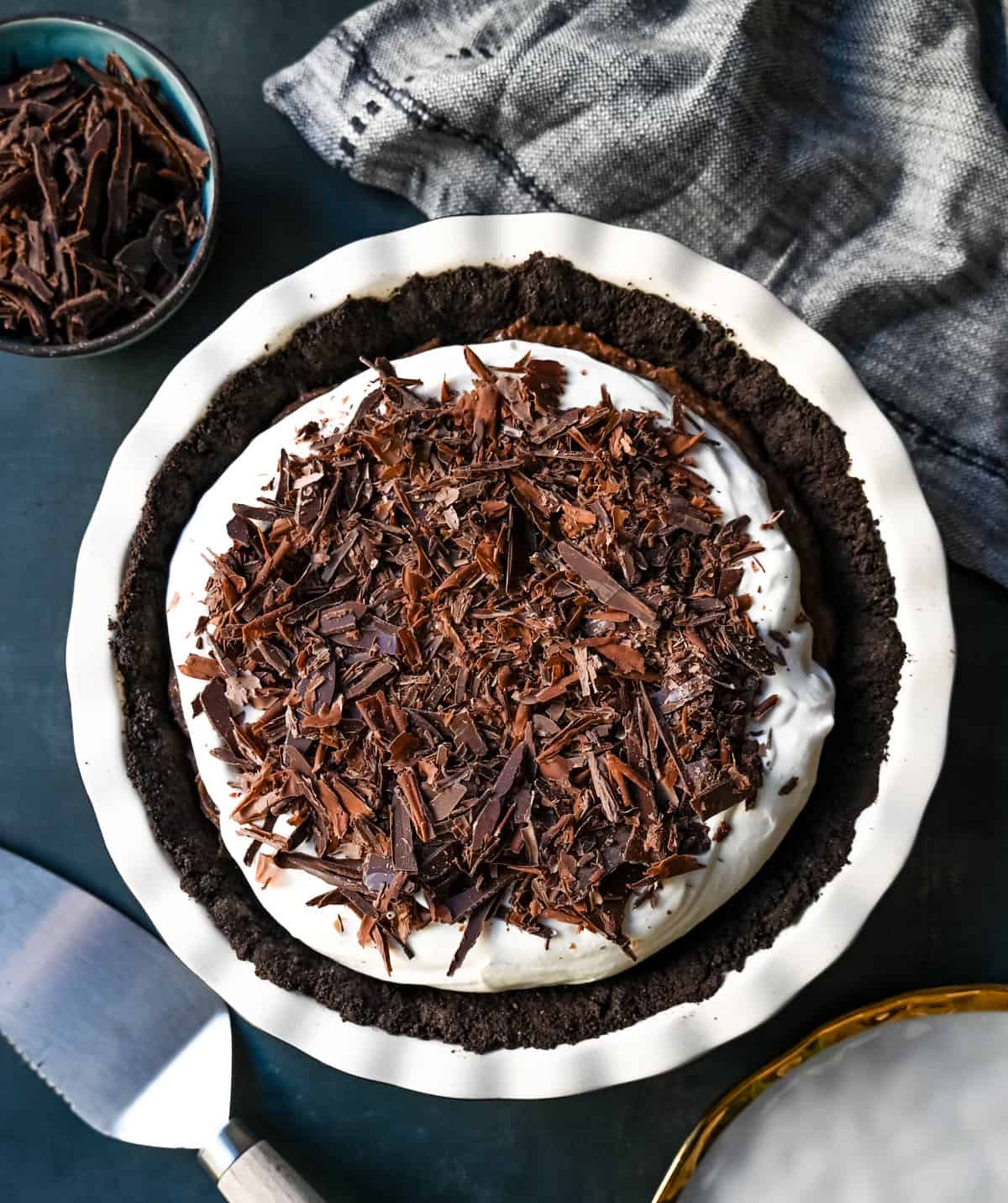 Tips for Success
Temperature Control: Be mindful of temperatures when preparing the pie. Allow the crust to cool before pouring in the filling, and refrigerate the chocolate pie to set the filling properly.
Quality Ingredients: Use the best-quality chocolate and fresh cream available for the most indulgent chocolate pie.
Patience is Key: Allow the pie to chill for the recommended time before serving. This not only sets the filling but also enhances the flavors.

I am sharing all of the tips and tricks below as to how to make the perfect homemade chocolate pie. This pie is worth every single calorie!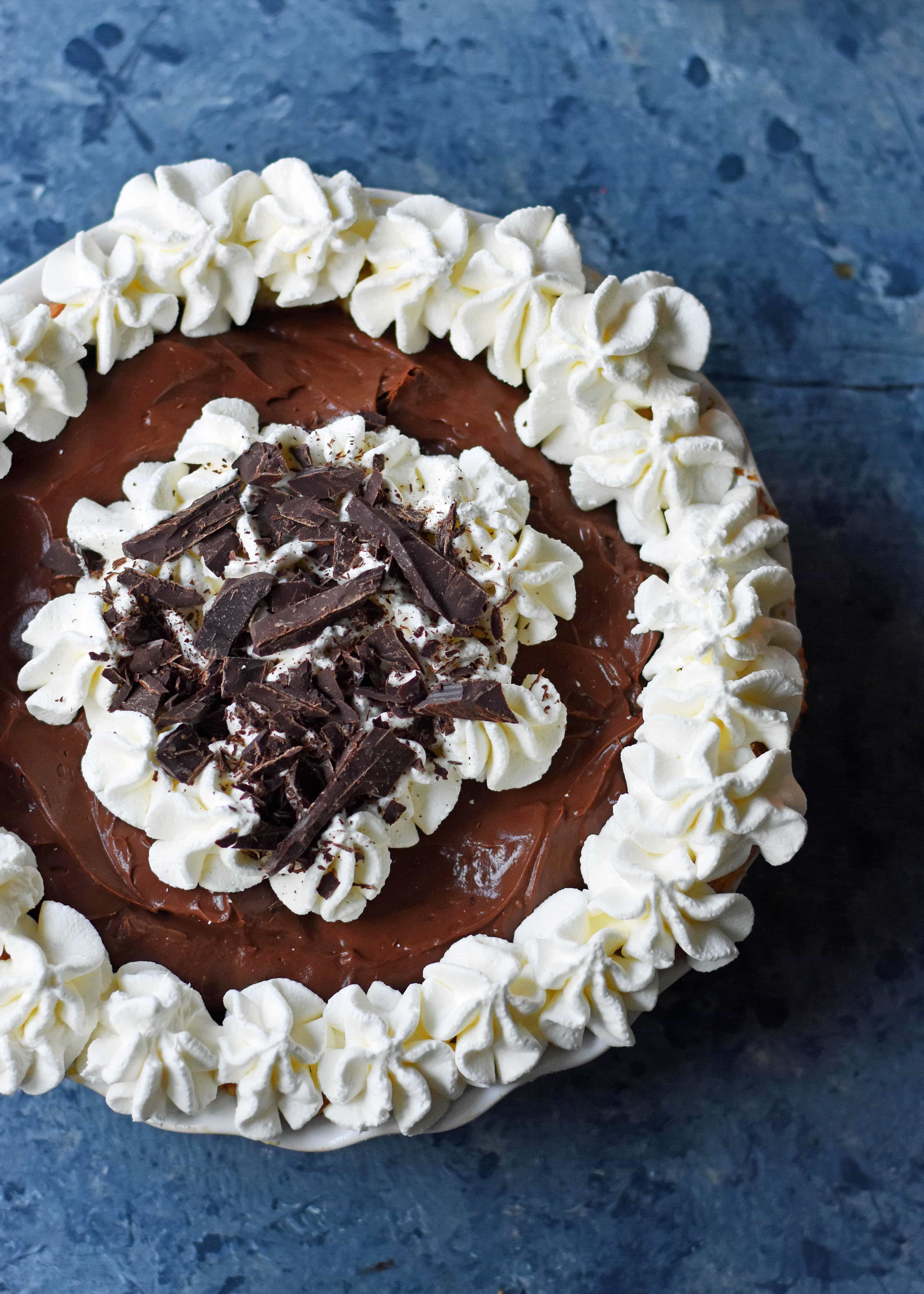 How to make the perfect Chocolate Pie:
It starts with using high-quality chocolate. I reach for Guittard, Ghirardelli, Trader Joe's, or Callebaut. You can use semi-sweet or dark chocolate or if you like a sweeter chocolate, use milk chocolate.
Chocolate custard is made with sugar, egg yolks, heavy cream, milk, chocolate, cocoa, cornstarch, and a touch of butter to make it silky smooth. Use a whisk to stir custard while it cooks and thickens. Let the cornstarch do its job.
Let it chill. The chocolate custard needs time to set-up and solidify. Cover tightly with plastic wrap or foil and place in refrigerator for at least 4 hours or overnight.
Place the chilled chocolate custard into baked pie shell when ready to serve.  This allows the pie crust to remain flaky on the bottom. Cover with homemade whipped cream just before serving. Sprinkle with shaved chocolate (I use Trader Joe's Pound Plus Bar).
More Chocolate Pie Recipes:
Click the links below for more pie recipes:
Lemon Sour Cream Pie
Caramel Apple Pie
White Chocolate Macadamia Chocolate Ganache Pie
Double Chocolate Marble Pie
The BEST Pumpkin Pie 
Old-Fashioned Pecan Pie
Traditional Perfect Pumpkin Pie
Caramel Banana Cream Pie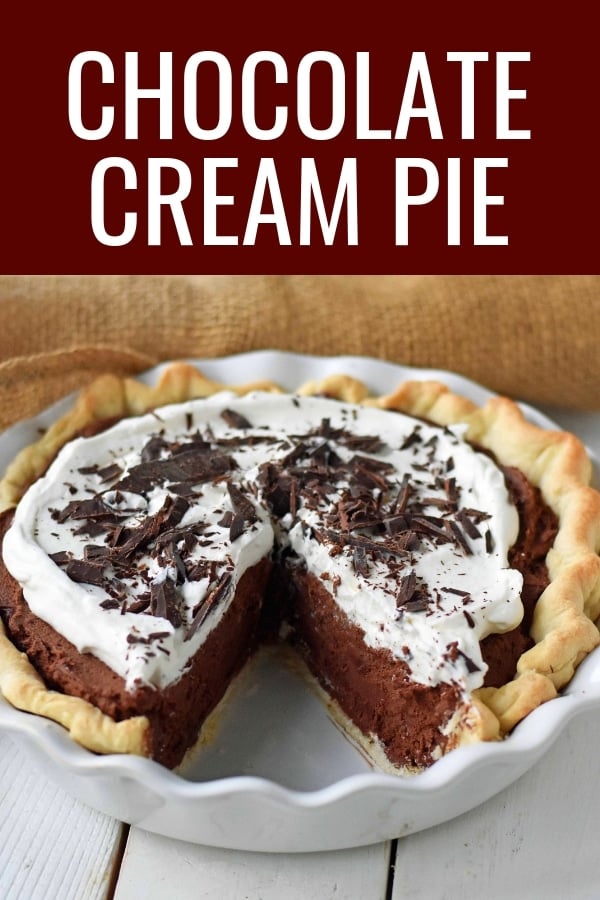 Pin this now to find it later
Pin It
Chocolate Cream Pie
Chocolate Cream Pie made with decadent semi-sweet chocolate custard and topped with homemade whipped cream and shaved chocolate.
Ingredients
Chocolate Custard Filling:
2

Tablespoons

Butter

1 1/2

cups

Semi-Sweet Chocolate

may use milk chocolate if you want a sweeter pie

1

teaspoon

Pure Vanilla

3/4

cup

Sugar

1/4

cup

Cornstarch

3

Tablespoons

Unsweetened Cocoa Powder

1/4

teaspoon

Salt

1

cup

Heavy Cream

3

Egg Yolks

2

cups

Whole Milk



Instructions
Place the chopped chocolate, butter, and vanilla extract in a mixing bowl and set aside.

In a medium saucepan, whisk together the sugar, cornstarch, cocoa, and salt.

Whisk in 1/2 cup of cold heavy cream until the mixture is smooth. Repeat with another 1/2 cup of the cream. Whisk in the egg yolks.

Place the saucepan over medium heat, and gradually whisk in the whole milk.

Bring to a boil, whisking constantly. Let boil for 1 minute.

Remove the pan from the heat and pour the mixture over the chocolate and butter.

Whisk until the chocolate is melted and the mixture is silky smooth.

Place plastic wrap on surface of the custard to prevent a skin from forming, and chill for 3-4 hours.

Make pie crust and pre-bake according to directions here —

All-Butter Pie Crust Recipe

. Let cool. Once cooled and chocolate custard has completely chilled and set-up, spread chocolate filling into pie crust.

In a large mixing bowl, whip heavy cream until soft peaks form. Fold in powdered sugar and continue to beat until peaks form. Spread or pipe over chocolate custard.

Sprinkle with grated chocolate bar.
Nutrition information is automatically calculated, so should only be used as an approximation.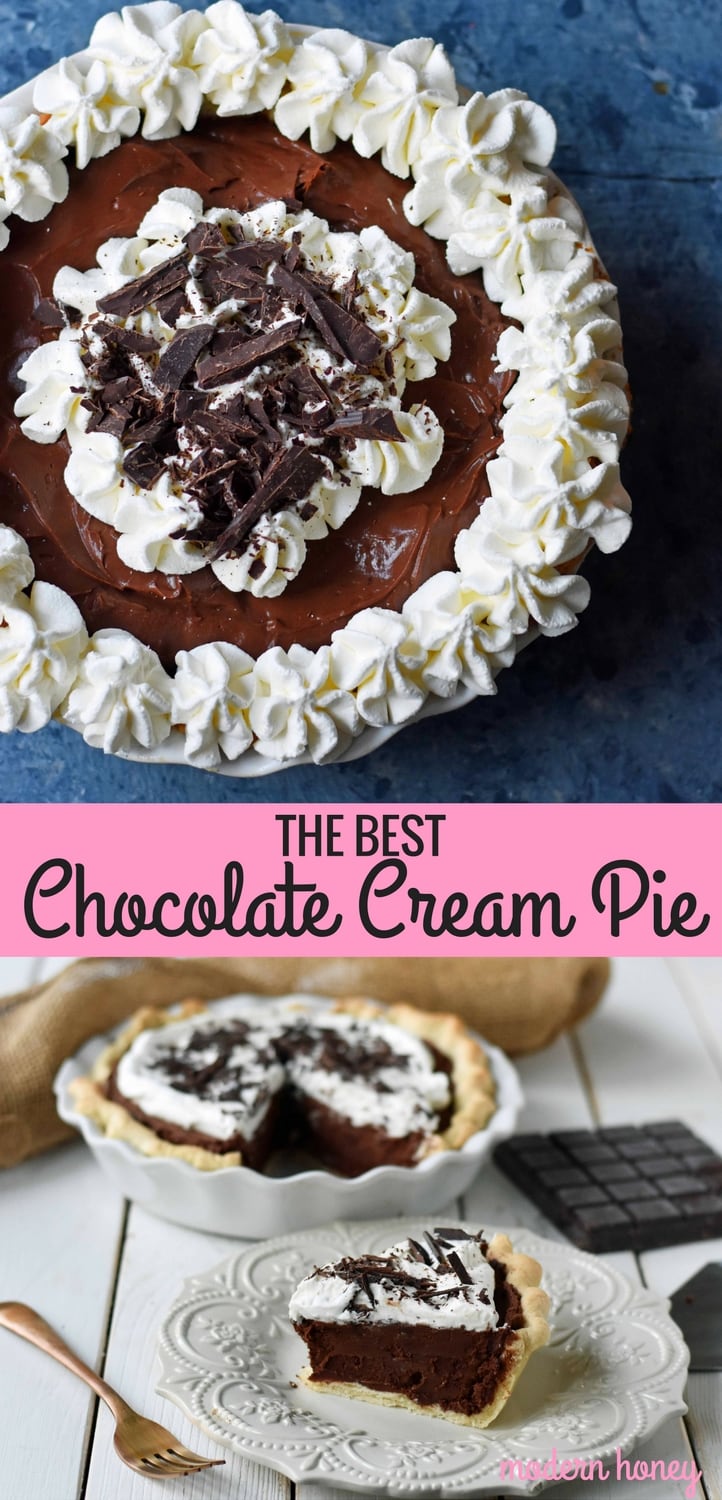 Happy Baking, my friends! Find all of Modern Honey's Thanksgiving recipes at www.modernhoney.com/thanksgiving.